First it was the departure of Melbourne trio Adam Ferrier, Jim Ingram and Ben Couzens, then it was chief media officer James Greet, and last month Sydney ECDs Tom Martin and Julian Schreiber became the latest partners to exit Cummins&Partners.
It's fair to say Cummins&Partners has undergone a shake-up in recent months that has led many to questioning the state of the independent, full service agency.
Not founder Sean Cummins. He prefers to apply a positive perspective to recent departures, looking upon the changes with rose-coloured glasses and batting away any concerns.
"Everything that people view as a disaster, we see as refreshing. A healthy tree gets pruned from the top and it's a great compliment that the people that have left have been raided or wanted to join something new because of the time they've had at Cummins&Partners," he tells AdNews.
"I'm surprised people focus on the negative and don't consider the upside, which is you're able to circulate new ideas and explore your own talent pool."
On the recent departures, Cummins is confident the agency has "deep talent pools" and he has succession plans in place to remain "three steps ahead".
The value of equity
Ferrier, Ingram, Couzens, Martin and Schreiber were all equity partners in Cummins&Partners. Cummins says he is proud of the time Ferrier, Ingram and Couzens spent at the agency since 2013, which he claims was rewarded by an increase in the value of their shareholdings before leaving to start Thinkerbell. However, he says Martin and Schreiber had more to achieve in Sydney.
Martin and Schreiber co-founded the Sydney office in 2015 when Cummins&Partners won the Vodafone account, which they lost a year later. In fairness to the agency, Vodafone has had many changes to its marketing leadership and is notorious for being a difficult client to manage. The pair recently left the agency to join Special Group.
Julian Schreiber, Tom Martin and Sean Cummins
"I think the Sydney guys left too soon but it is a tough business in the early days of growing an agency and it's not for everyone," Cummins says. "It's not a criticism of their judgement. But I know the nature of the businesses and they needed another couple of years here to see the true value and potential of the Sydney office. I wouldn't have gone so soon, but that's their choice."
Cummins says he could have prevented former partners from working in the industry for several months as part of their contract, but opted to support their decision even if he didn't believe it was the best move.
Despite his positive outlook on the future of the agency, Cummins admits he has been burnt by the departures and has remodelled how it rewards partners in the business.
"Partnership and equity to me is the pinnacle and if people don't want to value that and cherish that, then I'm not going to give it away easily anymore," he says, adding that he won't be as quick to trust people in the future.
"I've rushed into deals with people before because I'm prone to trusting them. I wouldn't want to be the sort of person who doesn't want to believe in people but I've been burnt a lot and I will probably still be burnt by people in the future."
AdNews has contacted the former partners for comment.
Six of the original eight partners that formed Cummins&Partners back in 2011 are still involved in the business, including Kirsty Muddle, Chris Jeffares, Michelle Wensor, Faye Collay, Steve Tortosa and Cummins himself. Ferrier, Ingram, Couzens, Martin and Schreiber joined the business at a later stage.
While Cummins believes some would consider him a "control freak", he says he relinquished full control of the business to Ferrier, Ingram and Couzens when he left Australia to open a New York office three years ago.
Back in 2014, he told AdNews the move to New York would allow the Melbourne team to "sing" and him to become a "player and not the coach" as he stepped back.
Adam Ferrier, Jim Ingram and Ben Couzens launched Thinkerbell this year.
His return to Melbourne, indicates he could take a more active role in the business, but Cummins says he still wants the leaders of Sydney and Melbourne to have "full freedom".
"What I've done since I've been back is see the relative impact that these guys have had on the business and most of it's been pretty good. None of it hit the heights that I'd hoped for, but they did some very good work. My return is to basically lift the standard and lift the strike rate of new business wins," he says.
He will now split his time between Sydney and Melbourne, leading the creative team in Melbourne as Ingram and Couzens have not been replaced. 
Cummins says he is still heavily involved in the day-to-day operations of the New York office, and is confident the business will continue to thrive, despite the "reserved" nature of American clients. The agency recently led the launch of Marriott Hotel's lifestyle brand Moxy in New York.
Cummins&Partners may have had instability in leadership, but this hasn't affected results on the ground. The past few months has been the agency's "biggest win period in years", picking up the creative for McCain, Heinz and T2 in Melbourne, as well as HBF, University of Tasmania and Lodex.
"A healthy agency is not just always in the stability of its staff. A healthy agency is in its ability to win," he says.
When questioned about speculation that Cummins&Partners "had lost its direction, purpose and key people", as several sources have told AdNews, Cummins says he doesn't let the "chatteratti" influence the agenda of his agency.
"I'm not the chief spin master of the agency. If I felt it was going badly, I would be the first to say it's shit. But we're highly profitable and we are doing really well," Cummins says.
"Clemenger lost all those guys, McCann had people airlifted out of there…you want to see agencies that potentially might have trouble bouncing back, you only have to look there. I don't think it's going to be us because we're not bouncing back from anything."

The timeline of Cummins&Partners
The boy's club
When it came to replacing the Sydney ECDs, Cummins says he didn't want to hire within the "watering holes" of Sydney's adland. Instead, he promoted Mandie van der Merwe and Avish Gordhan, who both moved to Australia from South Africa several years ago.
On their appointment, Cummins says the creative scene has been "a bit one note" for too long and van der Merwe and Gordhan are the antidote.
"Most creative directors are all the same guys," Cummins says. "If you look at the trade press, all the top creative directors are all white men. I don't want to hire the same guy over and over again.
"They don't have different skills because they all congregate around the same ideals and worship the shrine of awards."
Cummins says he's never been a part of the industry's boys club; he doesn't drink beers with other agency heads but he still managed to crack the Melbourne market, despite growing up in Yass, New South Wales. It was one of the gripes expressed in his Hall of Fame inductee speech in 2016.
"There's a horrible and obvious bunch of cliques and I've never been a joiner. I don't spend my time in the advertising bubble because why would you? There's a life outside advertising and that's where the great advertising is," Cummins says.
"I don't sit around drinking in pubs and that's probably why there is a certain antipathy towards me because they don't know me and they can't pin me down. They can't get anything on me so they tend to make up their own mind."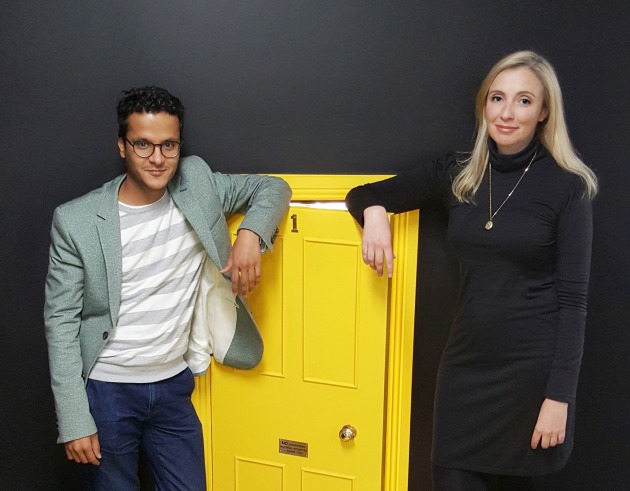 New Sydney ECDs Avish Gordhan and Mandie van der Merwe. 
'Hideous' consultancies and a 'flaky' industry
Cummins is an adland veteran with more than 30 years of experience under his belt. He started his first agency in 1997, reportedly pocketing around $30 million when he sold it to SapientNitro in 2009.
Throughout his career he has seen the advertising industry go through waves of changes and says he was "laughed out of the building" when he announced Cummins&Partners would be a full-service agency, providing creative and media services at a time when the two were poles apart.
Now, a number of agencies have moved to this model, such as McCann, CHE Proximity, Atomic 212 and M&C Saatchi, through its acquisition of Bohemia.
The agency is yet to replace James Greet, who until recently led its media offering, but Cummins says the agency is actively seeking his successor and will continue to offer media services.
Having returned to Australia three months ago, he believes the industry has lost its way and the hype around consultancies is unwarranted.
"The industry is a bit flaky and there's people moving around because they've lost their centre of gravity. They don't know how to stick at it anymore," Cummins says.
"They see a shiny, bright object and they want to join because they fundamentally don't have confidence in their own judgements and convictions."
Taking a swipe at Accenture's recent acquisition of The Monkeys and PwC's investment in Thinkerbell, Cummins says the industry doesn't need to be saved by consultants.
"It's a hideous conceit for someone to imagine that accountants and consultants can be an improvement on the advertising industry," he says, adding he can't wait to come up against the consultants in pitches.
"Ours is a very fad-focused industry and that's antithetical to my approach to advertising, which is about endurance. People jump on the new things, but it never lasts."
Sean Cummins Hall of Fame reel from 2015
A life without advertising?
When asked about persistent rumours that Cummins&Partners is for sale, Cummins reveals the agency has had "phenomenal interest", but he's not interested in selling.
"We are definitely the prettiest girl at the dance at the moment," he says.
When asked if he could ever imagine a life without advertising, Cummins admits he wouldn't want to lose relevance again as he did when he sold his last agency and signed a deal that would see him carry out three years of gardening leave.
"Retirement means you lose relevance and you lose all those things that once mattered to you. I never want to lose relevance again," he says. "I believe that I can be relevant to the advertising community so I will never retire."
Particularly in Australia, ageism is rife and agency leaders over the age of 50 are few and far between.
Cummins says this has contributed to a "wisdom gap" and he'd like to see some of his contemporaries re-enter the industry.
He wouldn't provide names because he "wants to get to them first", but he did admit he is a big fan of fellow Melburnian Scott Whybin.
So what's next for Cummins&Partners?
Having closed the Canadian office in 2015 (see timeline above) due to a deal gone bad in the region, Cummins says he isn't interested in opening another office at the moment.
"I am very happy with what we've got at the moment and I'm not in any rush to do anything else. Having said that, if there was a suitor that came along and saw the magic of the Cummins&Partners brand and wanted us to launch elsewhere, that would be a different story," he says.
Have something to say on this? Share your views in the comments section below. Or if you have a news story or tip-off, drop us a line at adnews@yaffa.com.au
Sign up to the AdNews newsletter, like us on Facebook or follow us on Twitter for breaking stories and campaigns throughout the day.