When Ferrier, Ingram and Couzens left Cummins&Partners in February it was out of the blue for most people, but it wasn't so much of a surprise that they were already formulating a plan for their own venture.
Rumours swirled over what it would be, what it would be called and who else would be involved.
What has emerged is Thinkerbell, promising to deliver what they call "measured magic". The logo features Auguste Rodin's famous sculpture 'The Thinker', adorned with Tinkerbell's delicate wings.
Ingram explains that the genesis of the agency came easily, despite the unusual name.
"The idea of doing something together came about easily. We all looked at each other with the same twinkle in our eye and we knew we were going to have some fun," Ingram says.
"Landing on Thinkerbell, and using measured magic as our philosophy, all that stuff came easily and early and it's allowed us to set the foundations for everything we're going to do. A lot of agencies I've worked at, you just don't get that sense of a brand that's been built from the ground up. Literally every decision we make we ask ourselves 'does that feel like Thinkerbell, and does it have measured magic to it?"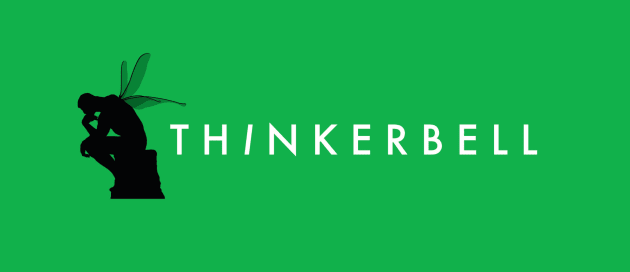 The agency began trading in late May from offices on Melbourne's Chapel Street and already has some clients on the board. Although the trio wouldn't reveal who, or any project specifics, it is already working for at least one major brand, and the scope of some of the projects they're working on go beyond delivering creative executions and ads.
"Jim and Cuz are the most lauded creatives in Australia and I've got my own reputation in consumer psychology and strategy. We have an interesting combination of complementary skill sets," explains Ferrier.
"Lots of clients are facing incredibly complex marketing environments and within that there is lots of opportunity, but an increasing amount of accountability is required. The challenge for traditionally structured agencies in that environment is how they flex and capitalise on emerging opportunities. Being a new startup in this environment is fantastic."
Measured magic, they say, reconciles the opportunities and the need for accountability. Ingram says it's "refreshing" as a creative to be working on problem solving for clients beyond ad campaigns.
"Usually the measured side is the back end and the magic side is the creativity. What we're loving in what we're doing is there's measurement in creativity and there's magic in data science," Ingram says.
On Thinkerbell's unique difference to other agencies out there, Ferrier says: "One of the most interesting things about our model having a psychologist and two creatives is we can start to think about the problem holistically, no matter where the problem lies, and apply a little magic. If you're thinking about consumer experience you can add magic at any point along that consumer journey. Plus we're getting stretch into spaces that aren't particularly in the agency landscape."
Like many founders they say the time was just right to up sticks and start something of their own, and believe there is a real appetite for "something new with new energy" in Melbourne.
Couzens says: "The three of us are very creative people, and we've spent so much time building other people's brands, but it just felt like the time was right to create our own brand and use that to help clients."
"It's been really humbling the genuine interest in something new. We've felt that coming from clients, from peers and around the market in general."
Ingram adds: "We've all come from some of the best agencies in Australia, and learned lots of things that work great, and lots of things that we would do differently. Now we're starting from scratch using all the bit and pieces we've always wanted to do."
For Ferrier, who readily admitted he's an "unusual" person, building an environment where you feel 100% comfortable ends up in the best work for clients, and that's what they've sought to do.
The business partners would not reveal the funding model for the agency or who any financial backers might be, except to bat away a persistent rumour that Scott Whybin - a fellow Melbournian, who left Whybin/TBWA a year ago to start up his own yet to materialise venture - is bankrolling it.
"My mum always told me it's rude to talk about money," joked Ferrier, although steadfastly not revealing any details.
While Thinkerbell is in the early days, the founders have started hiring some staff and are excited by the momentum they have.
Ingram sums it up: "It's been a while since we've gone to bed with that excited energy, rather than going to bed worrying about something. We're planning what's going to happen the next day and we're excited about the whole thing. It's ours, we're creating it as we want to and building something we hope has lots of longevity behind it."
Read more about starting up an agency in the June issue of AdNews out next week. Our cover feature explores the lessons learned when starting up an agency and what you should consider before you do it.
Have something to say on this? Share your views in the comments section below. Or if you have a news story or tip-off, drop me a line at rosiebaker@yaffa.com.au
Sign up to the AdNews newsletter, like us on Facebook or follow us on Twitter for breaking stories and campaigns throughout the day. Need a job? Visit adnewsjobs.com.au.