This first appeared in the March Magazine of AdNews.
Leggett's colleagues describe him as a perfectionist. He's considered in his approach and carries the same polished exterior that has come to be synonymous with the M&C Saatchi brand in Australia, embedded in its initial days when Tom Dery and Tom McFarlane held the reins.
The careful image and reputation he has crafted make it hard to imagine Leggett without his trademark blue blazer and just as hard to imagine M&C Saatchi anywhere but Sydney's Macquarie Street.
"Detail and structure are really important to me," he told AdNews in the company's boardroom.
"I think I've evolved that throughout my career. If you asked my school teachers they would have never described me as a detail oriented person."
Leggett initially studied law before realising he wanted to live his life outside a six–minute timesheet. He made the switch to marketing and started his career as an account director at digital agency Netbyte before moving to a similar role at advertising agency, UMC, in Auckland.
He's held a number of roles across the globe, moving to the UK in 2004 and then working at DMD (now LBi) in London before becoming managing director of Grand Union at the tender age of 26.
In his five years at London–based Grand Union, Leggett increased the staff from 25 to 100 and won clients such as Coca–Cola, Stella Artois, Heinz, and supermarket Waitrose before moving to Ogilvy and Mather London in 2010.
Hugh Baillie, then Ogilvy & Mather CEO who stepped down in 2012, tasked him with "making the agency famous again", as Leggett tells it.
It took three years, but when Leggett departed, the agency had hit double–digit growth in digital revenue and had enjoyed a fourfold increase in Cannes Cyber Lions won across the network in 2010.
He successfully pitched for Philips, SC Johnson, Expedia, Motorola, BP Solar and TK Maxx. Leggett's pitching process and technique remain renowned, and M&C has always been known as a "pitching machine".
It was during his time at Grand Union he met his future wife, former Initiative Australia boss Lee Leggett. It was Lee who hired Jaimes before she left to run Dare London. This year, the pair are celebrating their 10th wedding anniversary. 
Jaimes and Lee Leggett
Leggett's career was thriving in London, but for a boy who grew up in South Africa and New Zealand, "barefoot and kicking a footy by the beach," he had ideas of where he wanted his children to grow up — and a Georgian townhouse in London's Islington wasn't in that picture.
"One day I thought to myself 'I've got to move out of London because this is not the way you raise kids'" he said.
"I couldn't imagine raising a family on the Caledonian Road or moving to one of the country towns in England and sitting through an hour–long commute."
Leggett admitted that wasting time is what he's scared of most in life. He never wants to become complacent, so with two young kids - Tate (8) and Miller (6) - in tow, he and his wife were ready to shake things up and head to Australia.
From a young age, Leggett had never been tied to one location. Born in Botswana, schooled in South Africa, his family moved to New Zealand when he was 13 and then on to London at 18.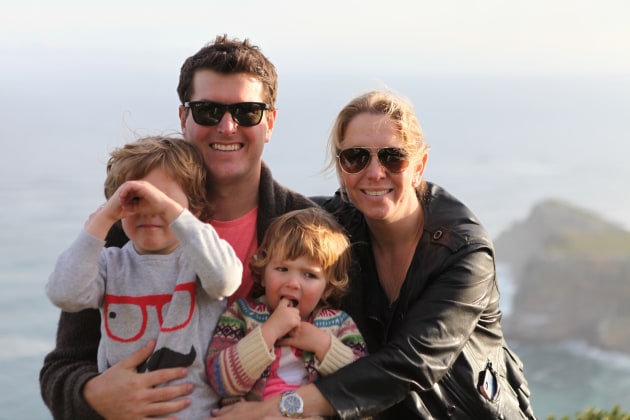 (L-R) Tate, Jaimes, Miller and Lee
When M&C Saatchi Sydney founder Tom Dery approached Leggett for a half–hour coffee that turned into a three–hour meeting, he realised his next job, and next challenge, would be in Australia.
"Our move to Australia was about going on an adventure," he said. "My idea of hell is wasting time and I really don't want to feel like my life is passing me by.
"At worst, you can sleepwalk through life, so the move to Australia was really deliberate for us because we wanted every day to be new again."
The Leggetts arrived in 2013 and it wasn't long before Lee was snapped up by IPG Mediabrands then CEO Henry Tajer to run Initiative. She served as CEO of the media agency from 2014 to 2016. Throughout 2017 she took on major consulting projects for groups including Publicis, Havas and We Are Social, while spending more time at home raising their young children than is often possible as a CEO.
"It's great having a partner in the industry who understands the trials and tribulations of the business," Jaimes explained.
"If we're having a date night and it's rescheduled because of an urgent client meeting, she gets it."
Despite Lee's involvement in advertising and agencies, Leggett said that he tries not to bring work home with him, but will turn to his wife in some instances.
"She isn't afraid to tell me to get my head out my arse or tell me something is a ridiculous idea," Leggett joked.
When questioned if another CEO gig is on the cards for Lee, Leggett revealed that right now his career leading M&C has taken priority, but at some point not far away the pendulum will swing the other way.
The pair face the same challenges as any others with high-profile jobs and young families.
"One of the tensions in this business is that we aren't flexible enough with our workforce. Not everyone can work five days a week. We've got two young kids who need our support and we want to be the ones who do that," he said.
"I'd love to find a way where I can be as actively involved with my kids growing up as my wife is now. I hope there's a way we can address that over time and she can spend more time at work."
Leggett likes to be in control. He's always prepared and rarely does he misspeak. But control and kids don't mix, which he said has kept his ego in check.
"When you've woken up every half an hour all night because your kids have been sick and you've got a big pitch the next day — that's pretty humbling. When you've got to be ready for a job interview and your daughter throws up on you — that's pretty humbling. When you're changing your kid's nappy on the ground of a McDonald's car park because they shat themselves — that's pretty humbling."

Tate, Jaimes and Miller
When advertising imitates arts
When Leggett speaks about M&C Saatchi he is fiercely focused and direct about its goals as a group. But, when he speaks about his love for art, his passion for street artist Banksy paints him in a different light.
His penchant for art was passed down from his mum who also collected art. Leggett said that as a kid he was more interested in biology, maths and science than art, but when he moved to London he became obsessed with the street art that covered the streets of Shoreditch.
"I hated the underground in London so I walked everywhere and as a result I saw a lot of graffiti. I began to observe life differently and become more observant of my surroundings," he revealed.
Leggett believes his love of street art has also impacted his professional career.
"There's something interesting in the balance between content and context. Street art is all about contextual relevance and it made me think differently about work," he said, adding that a great piece of street art has to be placed in the correct place to have the full impact.
When asked if this was the reason behind the acquisition of media agency Bohemia, Leggett laughed and joked that it was a more expensive habit than he first thought.
Leggett is now considered a serious art collector, with more than 120 pieces of art and nearly 30 Banksy pieces.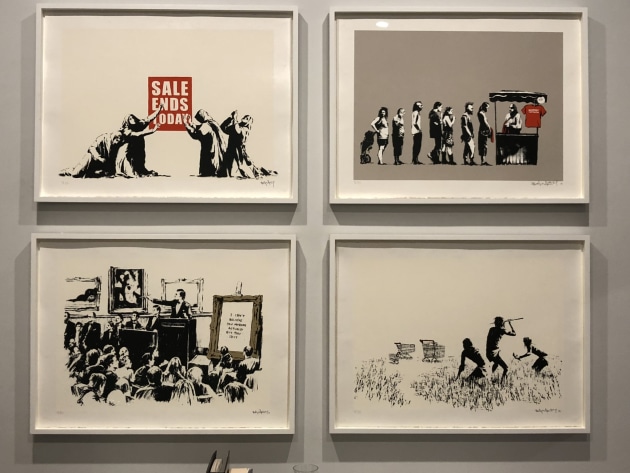 Some of Jaimes' extensive art collection
What's next for M&C Saatchi?
M&C Saatchi is a beast. It launched its Sydney office in 1995 and won AdNews Agency of the Year just 12 months later. It has created iconic ads in Australia for Qantas, ANZ and British Airways in its time and founders Tom Dery and Tom McFarlane are two of the most respected figures in the business.
Leggett was the succession plan to usher in a new era for the agency. The Toms' shoes were hard to fill but Leggett is proud of what M&C has achieved for clients such as Optus, with the invention of Clever Buoy, and its successful Heartbeat Car for Lexus, under his watch.
But 2017 wasn't the best year for the agency.
It was without a chief creative for 12 months after the sudden departure of Andy DiLallo and it lost one of its biggest clients, NRMA, in what would have been a heavy and very public blow, as well as eBay. 
It also lost out on a slate of new business, such as Bankwest and HBF, despite its reputation for pitching, while Optus continued to grow its roster beyond M&C.
The agency may have had a hard year in the headlines in Australia, but the global group saw its revenue soar 21% in the half–year 2017 results, hitting £121m ($213m). Its like–for–like revenues were up 12% for Asia and Australasia.
M&C Saatchi also topped the Australian Financial Review's Most Innovative Companies list in 2017 via its innovation design consultancy, Tricky Jigsaw, and picked up the creative for Jack Daniel's late last year.
Leggett said the group is well on its way to achieving its goal of being 'the most influential creative agency by 2020' — despite last year's setbacks.
"2018 wasn't a poor year, but it wasn't a vintage year," he admits. "We've doubled in size over the last four years, since we penned that vision. We had six businesses when I started and now we've got 14, so we are growing our capability for clients and producing good work," Leggett said, referencing the 2017 acquisition of Brett Dawson's indie media agency Bohemia, which added media capabilities to M&C Saatchi's portfolio.
Former BMF superstar creative Cam Blackley joined as chief creative officer last month and Leggett is confident 2018 will be a stronger year for M&C Saatchi.
The agency is involved in a number of interesting non-advertising related businesses and is set to announce a new venture in the first half of 2018.
"Blackley brings exactly what I felt we were missing in the agency, which is gravity. A good creative leader is the sun the creative team gravitates around and he will help the team create the best work of their careers," he said.
Being an agency boss has never been so complicated but, when asked if he ever thinks he'll be able to look at M&C Saatchi and say "the work is done here," he said the work is never finished.
"I don't know if it's harder now than it's ever been or maybe this is just a realisation of life, but I don't think you ever get to that point," he said.
"We certainly haven't got to that point. And maybe it's because we're not done as a business, and because we're not good enough as a business yet.
"I think this is a good business and we've responded well to the changes that are happening around us - I'd argue better than most - but we are so far away from being done, because the goal posts always move.
"The perpetual sense of change is the world we live in today. I don't think we'll ever feel like we're done," Leggett said.
The March issue of AdNews has hit desks. You can subscribe to the print edition or download a digital version here. Not all content appears online, some is exclusive to the magazine, so the only way to read it all is to get a copy - don't miss it. 
Have something to say on this? Share your views in the comments section below. Or if you have a news story or tip-off, drop us a line at adnews@yaffa.com.au
Sign up to the AdNews newsletter, like us on Facebook or follow us on Twitter for breaking stories and campaigns throughout the day.