AdNews takes a look at how the radio scene is shaping up in key metro markets for the final radio ratings period of 2017. This survey period is from 1 October through to 9 December. 
Kyle backs up bluster 
Kyle Sandilands has backed up his online stoush with Em Rusciano with a commanding performance in the final radio ratings period of the year.
His breakfast show with Jackie O grew by one percentage point to a 12.1% share of breakfast listening. The popular pair dominate the FM airwaves while Rusciano's audience dropped by the slimmest of margins (0.1 points) to a 2.8% share. 
After the last radio ratings results were released, Sandilands told listeners he wouldn't spend more that $20 to buy the radio licence of 2Day FM, the station that made him a radio star before he jumped to Kiis.
According to an article on news.com.au, Sandilands described Rusciano's ratings as "terrible" and "disgusting". Rusciano responded on Facebook by pointing out that she frequently sells out venues on her live national tour and is confident "the radio ratings will come".
Jones dominates Sydney talk
Alan Jones still dominates the AM band despite a 0.5% point drop to a share of 13.3%. His share is easily that largest on Sydney morning radio.
In the battle of easy listening, WSFM has edged ahead of Smooth FM in both breakfast and drive time. Jonesy and Amanda comfortably the second top FM breakfast show with a 0.1 point gain to a share of 9.6%. WSFM also gained 1.2 points to an 8.8% share of drive. 
Smooth shed 0.8 points to an 8.2% share of breakfast and 1.1 points to an 8.1% share of drive. 
Sydney radio ratings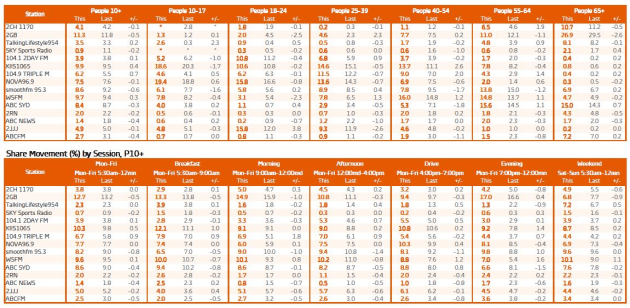 Melbourne: Nova finishes on top in breakfast
In the last survey of the year, Nova's 100.3 breakfast trio Chrissie Swan, Sam Pang and Jonathan Brown beat rivals Gold 104.3, Fox FM, Triple M and Smooth FM for the top spot.
The 100.3 show grew 1.2 points to 8.2%, with Triple M trailing behind at 7.6%, up 0.5 points, which could have been the result of Wil Anderson coming on board. Fox FM dropped 1.1 ratings points to a 7% share. Gold 104.3 hit 7.4% and Smooth FM dropped 1.8 points to 5.3.
Kiis FM's Matt Tilley and Meshel Laurie, who finished up on the network two weeks ago, came in fifth place with a 6.3% share. They will be replaced in the New Year by New Zealand duo PJ and Jase.
For the AM stations, 3AW continued to reign supreme with an impressive 20.1% share in breakfast.
In the drive slot, Fox FM held its top spot despite Hamish and Andy finishing up. The duo, which will be replaced by Dave Hughes and Kate Langbroek next year, scored an 11% share.
Nova 100's Kate Ritchie, Tim Blackwell and Marty Sheargold scored second place and managed to grow their audience by 1.1 points to 10.5%.
Kiis FM increased 1.3 ratings points to a 9.4% share, despite Hughes and Langbroek finishing up early. They will be replaced by Will and Woody next year.
In overall audience share, ARN's Gold 104.3 held its position as number one, despite a 1.1 point drop taking it to 9.6%.
Fox FM came in second, Nova landed third, Smooth FM came in fourth and Kiis jumped to fifth.

Brisbane radio ratings
Perth radio ratings
Adelaide radio ratings

Did you see this? Smart speakers, podcasts and branded audio – radio predictions 2018
Want more on radio?
Check out all 2017 radio surveys here:
Survey One: First radio ratings of 2017
Survey Two: Who was top of the pops in radio ratings survey two?
Survey Three: Radio ratings: Em Rusciano show drops; Smooth wins Sydney
Survey Four: Radio ratings: Smooth wobbles; Rusciano gains - but enough?
Survey Five: Radio ratings: ARN's WSFM ups ante; knocks Nova's Smooth in Sydney
Survey Six: Radio ratings: Could Kyle and Jackie O show finally be knocked off breakfast?

Survey Seven: Radio ratings: Embattled SCA show hits new low; ARN dominates
Have something to say on this? Share your views in the comments section below. Or if you have a news story or tip-off, drop us a line at adnews@yaffa.com.au
Sign up to the AdNews newsletter, like us on Facebook or follow us on Twitter for breaking stories and campaigns throughout the day.