In the fourth radio ratings of 2017, which is officially the halfway ratings year mark, we take a look at how the key metro markets are performing.
In survey four of eight, Nova Entertainment's Smooth FM station has again taken out the top spot for total listeners across the Sydney market's commercial music FM offerings. This is the third survey this year Smooth has reigned supreme in overall listeners across the city.
It holds the top spot, despite a 2.2 percentage point drop from 11.3% to a 9.1% audience share.
Its closest competitor, Australian Radio Network's (ARN) WSFM station, climbed from a 7.7% share overall to an 8.6% share. Can WSFM reclaim the top spot took this year in survey one and win total listeners?
ARN's Kiis 106.5 won an 8.1% share, still just slightly ahead of rival Nova 96.9 which climbed from a 7.6% share to an 8% share.
Commercial music FM radio stations aside, Macquarie Radio Network's talkback show 2GB again wins the overall total listening across Sydney with a solid 11.9% share, up 0.5 percentage points from survey three. While Smooth may have been edging 2GB in the last survey, 2GB has put some distance between the pair.
Australian Broadcasting Corporation's (ABC) Sydney, which used to often sit at second spot overall, until survey three where Smooth overtook it, is now back into its second place seat with a 9.5% share.
Em Rusciano Radio Show can't match Rove and Sam
Focusing on the FM breakfast slots across Sydney, Kyle & Jackie O on Kiis 106.5 have grown from a 9.7% share in survey three, to a 10% share, proving the duo continue to rule Sydney breakfast.
They are still a fair few marks of hitting the heights of the 10.5% share they scooped in survey one.
See: First radio ratings of 2017
Nova's 96.9 grew in breakfast by 0.9 percentage points. This sees it take home a 7.8% share, now level-pegging with WSFM, which grew from a 7.1% share to a 7.8% share.
While Nova's Smooth FM saw a healthy increase of 1.6 percentage points in survey three, seeing it soar to a 8.9% share, this survey it has suffered a decrease of 1.3 percentage points with a 7.6% share. It's perhaps not the threat to Kyle & Jackie we thought?
SCA's Sydney 2dayFM breakfast spot, The Em Rusciano Radio Show with Harley Breen, was back on the up in survey four, climbing from a 3.1% share in breakfast to a 3.3% share.
The show still has some way to go to beat predecessors Rove and Sam, who were axed due to poor ratings. By way of comparison, this time last year in survey four of 2016, Rove and Sam earned a 3.9% share in breakfast. In survey five 2016 the pair took home a  4.1% audience share back then. Can Em Rusciano at match Rove and Sam? And if not will SCA take the same action?
Looking at the entire radio landscape across breakfast, 2GB again takes out the most listeners across Sydney, with a 13.9% share, followed by ABC Sydney with 11.9% share. ABC rocketed up an extra 1.3 percentage points this survey.
Smooth wobbles in drive
Nova's Entertainment's assets, Smooth FM and Nova 96.9, continue to dominate Sydney drive across the prime time 4-7pm slot, but there's been a changing of the guard
Survey two in drive saw Smooth FM jump a solid 2.7 percentage to a 10.6% share; survey three saw it gain an extra 1.8 percentage points to earn a 12.4% share, but now, this survey four it has dropped 2.5 percentage points to a 9.9% share. Despite the big drop and losing its 'drive champion' title, fellow stable-mate Nova 96.9, with hosts Kate, Tim & Marty, has instead slid into poll position with a 11.7% audience share in drive – taking the top spot.
Hamish & Andy 2DayFM's national drive show, which nets bigger audiences in Melbourne more so than Sydney, made up for its 1.1 percentage point drop in the last survey by climbing 1.7 percentage points to to claim a 6.5% share – much healthier than its survey three 4.8% share.
ARN's Kiis hosts Hughsey and Kate, who in survey one had a lofty 9.1% share in drive, took home 8.9% share, showing the duo are on the up after last survey's 8.6% share result.
ARN's WSFM rose from 6.3% to a 6.8% share.
Sydney: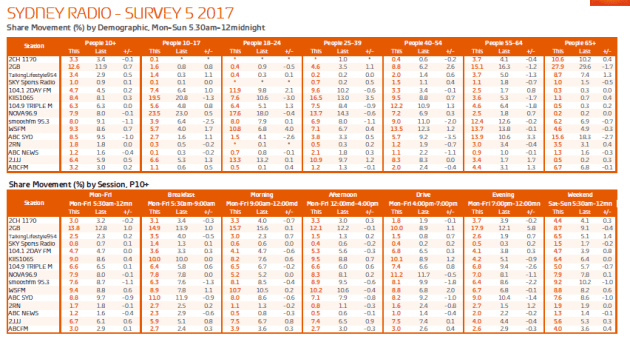 Melbourne
In the Melbourne market, SCA's Fox FM dominated.
It retained the highest share of total audience of the commercial stations with 9.9% share, followed by Nova's Smooth FM at 9.4%. Both stations made minor gains. ARN's Kiss dropped to a 6.4% share, down 0.6 percentage points from last survey.
Fox FM also dominated weekday listening with a 10.5% share of total listeners Monday to Friday, followed by ARN's WSFM/Gold FM and Smooth.
In drive, Hamish & Andy saw a 0.2 percentage point increase to a 12.9% share. It wasn't just the number one commercial station, but was the number one overall, beating out 3AW, which dropped from a 12.8% share to a 12.3% share – allowing Hamish & Andy to take the crown.
It was followed by Nova 100 which held its 9.7% share. Kiss saw a drop of 1.7 percentage points to a 7.5% share.
Fox also held the top spot in breakfast, for the Fifi, Dave, Fev and Byron show, taking a 8.8% share – a small increase from the last survey. 3AW has by far the greatest share of breakfast listeners with a 19.8% share.
Nova saw a bump of 0.5 percentage points in breakfast, reversing the decline with its Chrissie, Sam and Browny show and giving it a 7.3% share. It started the year with an 8.1% share – Melbourne's largest breakfast audience on the FM band.
Smooth saw small increases during breakfast, morning and drive sessions as well as total Monday to Friday audiences.
Nova 100  also made gains in the 18-24 demo increasing two percentage points to 15.1% share of the demo, while Kiss saw a 3.1% drop in the same age bracket.
Brisbane:
Perth:
Adelaide:
Check out past surveys here:
Survey Three: Radio ratings: Em Rusciano show drops; Smooth wins Sydney
Survey Two: Who was top of the pops in radio ratings survey two?
Survey One: First radio ratings of 2017
Have something to say on this? Share your views in the comments section below. Or if you have a news story or tip-off, drop us a line at adnews@yaffa.com.au
Sign up to the AdNews newsletter, like us on Facebook or follow us on Twitter for breaking stories and campaigns throughout the day.