In the third radio ratings of 2017 Nova Entertainment's Smooth FM station has again taken out the top spot for total listeners across the Sydney market's commercial music FM offerings.
The station appears to be on an unstoppable run, climbing 1.4 percentage points to scoop a solid 11.3% share of the market.
It's the second time this year Smooth takes this title, having knocked survey one's winner, Australian Radio Network's (ARN) WSFM station, off the top spot last survey. There is now a growing difference between the two.
WSFM instead earned a 7.7% share overall. It also sits behind ARN's Kiis106.5 (8.4% share), but slightly ahead of Nova 96.9 (7.6%).
Beyond commercial music FM radio stations, Macquarie Radio Network's talkback show 2GB continues to win the overall total listening across Sydney with 11.4% - but Smooth is snapping at its heels.
Australian Broadcasting Corporation's (ABC) Sydney, which used to often sit at second spot overall, now trails far behind Smooth with an 8.9% share.
See: Who was top of the pops in radio ratings survey two?
Smooth snaps at heels of Kyle & Jackie O 
Focusing on the FM breakfast slots across Sydney, Kyle & Jackie O on Kiis 106.5 dominate with a 9.7% share, however this is still not as strong a rating as the pair started the year, given they took a 10.5% share in survey one.
Nova's Smooth FM saw another healthy increase of 1.6 percentage points, seeing it soar to a 8.9% share. Should Kyle and Jackie O be worried?
WSFM overtook Nova 96.9 this time as it scooped a 7.1% share, compared to Nova's 6.9% share.
SCA's Sydney 2dayFM breakfast spot, The Em Rusciano Radio Show with Harley Breen, no longer continued to grow. Last survey it increased by 0.1 percentage points to take home a 4.1% share, but this round it shed 1.0 percentage points to take a 3.1% share.
In late May Rusciano took a leave of absence from her show for personal reasons. She returned to the station this week.
SCA will no doubt be hoping the drop is a one off and that it returns to growth, given the performance of former breakfast hosts Rove & Sam.
Looking at the whole radio landscape, Sydney breakfast show 2GB again takes out the most listeners across Sydney, with a 13.8% share, followed by ABC Sydney with 10.6%.
ARN's national content director Duncan Campbell says the network continues to experience positive results for its brands due to its strategic focus, holding the number one breakfast position in Sydney complemented by growth across both station and breakfast for Kiis 1065 and WSFM.
He says the "powerhouse" of Kyle & Jackie O continues dominance as Sydney's most popular breakfast show delivering their "distinctive brand of content".
Nova's Entertainment's assets dominate Sydney drive
Across the prime time 4-7pm drive slot, Nova's Entertainment's assets, Smooth FM and Nova 96.9, ruled the roost.
While last survey saw Smooth FM jumped a whopping 2.7 percentage points from a 7.9% audience share to a 10.6% share, this survey sees it gain an extra 1.8 percentage points to earn a 12.4% share.
Just behind Smooth FM is its stable-mate Nova 96.9, with its drive time hosts Kate, Tim & Marty winning a 10.5% audience share. The show increased by 0.4 percentage points.
Hamish & Andy took over 2DayFM's national drive show in 2015, but again seem to pull bigger audiences in Melbourne more so than Sydney. The duo dropped 1.1 percentage points to claim a 4.8% share.
ARN's Kiis hosts Hughsey and Kate, who in survey one had a lofty 9.1% share in drive, and then an 8.7% share in survey two, again shed listeners to take home an 8.6% share.
ARN's WSFM also lost listeners in drive dropping from an 6.5% share to 6.3%.
Sydney: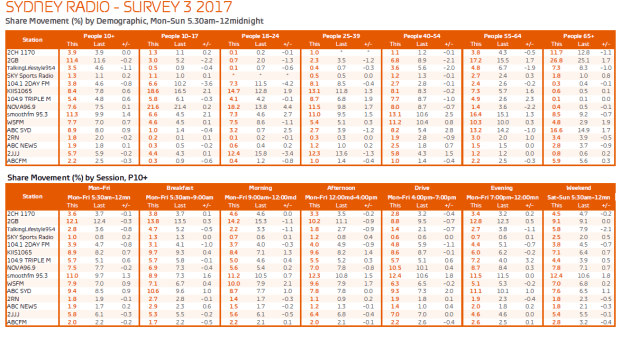 Melbourne:
In total listeners across Melbourne, SCA's Fox FM rose to the top and secured 9.8% audience share, up 1.7 percentage points. It bumped down Nova's Smooth FM which hit 7.6% audience share, down from 7.7% audience share last survey.
Nova continues to fall in breakfast ratings.
SCA's TripleM has retained its audience share of 8.0% in the breakfast audience, keeping it in front in the FM band. Nova's Chrissie, Sam and Browny dropped again this survey to 6.8% audience share from 7.6% - a significant drop again for its 8.1% at the beginning of the year.
The drop will be another blow for Nova. In the last survey the trio had a solid start to the year as Melbourne's largest breakfast audience on the FM band. It has now dropped consecutively for two surveys.
Hamish & Andy return to dominance in drive
Fox FM's Hamish & Andy, who dominated Melbourne drive last year, have risen to 12.7% audience share in the prime slot, up from 10.3% last survey. They have overtaken Nova's Kate, Tim & Marty, which they tied with last survey, at an audience share of 9.7%.
The two programs are now significantly ahead of Smooth FM, which saw a small decrease in audience share to 7.9%.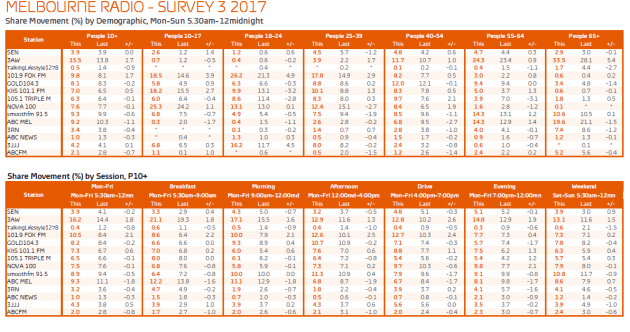 Adelaide: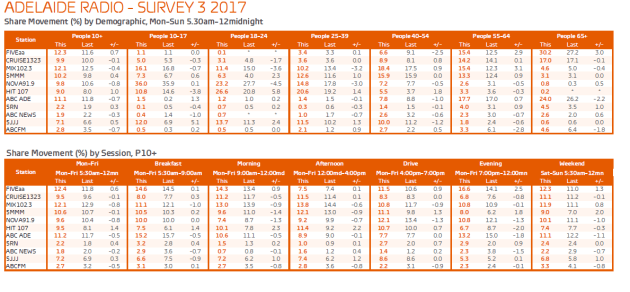 Perth: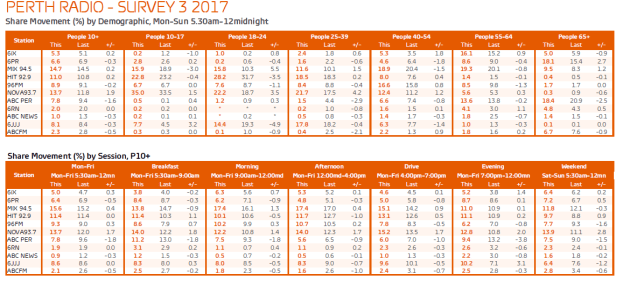 Brisbane: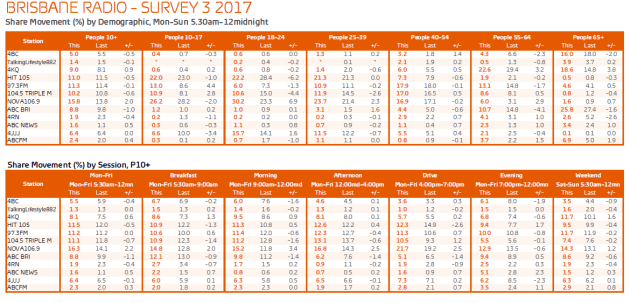 Have something to say on this? Share your views in the comments section below. Or if you have a news story or tip-off, drop us a line at adnews@yaffa.com.au
Sign up to the AdNews newsletter, like us on Facebook or follow us on Twitter for breaking stories and campaigns throughout the day.