AdNews takes a look at how the radio scene is shaping up in key metro markets for the sixth radio ratings of 2017. This survey period is from 16 July through to September 23. In case you missed it you can see survey five here. 
We are over the halfway mark now when it comes to the radio stats, with the next survey due out on 14 November and the final ratings, survey eight, due out on 19 December. See below for more.
In survey six in the sought after brekky spot, Sydney breakfast show 2GB takes out the most listeners across Sydney, with an increasingly growing share. It took a 15.3% share of breakfast ears - up on its 14.9% share last survey.
ABC Sydney is no longer second, having dropped from an 11% share to 10%. Instead, at joint second spot with a 10.3% share each is Kyle & Jackie O on ARN's Kiis 106.5 and WSFM's Jonesy & Amanda show. More good news for ARN given both assets are ranking highly and a major jump for WSFM given in survey six last year its breakfast share was 7%.
Kyle and Jackie O show have reigned supreme in Sydney breakfast for a long time, but with WSFM now level pegging, the infamous duo could well and truly be relegated come survey seven.
In fourth spot in breakfast Southern Cross Austereo's (SCA) 104.9 Triple M station grew 0.6 percentage points to take a 7% share, leaving Nova 96.9's Fitzy & Wippa show in fifth spot - having dropped from a 7.8% share to a 6.6% share. Smooth took home a 6.4% share.
SCA's Sydney 2dayFM breakfast spot, The Em Rusciano Radio Show with Harley Breen, dropped from a 3.6% share back to the 3.3% share it scooped in survey four. AdNews understands despite the duo now performing lower than axed predecessors Rove and Sam, who were cut due to poor ratings, SCA is sticking with the pair. This time last year Rove and Sam took home a 4.3% share.
Industry sources tell AdNews that the show being based in Melbourne does not serve the show well as "Sydney listeners like hosts to be based in their city".
Nova fails to hold drive
In drive 2GB leads with a 10.4% share, having knocked off last survey's drive winners - Nova 96.9 hosts Kate, Tim & Marty – who led with an 11.2% share.
This survey Nova has shed 1.5 percentage points, has lost its drive crown and with a 9.7% share it now sits at third spot.
Kiis comes in at second, under 2GB, with a 9.8% share. With just one percentage point between Kiis and Nova, it's all to play for in drive.
Smooth FM dropped 0.3 percentage points to a 7.8% share.
Hamish & Andy 2DayFM's national drive show dropped 1.6 points to claim a 5.2% share. It remains to be seen who SCA will replace the duo with when they exit this year.
WSFM goes from strength to strength
In survey six for total listeners across Sydney, Macquarie Radio Network's talkback show 2GB again leads the pack, scooping a 12.6% audience share – the same share it took in survey five.
Next up is Australian Radio Network's (ARN) WSFM station with a 9.8% share. The station seems to be going from strength to strength, having climbed 0.5 percentage points. It's the third time this year it's beaten key rival Smooth FM in the overall listeners stakes. Nova Entertainment's Smooth FM station earned a 8.7% total audience share, climbing 0.7 percentage points.
Given Smooth's significant drop of 1.1 percentage points in the last survey, from a 9.1% audience share to 8%, it was clear it had some work to do to clamber back up to its top spot for survey six. While close, not close enough.
ARN's sister station Kiis 106.5 claimed an 8.6% share, meaning Nova overtook it this survey, but by a whisker.
Australian Broadcasting Corporation's (ABC) Sydney, which used to flip in and out of second and third spot overall, has dropped further, from third position in survey five with an 8.5% share, to an 8.3% share and fifth spot overall. Far behind its 9.5% share in survey four.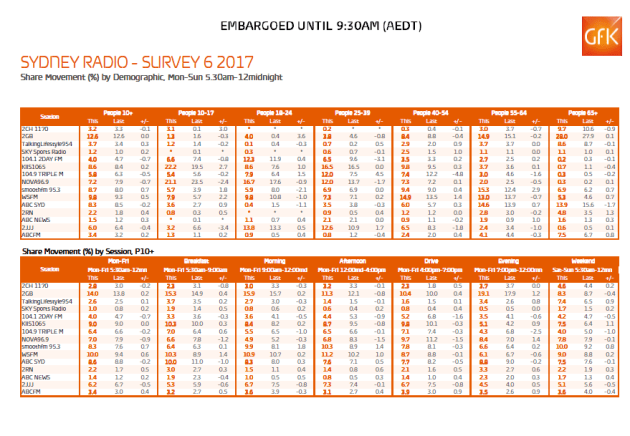 Melbourne: Byron Webb overtakes Hamish & Andy in drive

Nova's Smooth FM drive show with Byron Webb came out on top in the sixth radio survey of the year with 10.8% audience share, marginally in front of Fox FM's Hamish and Andy, who hit 10.7% audience share.
Smooth FM's big win, given it had 8.9% in survey five, pushes Hamish and Andy to second place, despite increasing 0.4 points from survey five's 10.3% to this survey's 10.7%.
Nova's Kate, Tim and Marty were bumped down to third, dropping 0.5 points to 9.6% audience share.
Kiis FM's Dave Hughes and Kate Langbroek managed to top Triple M's The Rush Hour with a 7.2% share and 6.7% share respectively.
3AW, on the AM band, remains the most listened to station with 12.8% audience share.
Fox also held the top spot in breakfast with the Fifi, Dave, Fev and Byron show taking a 9% share – a 1.1 point increase from last survey. 3AW has by far the greatest share of breakfast listeners with a 21.6% share.
Nova fell from its second place to now fifth in the breakfast radio ratings, dropping one point to 6.8% share. It started the year with an 8.1% share – Melbourne's largest breakfast audience on the FM band.
Smooth FM shifted up to second as Jennifer Hanson and Mike Perso hit an audience share of 7.8%. It came out in front of Gold 1.04's Stanley and Anthony Lehmann's 7.7% share.
Triple M came in fourth, declining 0.5 points to 7.1% followed by Kiis FM's Matt Tilley and Meshel Laurie with a 6.1% share.
In total listeners in the Melbourne market, Nova's Smooth FM (10.5%) continues to climb in the six radio survey of the year, up from 9.5% in the last survey. Fox FM also saw a small increase to 9.3% audience share. Nova's 100 dropped again to now 6.9% from 8%.
Smooth FM dominated weekday listening with 10.1% audience share, followed by Fox FM (9.8%) and Gold FM (9.3%). Nova 100 and Triple M both saw small decreases in audience.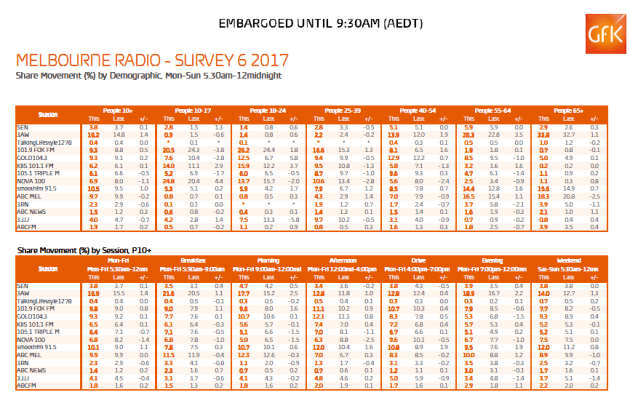 Brisbane: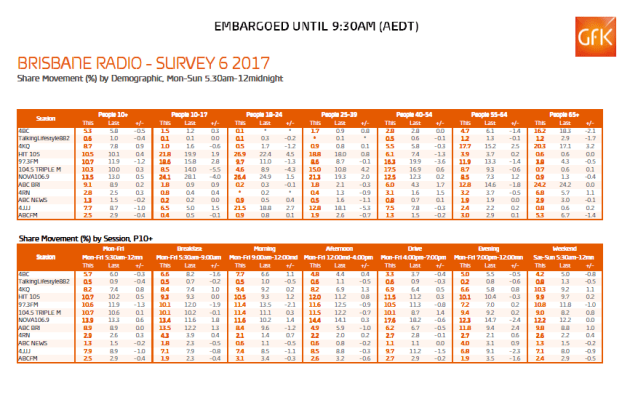 Adelaide: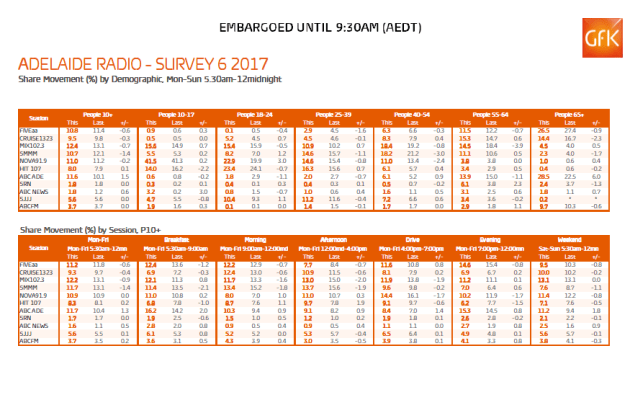 Perth: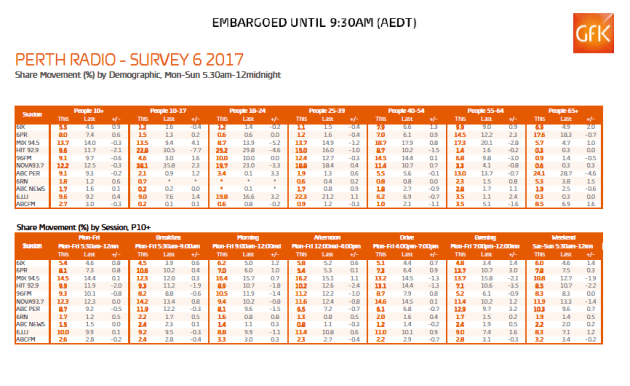 Check out past surveys here:
Survey Five: Radio ratings: ARN's WSFM ups ante; knocks Nova's Smooth in Sydney

Survey Four: Radio ratings: Smooth wobbles; Rusciano gains - but enough?

Survey Three: Radio ratings: Em Rusciano show drops; Smooth wins Sydney
Survey Two: Who was top of the pops in radio ratings survey two?
Survey One: First radio ratings of 2017
Have something to say on this? Share your views in the comments section below. Or if you have a news story or tip-off, drop us a line at adnews@yaffa.com.au
Sign up to the AdNews newsletter, like us on Facebook or follow us on Twitter for breaking stories and campaigns throughout the day.