In the first radio ratings of 2017, Australian Radio Network's (ARN) WSFM station takes out the top spot for total listeners across the Sydney market's commercial music FM offerings.
In the first of eight radio ratings surveys for the year, for the 22 January to 4 March time period, WSFM secured the most listeners aged 10 and upwards across Sydney, with an 8.4 % audience share. In close second place was Nova's Smooth FM, with an 8.3% share. In third position was ARN's Kiis106.5 with a 8% share, down one percentage point from 9% in the final survey of 2016. Nova 96.9 earned a 7% share, down from 7.3%.
All three networks have undergone major changes since January this year. SCA has been rocked by it's Sydney breakfast changes; ARN, which is a fully fully owned subsidiary of APN News & Media Limited, last week saw its CEO exit after 18 months in the role; and Nova carried out a full brand re-launch.
Beyond commercial music FM radio stations, Macquarie Radio Network's talkback show 2GB continued to win the overall total listening across Sydney with 11.3 % of the audience share. Australian Broadcasting Corporation's 702 ABC came in next with a 8.7% share.
SCA's breakfast shake-up gains share
Again 2GB takes out the most listeners across Sydney, with a 12.9% share, followed by 702 ABC with 10.9%.
Looking at the FM breakfast slots across Sydney, while it's no surprise that Kyle and Jackie O continued their dominance of Sydney breakfast, staying flat with a 10.5% share, all eyes and ears are on SCA's new Sydney 2dayFM breakfast spot - The Em Rusciano Radio Show with Harley Breen.
The show, which has received plenty of positive sentiment across social media, earned a 4% share across Sydney breakfast – up 0.2 percentage points.
It replaced Rove McManus and Sam Frost who were bumped from breakfast to a 7-8pm slot. It's widely thought the duo did not have the right chemistry, but due to contracts – with McManus thought to be on a three-year contract of about $3 million per annum, the pair stay firmly on air. While he's a popular comedian and Ten Bachelorette Frost has become the nation's sweetheart, many say the age difference and dissimilar life stages meant the dynamic didn't work and ratings didn't impress.
Rusciano & Breen's 4% share compares against Rove & Sam's share of 3.8% in the final ratings survey last year. At the time, media agency buyers told AdNews that SCA may have been 'overly patient'.
"We need to settle back down" - SCA CEO
Speaking to AdNews ahead of the ratings and after its positive financial results last month, SCA CEO Grant Blackley said in the last six to 12 months lots of changes have been made which now just need to bed in – and hopefully the benefits are now in front of the network with the "heavy lifting having been done for the most part".
"Yes we need to improve Sydney, but we think that the change we have made across to Em and Harley will deliver hopefully improved outcomes for us – for our audience, our advertisers and economically for the company. So that has been a focus," Blackley said.
"Certainly with all the amount of change we've employed we now need to settle back down. We need to live and breathe that through the course of this calendar year and I think we hopefully are now ahead of the pack and will open up opportunities for more audience, more revenue and monetisation accordingly."
He said SCA will continually look at every format to make sure it is maximising it.
"We just need to effectively steady and nurture a lot of formats and start to build them up so there's a level of momentum and continuity that's being provided to market given the cumulative amount of change that we've made in the last 12 months," Blackley added.
Also in Sydney breakfast, just behind Kyle and Jackie O, was SCA's 104.9 Triple M show, which gained a major boost of 2.2 percentage points, taking it from a 5.5% breakfast share to a 7.8% breakfast share.
ARN-owned WSFM's Brendan Jones and Amanda Keller scooped a 7.3% share and Nova 96.9, with Fitzy & Wippa, took a 7.2% share.
Smooth FM'S Bogart Torelli and Glenn Daniel saw a drop of 0.5 percentage points to take out a 6.2% share.
Nova overtakes Kiis in drive
Across the 4-7pm drive time slot, Nova's Kate, Tim & Marty gained 1.2 percentage points, soaring to a 10.3% share – a good distance away from last survey's winners, Kiis' Hughsey and Kate, who this time around gained a 9.1% share.
Next up in drive was 2GB, with a 8.9% share, then WSFM with 8.2% share having scored another ratings boost of 1.2 percentage points.
Nova's Smooth FM suffered in drive, dropping 1.2 percentage points to take home a 7.9% share – compared to its previous 9.1% share.
Sydney: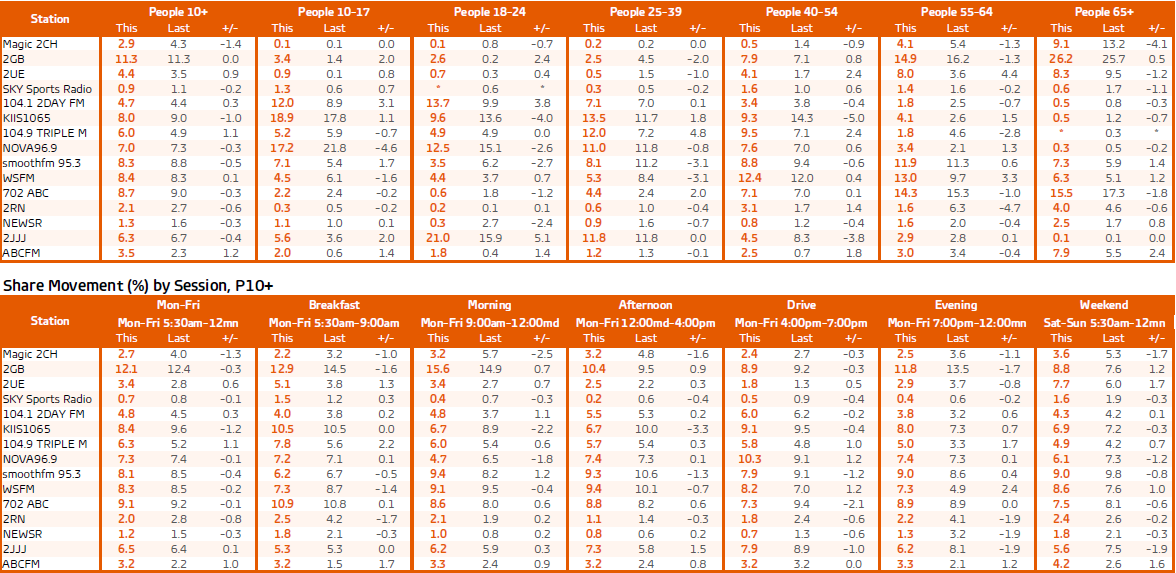 Record wins for Nova in Melbourne
In total listeners, Nova saw plenty of success with its Smooth FM show taking out the number one FM station, with a 9.4% share – the top spot was a first for the station. Smooth no doubt took a bite out of SCA's 101.9 Fox FM, which dropped 1.5 percentage points to secure a 9.1% share.
A large exodus of young millennial listeners seems to have rocked SCA's 101.9 Fox FM, as the station's prized breakfast and drive shows took a hit this survey.
Hamish & Andy, who dominated Melbourne drive last year, lost 3.1 points for an audience share of 11.7%, in drive. They are ahead of Smooth FM (up 1.9 points to 10.1% share) and Nova's Kate, Tim & Marty, who enjoyed a 1.4 point audience bump to a 9.4% share.
Nova's Chrissie, Sam & Browny had a solid start to the year with a 1.7 gain to a 8.1% share – Mebourne's largest breakfast audience on the FM band.
While Nova and Smooth FM's strong start to the year can be attributed to solid audience gains among 40 to 64-year-old listeners, Fox FM's decline is almost solely among young millennials.
Fox FM's audience share of 18 to 24-year-olds plummeted from 31.3% to 17.7% in one ratings survey period with two main beneficiaries. Kiis 101.1 increased its share of this demo by 5.6 points to 15.9% and TripleM grew its share by 6.9 points to 12.7%.
Despite the extra millennials, Kiis and TripleM both lost audience share in drive.
On talkback, 3AW's Ross and John comfortably dominate breakfast with an 18.3% audience share to the ABC's 13.3%. 
During drive, Tom Elliott had a 0.6 point drop and now has the same 9.4% audience share as Nova.
Melbourne: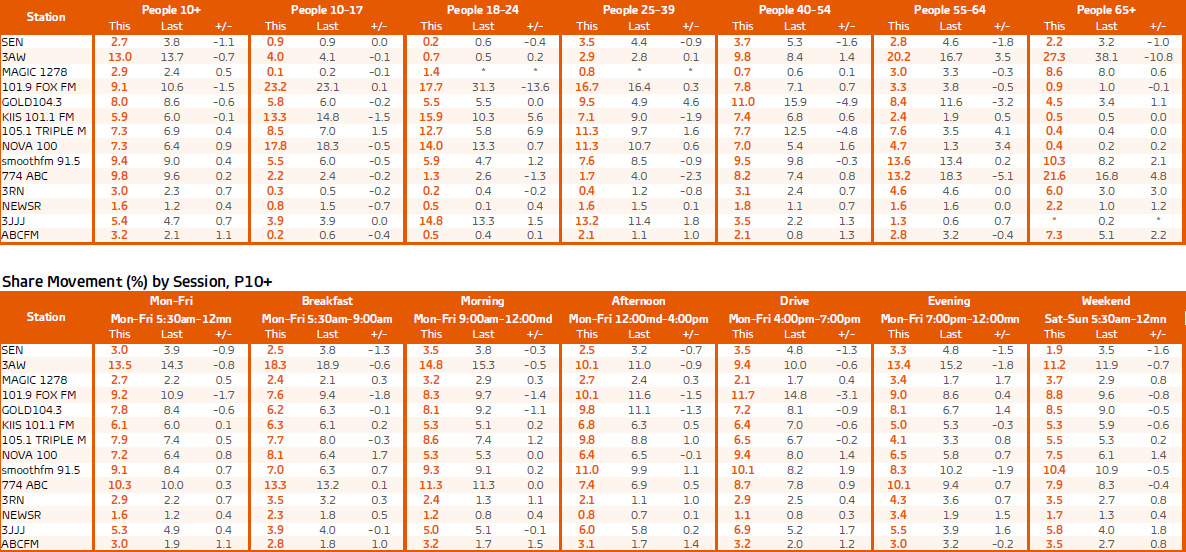 Brisbane: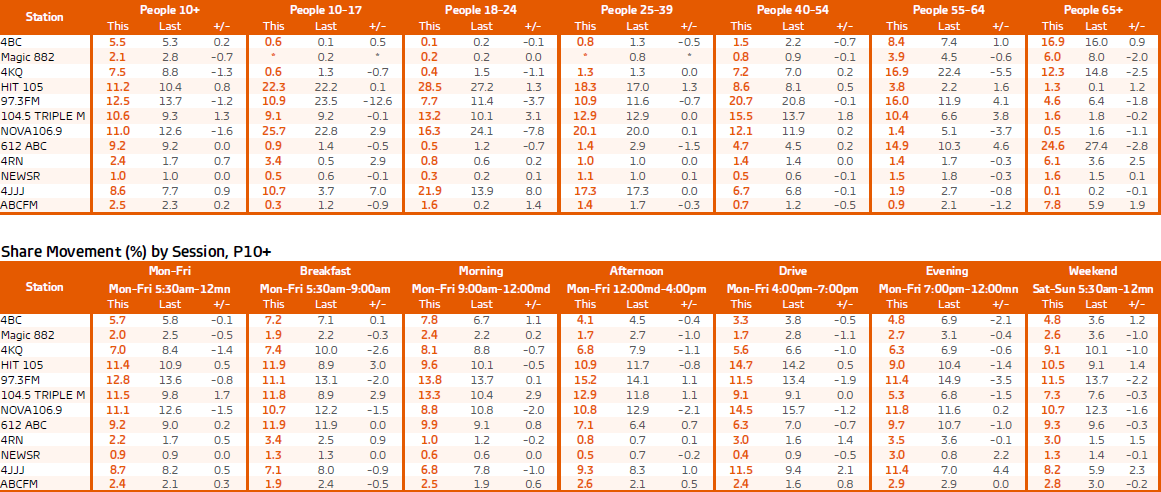 Adelaide:

Perth: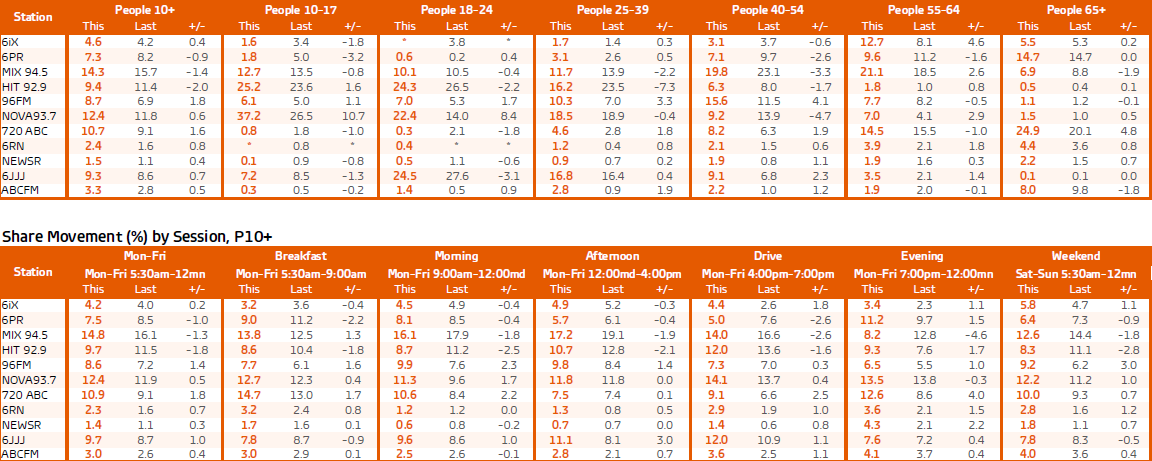 Have something to say on this? Share your views in the comments section below. Or if you have a news story or tip-off, drop us a line at adnews@yaffa.com.au
Sign up to the AdNews newsletter, like us on Facebook or follow us on Twitter for breaking stories and campaigns throughout the day.