In the old days the measures for the success of a television show were very simple.The overnight ratings would come in at 9.00am and by 9.10am you knew immediately whether a show had worked for the network, and importantly the marketers who had invested in and around the program.
Today this equation is infinitely more complex. Indeed, I'd argue increasingly that the media – and in some instances the wider industry – is at risk of missing a trick in how it both frames the conversation around how viewers are watching entertainment and defines success in the digital era.
Let me give you an example. Last week Nine launched Love Island Australia, one of the hottest reality franchises in the world, as a commission – aimed at a particular audience – purpose-built for both our multi-channel 9Go! and on-demand platform 9Now.
When we announced the show, at our Upfronts last year, we were very open about the fact that it was a youth-focused commission – i.e. the 16-39s who supposedly don't watch TV – and that we were seeking to grow an audience which usually on a week night at 8.30pm pulls figures in the mid-to-low 100,000s.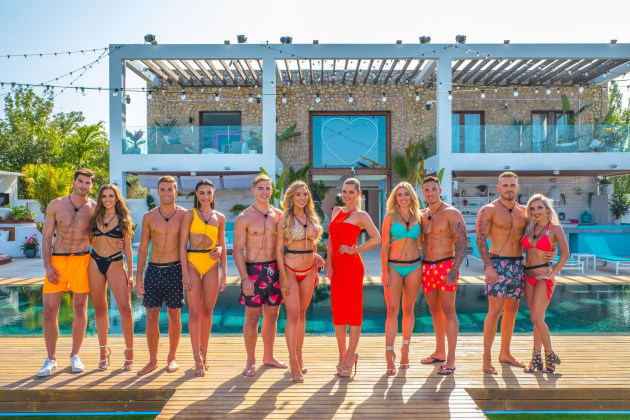 The Love Island cast
The launch episode's figures came in two Sundays ago at 155,000 metro viewers on 9Go! but many of the headlines immediately sought to claim the ratings had somehow "fizzled."
To my mind, the press are making two mistakes here: the first one being that many of these analyses were implicitly comparing the Love Island audience with the millions that Nine gets on its primary channel with well-established shows like Married at First Sight and The Block.
On average last week, Love Island Australia was pulling total audiences of over 200,000-plus, but this figure hides the reason that a show like this is attractive to our clients – it's extremely demographically pure, particularly with 16-39s.
Two weeks ago, on Thursday night, 9Go! screened the US franchise Survivor: Ghost Island which had 27,118 in the 16-39s demo tune in (out of a total audience of 116,456). Last Thursday night, Love Island Australia had 88,305 viewers in the 16-39 demo. Not only is that a 225% increase in the demo, it's also a figure getting close to half of a hard-to-reach, key audience.
As an industry, when we talk about the evolution of audiences in a fragmenting world, we as media owners need to recognise that our ability to deliver key audiences – such as 16-39s – at scale will be incredibly important to our future.
This brings me to the other mistake we are at risk of making, which is ignoring or having a minimal understating of the consumers' desire for on-demand viewing of content.  
Amid a rapidly evolving media landscape, both the industry and media narrative has regularly noted that 16-39s are a demographic that typically watch less linear television than older demographics.
Within this environment Australian content companies like Nine need to experiment and continue to look for better ways to engage these millennial audiences that advertisers are keen to reach, regardless of platform.
As I've already noted, Love Island Australia is a niche program. It appeals directly to a specific and clearly defined youth demographic. It's voice-over commentary is entirely tongue-in-cheek and irreverent; it is fun and interactive (what other TV show has an app which asks you to vote on whether you give more of a stuff about a contestant or the Villa cat?); and it is the type of light-hearted entertainment that millennial viewers enjoy "bingeing" on.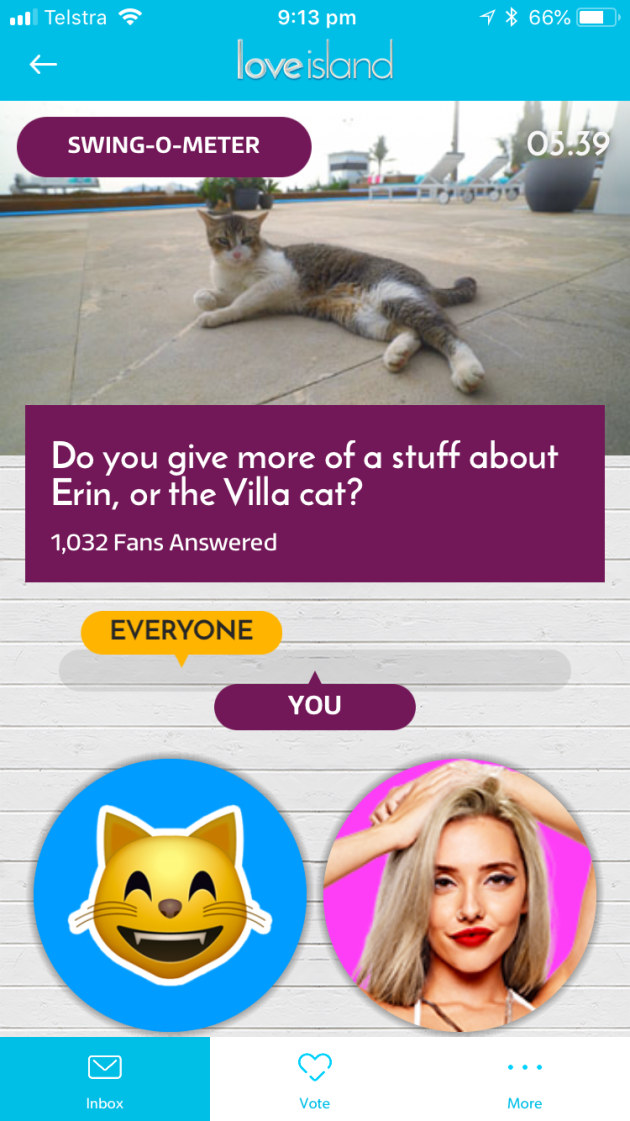 Love Island encourages voting through its app
While Love Island is a show that has posted solid audience uplifts in its 9Go! audience in key demos, it is in the on-demand space where 9Now has immediately come to fore.
Within 24 hours of episode one launching on 9Now the show had an average VPM figure of 68,500. That's bigger than what Married at First Sight got on day one – and it is the biggest Australian reality TV show ever on digital VPM ratings.
By Friday the first couple of episodes were surging up the OzTAM VPM rankings. By Saturday the first three episodes had (at least temporarily) overtaken The Handmaid's Tale in the seven-day VPM rankings, and yesterday we saw the numbers for weekend consumption smash through the 40% marker of the total 9Go!/9Now audience – a percentage of traditional linear audience, by the way, we've never seen on Australian TV.
All of this only goes to highlight why it was important to commission Love Island as a cross-platform play for both 9Go! and our broadcast video on demand platform 9Now.
In defining success in 2018, we at some point must accept that the old rule – i.e. one simplistic overnight figure – does not tell the whole story. In fact it can be quite deceptive.
As a TV industry we must do more to make understanding the cross-platform nature of our audiences easier for marketers and their agencies to both access and more importantly understand. The challenges of calculating overnight, consolidated (7-day and 28-day) with VPMs audiences, are complex, but to its credit OzTAM is taking the right steps to get this right.
2018 has already taught us that digital need not cannibalise the linear television audience. Nine's experience of Married of First Sight has shown that local content can still dominate the national conversation, and this "watercooler" effect can not only drive audiences to "binge" on 9Now, but to also tune in to linear TV, as we watched the numbers build throughout the season.
Television remains the most effective medium to reach consumers regardless of age en masse. Nine's decision to commission a show specifically to deliver hard-to-reach younger demographics for advertisers, where and when they want to watch, is an evolutionary, not revolutionary step with a strategic focus on the future.
However, as an industry, the measures of success must also evolve, and on any level – delivery of 16-39s, growth of linear audience and explosion of digital on-demand viewing – Love Island has been a winner. It's the combination of all these factors, however, that truly demonstrates not just the power of new and different formats but the need to innovate.
We must continue to experiment and try new things, chase different audiences, and do so in different places (such as multi-channels) and on different platforms (such as BVOD.) Much of this won't fit an old and narrowly defined mould of traditional overnight television success. However, our future relies on us redefining both the mediums of consumption and measures of entertainment success.
By Richard Hunwick, Nine's director of sales – television