Nine has big ambitions for 2018, hoping to build on a successful 2017 by bringing back ratings winners Married at First Sight, a "bigger and better" season of Australian Ninja Warrior and a new series of Underbelly.
In addition, it's launching an Australian version of the popular UK program Love Island - which it will air not on its main channel, but on 9Now and 9Go. In July this year in the UK, Love Island's finale pulled in the highest viewing figures in ITV2's history - with 2.43 million people tuning in.
All was revealed at Wednesday's upfronts and speaking to AdNews, Nine chief sales officer Michael Stephenson said holding strong on the key advertising demographics will continue to be a big focus for Nine in 2018.
For all the glitz and glamour of the event, which many are specualting cost the network close to $1 million, and saw mentor from The Voice, Kelly Rowland perform, as well as troop of 'ninja dancers' entertain the crowd, CEO Hugh Marks opened the event with a refreshingly humble introduction.
His first task was to reference what the network promised last year, and how it had delivered.
He touched on delivering more consistency in ratings across the year, and across all demos; investing in technology and digital content; make trading with Nine easier through an automated platform and investing in data to improve its single customer view. All of those things, he says, have been delivered.
Marks said it was important to reflect on what had been achieved and delivered so that advertisers and agency partners could trust the commitments it was pledging for the year ahead.
"It's a very exciting time for the evolution of nine as a content and technology business. It's important for me,because all of us at nine of proud of where we're going and what we've open but also because trust is important to us in a world that is complex, and often fake," he said.
The event also opened with a comedy skit starring a cast of Nine's talent. In the spoof, the team sit around planning Upfronts, and make a joke of the much-maligned five-hour upfronts event Nine held last year, which had many media execs losing their enthusiasm and earned Nine a slew of criticism.
The skit showed some humility from the TV network and demonstrated that Nine was listening to feedback, taking it head on, and taking action.
Head of sales, Michael Stephenson said Nine has been on a two year journey of rebuilding its content strategy to engage audiences and advertisers to deliver on two objectives, being a successful prime time presence as well as delivering growth in key demographics.
"We began a journey of creating great Australian content which we invested heavily into to ensure that across the year we had a consistency both at 7pm when you came out of the news and current affairs product, but importantly that went right across the week and right across the year," he said.
"In every one one of those demographics we've grown our share both in prime time on Nine as well as our four channel network, but important for advertisers we've grown the number of thousands of people engaging with our content."
Michael Stephenson
Speaking at the Upfronts, hosted in Sydney, CEO Hugh Marks said he feels Nine has delivered on its strategy.
"A year ago at the Nine Upfront I spoke about how in 2017 we would look to lift the ratings performance and consistency of our schedule," Mark said.
"With more than 2.6 share points of growth in prime time on Channel Nine across all of the key demographics that matter most to you, I feel 
See: More than two million Australians go crazy for Ninja Warrior launch
"Our entertainment slate is strong and we now have hit shows every quarter. Add this to our audiences for news and sport and Nine offers consistency of audience delivery across the entire year."
Nine says its pleased with its progress in key advertising demographics
In 2017, Nine introduced an extended format for Married at First Sight, which was a ratings hit, and will return next year.
Stephenson said the show "surpassed all expectations" and benefited the whole Nine ecosystem, driving traffic to its digital network 9Honey and catch-up service, 9Now.
"Married at First Sight is absolutely the poster child of how we will create and curate content into the future," Stephenson said. 
Australian Ninja Warrior, which had nine episodes, was undoubtedly Nine's breakout show for 2017 with more than two million tuning in to its premiere episode in July. Australian Ninja Warrior became the top rating entertainment program this year, beating the 2.15 million that watched the MKR final, the 1.99 million that watched the finale of Married at First Sight as well as the 1.91 million that tuned into watch the final of The Voice.
Still to come this year is Nine's food format Family Food Fight, which will showcase the very best in home cooking.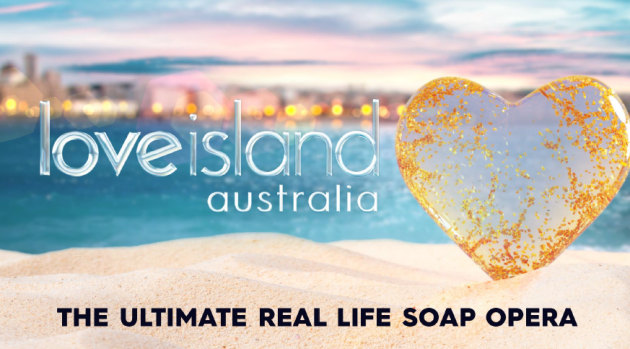 Nine is bringing UK program Love Island to Australia
Nine is betting big on the Australian adaption of UK show Love Island, which will air on 9GO and its streaming platform 9Now.
The show sees "sexy young Aussie singles" on the lookout for romance, jetting off to a summer paradise to find love in Spain.
Love Island UK is one of 9Now's most binge-watched shows, delivering significant growth the catch-up platform.
Nine is also looking to bring back blockbuster comedy Talkin' 'Bout Your Generation after a three year hiatus from TV, as well as introduce a new property show on Buying Blind.
Buying Blind features couples who are on hunt for the dream home but instead of buying it themselves hand over the control to three experts, similar to UK format 'Location Location Location'.
Stephenson said the dominance of The Block in the property space should give Buying Blind an advantage with advertisers, with Nine having long-standing relationships with Mitre 10 and Domain. 
Nine also pushed its comprehensive sports slate and its innovation in coverage and technology.
The network claims to "own Sunday' with live sports including NRL, AFL, cricket (including the women's Ashes on air for the first time) and netball now airing on the main channel on both Saturday and Sunday.
The network claims that "there is no better platform to reach Australian consumers".
Head of sales, Michael Stephenson summed up the opportunities on offer for advertisers through Nine's new programming slate, and data and technology capabilities.
"We are Australia's largest digital media company … we offer world class advertising technology, supported by a unique data proposition that sits alongside Google and Facebook and far surpasses any other publisher in the Australian marketplace," he said.
"I don't think there's ever been a more important time for marketers to invest in building brands, to drive sales. If you want to build brands by integrating into, and aligning with, the very best in news, sports, entertainment, and lifestyle, and deliver your audience targeted ads using the latest and leading technology, and real data at scale, I don't believe anyone else can do that as well as we can at Nine."
New shows
Underbelly files: Chopper
Underbelly Files: Chopper is finally coming to Nine in 2018 after being announced at the 2016 Upfronts. Created by Screentime, producers of the trailblazing Underbelly franchise, this two-part mini-series explores the untold, uncut story of notorious gangster Mark 'Chopper' Read.
Talkin' 'Bout Your Generation
The blockbuster comedy for every generation that will have all Australian's laughing out loud, Talkin' 'Bout Your Generation, led by host Shaun Micallef, is an hour-long riotous 2 battle between three generations – Gen X lead by Robyn Butler, Gen Y lead by Andy Lee and Gen Z lead by Laurence Boxhall.
Buying Blind
In 2018, Nine unveils the most ground-breaking property show on Australian television. Couples searching for their dream home will hand over their life savings to three experts, trusting them to take over the biggest decision of their lives. Amazing transformations and edge-of-your-seat drama make Buying Blind the new high-stakes property thriller.
Family Food Fight
Announced last year, Nine will air Family Food Fight later this year. It will feature acclaimed chef and restaurateur Matt Moran is Family Food Fight's lead judge, assisted by high-energy, mohawked uber-pastry chef Anna Polyviou and popular foodie and cookbook author Hayden Quinn.
Bite Club
Nine's new crime thriller, Bite Club, follows two detectives that join forces to hunt a serial killer.
Date night
The brand-new future of dating has arrived. Date Night is a spontaneous, fun-filled dating show. Singles looking for love will use their family and friends to find their perfect match. Together, from their couches, they'll play this online dating game, swiping through prospective suitors until they find The One.
Driving Test
Driving Test is a heartfelt factual show that goes behind the scenes of people learning how to drive. From their very first lesson to the test itself, we'll witness the highs and lows and the hits and misses as the drivers and their larger-than-life instructors score them a Pass or Fail.
Returning shows
Australian Ninja Warrior
The Australian Ninja Warrior phenomenon that captivated the nation with record ratings in 2017 will return in 2018 – even bigger and better. Hosts Ben Fordham and Rebecca Maddern will be joined again by Freddie Flintoff for the ultimate event television format of the year. It will return in a longer format.
Married at First Sight
Married at First Sight, Australia's most controversial and ground-breaking social experiment, returns for its fifth and most explosive series yet in 2018.
The Block
Australia's longest running reality program will return in 2018 for its 14th series. Fifteen years since the record-breaking first instalment in 2003, The Block has cemented itself as a television phenomenon that remains as popular as ever. This year The Block has averaged 1.8 million viewers per episode – up by 20 per cent on the corresponding period last year.
The Voice
The Voice Australia will be back for a sensational seventh series as popular superstar coaches Kelly Rowland and Boy George return to the famous red chairs. They will be joined by a fourth coach to be announced soon as they uncover the next wave of incredible talent across the nation.
True Story with Hamish & Andy
True Story with Hamish & Andy brings to life the best Australian tales you've never heard, told by the very people who experienced them and then humorously and cinematically realised through dramatic recreations.
Have something to say on this? Share your views in the comments section below. Or if you have a news story or tip-off, drop us a line at adnews@yaffa.com.au
Sign up to the AdNews newsletter, like us on Facebook or follow us on Twitter for breaking stories and campaigns throughout the day.