This (Part 3) first appeared in the AdNews March 2019 magazine as part of a six-month project with Lida, looking at Bauer's Women's Weekly. Support AdNews by subscribing here.
AdNews and LIDA came together to choose our one defining ad of each decade that symbolises the journey of women in Australian advertising.
Heinz – 1940s
Coming off the back of the Heinz' mission to offset food shortages during WW1 and WW2 by widening the range of canned goods, this advert is a prime example of how a woman is depicted in a brave new world, enthralled by the prospect of convenience.
Note she is manicured – from the positioning of the bow in her hair to a set of a polished nails, this is a domesticated woman who has bought herself the unprecedented and joyous gift of time. However, her position as 'servant' in this scenario is evidenced by the male voice that dictates the tone of the ad: "I'm bringing Bob home to dinner, dear" and "Put away your cook book lady".
Putting the tone to one side, we were intrigued by how the copy was modified to make this northern hemisphere product sound palatable to someone living in the Aussie heat – surely an early hint at oncoming globalisation? It is also a perfect specimen of 1940s creative: an illustrated design with lashings of copy.
President Fridge – 1950s
Convenience clearly sells, and by the 1950s it doesn't just come in a tin can, but in a large metal box. The high heeled, apron wearing, female figure is reduced to a feature of the product itself, as though it replaces her stature in the home.
As we would expect with the 1950s, this ad is instructional, seeking to educate the woman on the functions of this new technological marvel.
There is even an illustration of internal components to prove just how futuristic the engineering is – this is indeed rocket science, it would seem. The pledge this ad makes is compelling: emancipation from daily grocery trips and the enthralling opportunity pre-prepared fresh meals can provide.
It times neatly with 1956 Australian legislation: the Marriage Bar allowed women working as teachers to remain in their profession once married for the first time – one of the early indications that combining marriage, a family and career could be standard practice in Australia. It tells us that, with a President fridge in the kitchen, anything was possible, even working once you're married!
Berlei – 1960s
Evoking the spirit of the famous David Bailey photograph of Jean Shrimpton in 1963's Vogue, this Berlei ad is a symbol of everything that had changed in female culture and how a new order was swept into the newsagents who carried copies of The Weekly. Gone is the instructional, illustrative advert of the 1950s and the overiding male narrative.
The pinnafore has been scrapped in favour of lingerie in an overt nod to the changing female mindset and the willing advancement of it. Whereas the 1950s President Fridge highlighted the potential for freedom, this woman, in all her photographed glory, is free to exhibit herself as she chooses.
We love the play on 'In-Group' as if wearing this new, more revealing lingerie allows the woman to feel part of a movement that brings women together. Even her pose, leaning forward, suggests she is ready for action – whatever that action may be.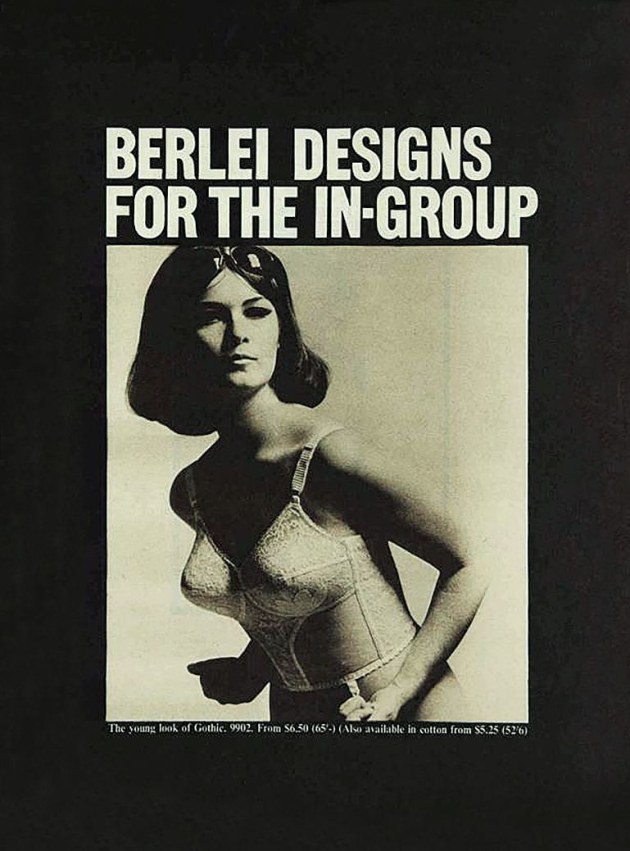 Panadeine – 1970s
Long gone is any notion of servitude in this 1973 Panadeine advert. The females in view are active, strong and facinatingly, not even looking at the lens – they have been captured in a moment where they are in female company, playing sport, far from the routine machinations of marriage and family.
They are depicted as competitive, happy and fit where nothing – not even "monthly pain" which is plainly alluded to (most likely for one of the first times) will hold them back.
It's important to recognise how this advert chimes with the legislative and cultural situation in Australia: in 1972, the first Women's Electoral Lobby met in Melbourne calling for fair pay, more opportunity and the freeing of women from sexism, discrimination and violence; the contraceptive pill became widely available without a "luxury" tax and maternity leave with pay for 12 weeks was granted for all.
Berocca – 1980s
This advert signifies a massive leap from the 1970s liberated woman to the 1980s career-focused female. In 1986, Joan Child became the first female speaker in the House of Representatives and like her, this advert draws on the notion of a woman who has risen to the top of her chosen field.
We like the fact she is an older woman, her hair is worn shorter, and her collar rides high on her neck in true 80s style. She stares at the camera with intent and purpose.
However, there is some admission here that "having it all" comes with consequences and that women should not fail to neglect their own health in the process.
In this respect, we see a return to the "instructional" nature of the 1950s adverts, pointing to the idea that Australian women are on a learning curve. Interestingly, this advert would in some ways resonate now and shows that health and wellbeing have always been a primary female concern.
McCain – 1990s
The health and wellbeing trope continues. Whereas the 80s woman was running the risk of "burning the candle at both ends" and cracking, this woman understands the importance of staying fit to enjoy a successful life.
It's a fascinating depiction of an Australian woman – replete with the greens and gold of Australia's national colours – who doesn't shy from what was most likely deemed a male pursuit: weight lifting (albeit with a one or two kilo hand weight).
What is also fascinating is that this is a brand advert, as opposed to a specific product push – something that could have only been entertained following the first wave of mass consumerism in the 1980s.
We couldn't help but have a chuckle at the graphic – the wave denoting a heartbeat as if McCain's, renowned for its frozen convenience goods, could contribute to a healthy lifestyle.
Panadol Rapid – 2000s
This brings together several strands we have seen already seen at play over the decades; whereas the Panadeine ad of the 70s depicted a woman on the tennis court, this is a woman working at her desk.
Unlike the older, power woman of the 80s, she cuts a younger, more relaxed figure who is at ease in her surroundings.
And where we might have seen a smaller reference to "monthly pain" in 70s, this bold piece of copy relies on a 'handwriting' typeface to look as though this very woman is speaking one-on-one with the reader: "I don't have time for period pain". The tone of independence and honesty is of course echoed by the "It's My Choice" sentiment.
We enjoyed too the advert's choice of an everyday model – a regular woman, if you like – not the ultra-glamorous model of the 60s or the intense power woman of the 80s, but most likely a woman an Australian Women's Weekly reader would relate to. The positive journey of sisterhood pours from this depiction.
Berlei (again) – 2010s
We sense that all the ads featured through the decades acted as a springboard for the arrival of this Berlei campaign. It is an amalgamation, and a triumph over, everything that had come before it.
Here we finally have a woman of colour, in a natural pose, full-bodied, and – dare we say it (yes, we do) – looking like she has woken up in a hotel room slightly dishevelled (at least that's what her hair suggests). Hallelujah if she has also woken up in the make-up she was wearing the night before.
Berlei has embraced full self-determination – there is something both familiar and aspirational about this shot that would enjoy widespread appeal. We also appreciated how the brand name is equal in size to the word 'curves'. Adland would do well to remember the existence of this ad as we push forward with a female agenda.
See Part 4: Capturing the hearts and minds of Australian women
Have something to say on this? Share your views in the comments section below. Or if you have a news story or tip-off, drop us a line at adnews@yaffa.com.au
Sign up to the AdNews newsletter, like us on Facebook or follow us on Twitter for breaking stories and campaigns throughout the day.