Mamamia is set for a fresh market assault following official validation of strong audience figures, backed by Nielsen's new Digital Content Ratings (DCR).
According to the DCR monthly figures for August, Mamamia has an audience of more than four million uniques.
Mamamia execs at the annual upfronts event, held this wek in Sydney, claim the figures position the media company as the "number one women's media brand in Australia".
Speaking to AdNews, co-founder Jason Lavigne said the Nielsen update finally "levels the playing field" for the media company, and helps it outshine larger competitors, such as Nine and News Corp.
"We are a smaller to mid-size publisher and we have been grossly underreported for the last several years under DRM," Lavigne said.
Mamamia was disadvantaged by the limitations of Nielsen's digital ratings prior to the launch of DCR as they failed to incorporate any off-platform audience data.
A story that was read on Mamamia's Facebook page, for example, would not count towards its monthly audience. This shortcoming led to Nielsen's roll-out of DCR in June. 
"DRM was a deeply flawed measurement," said Lavigne. "Even now without the offsite numbers, onsite numbers, for most people, have doubled."
Tony Prentice, who recently joined Mamamia as chief revenue and operations officer, backed Lavigne, adding that Mamamia had "paid the price" due to misrepresentation of figures, and that it experienced direct commercial impact.
"Mamamia is a very strong brand but when the market gets confused as to who to buy, that's a problem," Prentice said, commenting that the figures contributed to poor market sentiment for the publisher.
"Many people thought that Mamamia was only reaching half a million people, but that's not the reality," he confirmed.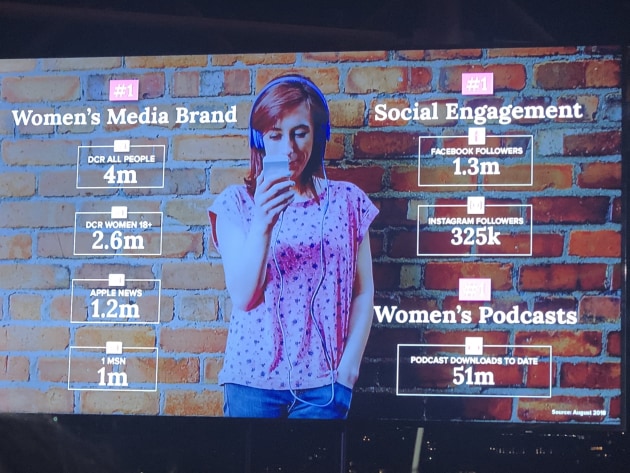 Mamamia boasted its position as the number one women's brand at its annual upfronts
The figures Mamamia are boasting paint a different picture to what was previously reported, with News Corp's Whimn leading the way in the category, followed by Nine with 9Honey. Figures (below) provided by Nielsen reveal Mamamia still trails behind Nine and News Corp.
Prentice was keen to spell out the nature of battling with network-led giants, "Our competitors have not been idol," he said.
"But, the problem with this network approach is that you end up with a large audience of your audience not being women.
"We stand behind the numbers that Nielsen are reporting and believe we now have a full picture of our audience, counting our Apple News, MSN and social audience."
Nielsen confirmed the four million figure was accurate Mamamia's total unique audience, but noted the metric used to calculate the figure is not an IAB-endorsed ranking.
The measurement company came under scrutiny by the Interactive Advertising Bureau (IAB) for the video measurement component of DCR.
The IAB criticised Nielsen for failing to properly measure video audience reach and complying with video standards set by the Media Ratings Council (MRC), which uses a minimum viewing time of two seconds in both on and off platform activity for advertising.
Prentice, who is a former chairman of the IAB, said the noise around the IAB's lack of Facebook video time qualifiers does not add up.
"I recognise that this turbulence happens, and it will work itself out. I don't believe it's wise to undermine the industry currency by saying it's all wrong, which is what the IAB is saying."
Time qualifiers are expected to be added to the Nielsen DCR measurement tool in February. Both Lavigne and Prentice welcome the update.
Mamamia unveiled a new influencer agency, a premium ad network and more plans for its podcast network at its upfront event. Read more here.
The Nielsen Digital Content Ratings, Monthly-Tagged Data, August 2018, Persons 2+, Multi-Category Family & Lifestyles
IAB has issued a statement:
"It is our responsibility to provide the market with the most accurate and independent data possible and we take this very seriously.  For this reason alone, IAB will not endorse DCR's secondary crediting for off platform video until the viewing time qualifiers are properly introduced by Nielsen."
"There is a big difference between people who have chosen to visit a particular publisher environment versus a default video start within a social feed while scrolling. Our responsibility is to help advertisers and agencies understand the opportunity to reach valid audiences."
"We stand by our previous position of endorsing these audiences once there is a 2 second qualifier introduced early next year – this will be applied for on and off platform equally."
Have something to say on this? Share your views in the comments section below. Or if you have a news story or tip-off, drop us a line at adnews@yaffa.com.au
Sign up to the AdNews newsletter, like us on Facebook or follow us on Twitter for breaking stories and campaigns throughout the day.