Mamamia is taking the media company from "startup to grownup" with a slate of new initiatives including an influencer agency, a premium advertising solution and a site overhaul.
Announced at an upfront event in Sydney last night, co-founder Jason Lavigne admitted the business in its 11 years has had some "ups and downs" but is confident in the media company's future now citing an audience of four million people monthly since the update to Nielsen digital ratings.
"We have been the undisputed innovators in the women's category. We were first to market with a women's website, we were first to build an engaged, affluent, female audience, we were the first publisher to use social media to amplify content and the first to pioneer native content – the whole category actually – in 2008, we were the first to move into social commerce in 2012 and the first media company to launch podcasts," Lavigne boldly claimed.
The influencer agency, called Social Squad, launches today and will be led by venture capitalist Gareth Rose.
Levigne said the influencer market in Australia is murky and believes Mamamia can create a tool that delivers more transparent reporting, which he hopes will overcome some of the controversy surrounding the channel.
"We saw the same thing that's happening with influencer marketing that happened when digital marketing became more vogue in 2008. Back then, genuine measurement was starting to become more important but it wasn't available so there were plenty of cowboys in the market who were building nonsensical network plays with large numbers that weren't valuable," he said, speaking to AdNews.
"We're obsessive on ROI for clients we understand transparency as the pressing issues keeping clients up. We recognise clients feel like they are getting something positive from influencers, but no one's measuring it right and that's what we're going to do."
More options for advertisers
Tony Prentice, who recently joined Mamamia as chief revenue and operations officer, presented a new premium advertising proposition, called M+, at the event to a room of media execs from GroupM, Publicis and Hyland Media.
M+ will offer select advertisers the option of a long-term partnership with the media company across its suite of its assets, from podcasting to social media.
As part of M+, Mamamia will act as a "branded content studio" for clients, giving brands access to its audience to complete data and research projects and give them access to Mamamia talent.
It will also enable advertisers to get involved with Mamamia's new initiative that promises to send 1000 girls to school each day by 2020.
While the initiative is supported by Mamamia's business model and won't ask for donations from brands, Levigne asked for partners to allocate more of their media budgets to Mamamia and as a result, be linked to the cause.
In another bold sales initiative led by Prentice, Mamamia will let clients decide what they pay for the media company's services if a campaign does not deliver on its objectives.
"It's time true partnerships are actually driven by real results and the balance, or the risk is reversed," he said.
As part of evolving the Mamamia brand, a new site is expected to be revealed this Friday which steps away from the bright, bold colours associated with the site and adopt a stripped back look.
It also introduces new, bigger ad formats which Prentice said will drive greater viewability.
Tony Prentice previously held roles at News Corp and APN Outdoor
More plans for podcasting
Mamamia has long placed its best on its burgeoning podcast work and promised to continue to grow this side of the business at its upfronts.
Highlighting the power of its podcast network, Mamamia gave YouBeauty as an example of a podcast which has reached 65,000 listens in three weeks and bought in Estee Lauder as a launch partner.
YouBeauty was originally destined to be a weekly podcast that would run for 12 weeks but after both commercial and audience interest Mamamia made the decision to take it to twice weekly.
Lavigne is confident the podcast bubble won't burst, but admitted commercialisation isn't strong enough yet to base Mamamia's business model purely on branded integration with its podcast programming.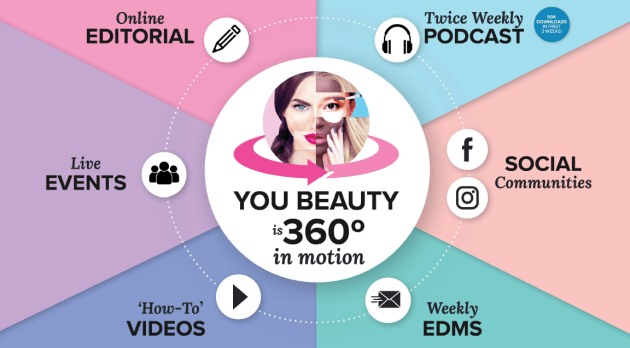 How Mamamia pushes podcasts across its entire network
Other announcements include:
         Better post sales reporting
Prentice admitted Mamamia hasn't been focused on post sales reporting but will now provide better insights into how campaigns worked for clients.
Lady StartUp launched several months ago, the brainchild of co-founder Mia Freedman, and cater to middle ground Australian women who are looking to start their own businesses by providing classes and tools.
Have something to say on this? Share your views in the comments section below. Or if you have a news story or tip-off, drop us a line at adnews@yaffa.com.au
Sign up to the AdNews newsletter, like us on Facebook or follow us on Twitter for breaking stories and campaigns throughout the day.