After nearly a week of saying nothing, Leo Burnett Sydney has finally used Twitter to speak out about diversity in response to the gender-equality fire-storm it has been at the centre of this week.
Earlier this week Leos made an announcement about five new creative hires. All of whom were male.
After people took to Twitter highlighting the lack of gender diversity and calling out Leo Burnett, the story has engulfed the industry with it being discussed both on and offline.
After declining to comment to any media this week, Leo Burnett Sydney has today used its Twitter account to tackle it now that the story has reached the mainstream press and broken beyond the trade media.
A series of tweets explain that the recent hires got their jobs because they were the best. And also to emphasise that it does have women in creative and senior roles. It says 45% of its leadership is female, including Melinda Geertz, CEO of Leo Burnett Melbourne. Read a Q&A with Melinda Geertz from earlier this year here. She speaks about gender balance as a priority.
It may be a case of too little too late in terms of reputation over this issue, and the agency is still however not responding to AdNews requests for further explanation or involvement, although CEO Pete Bosilkovski appears to have spoken to News Corp.
Off the back of the Leos controversy, female creatives united to form the Unfkable global alliance, which aims to get clients contacting them in order to work with female creatives.
Leo Burnett is currently the AdNews Agency of the Year and Bosilkovski was profiled in the 30 October issue of the print mag.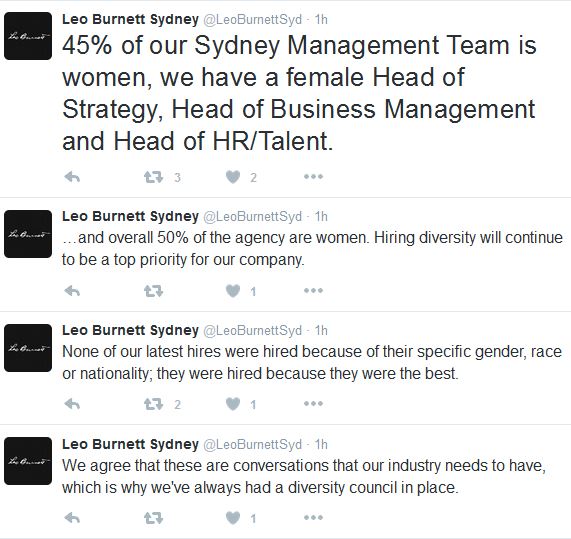 If you've had your head in the sand this week here's a recap of articles:
Does Leo Burnett deserve the backlash over its all white male creative team? 
News Bulletin: Bohemia appointed by UBank; Ex-DDB executives move to tackle gender gapUS gender gap certification plan – the Australian view 
The challenges behind the seven white men 
Q&A: Leo Burnett CEO on how the industry is "psyching women out". 
Have something to say on this? Share your views in the comments section below. Or if you have a news story or tip-off, drop me a line at rosiebaker@yaffa.com.au
Sign up to the AdNews newsletter, like us on Facebook or follow us on Twitter for breaking stories and campaigns throughout the day. Need a job? Visit adnewsjobs.com.au.