Leo Burnett is getting quite the backlash over the recent hires it made in its creative team. It hired five senior creatives – all of them are white males.
Alongside the annoucement it published a photo of the five, along with the senior ECDs Vince Lagana and Grant McAloon at Leos. Not a pair of breasts in sight. The backlash was instantaneous.
AdNews was inundated with tweets in response to the press image Leos sent out alongside the announcement of its hires yesterday (there's a selection below for reference) with many appalled at what these hires say about the broader industry.
Jokes around the lack of diversity, even in what these guys are wearing, make light of what is actually a pretty negative aspect of the industry. But Leos is taking the heat for something that is endemic across the industry. The agency isn't the anomaly – it's the norm and that's what has got people so riled up.
Yesterday, AdNews published this article that looks at the progress made in the US with the 3% Conference where a gender equality certification has been introduced for agencies to prove their dedication to trying to close the gender gap in adland and asked Australian businesses if they thought that would be a positive step here. 
Mumbrella today ran a particularly scathing piece slaying Leo Burnett, pointing to tweets from globally renowned Cindy Gallopp who tweeted "Leo Burnett what the f*ck are you thinking". 
Gallop is well versed in this issue as a global problem. She's outspoken about it.
What I find concerning about the piece that Mumbrella ran is the comments it has attracted. I don't want to get drawn into a debate around the comment section on particular trade press, but so far the comments have been along the lines 'What the f*ck would Cindy Gallopp know' and dismissing this as if it's not a real issue, just some ladies getting a little bit upset and hysterical. And there is the problem.
As an industry we know there is a problem with how many female creatives hold senior roles. We know it. It's tricky to get actually numbers on it, but anecdotally it's blindingly obvious. We also know that as an industry we have to reflect the population – whether that's gender diversity, or racial, age or whatever. Broadly speaking this industry doesn't do that. That, is a problem.
Just this morning I had coffee with a senior female creative to discuss this very topic and how we might be able to work together to make some kind of change, or at least address the issue.
And earlier this week I was introduced to the Tumblr blog Too Many Guys One Girl. It's a simple collection of creative industry awards nights and the teams receiving awards for their work. It's a depressing sea of white male faces with the occasional woman and a overwhelming lack of diversity.
If we looked at the AdNews Agency of the Year awards photos from last year, I imagine it would be a very similar picture.
Organisations like SheSays are on to something here in Australia, and globally, but there's a next step to be taken to actually tackle the reason that this gender inequality exists.
I am definitely not in favour of quotas. No one wants to get a job because they are a woman or because they fulfil the ethnic diversity quota. Everyone wants to get the job they deserve based on the skills they have, but I just find it difficult to believe that there are no women qualified or talented enough for senior roles. But while I'm not for quotas per say, there needs to be some kind of recognition that a more active effort needs to be made to employ more women and make it possible for women to succeed in senior roles. Also, if you have an all male creative team, just as if you have an all female creative team, you aren't going to produce work that reflects the broad population you are trying to reach.
Many will say 'there just aren't enough women out there' and that may be true, but the numbers seem to show that going into the industry the numbers of uni students on advertising courses is either equal or actually skewed towards more women. So why don't they stay? Why don't they get the top jobs?
Another angle is that thanks to inherent human instinct and natural bias, like always tends to hire like – so if it's currently men in charge, it's more likely that men will get hired ad infinitum. From personal experience and hiring at AdNews (which currently has a 100% female editorial team) we've struggled to find male journalists and each hire I've made a female has been the best person for the job. I know that having a more diverse team would give us a more diverse perspective, but I woudn't dream of hiring a guy for the job if he wasn't the best candidate. So I woudn't want any agency or marketing department to hire a female candidate purely on that basis either.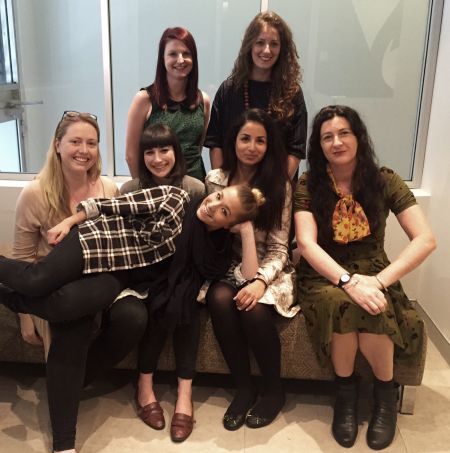 (The AdNews team recreated Leo Burnett's photo - we're not making light of it, but we're aware that we have a lack of diversity. That's me and Pippa Chambers, online editor, at the back, our designer Beth Reinbott front of stage, and left to right journalists Sarah Homewood and Rachael Micallef, our producttion and events exec Lamya Sadi and our sub Desi Corbett.)
I heard something recently that Award School used to have the names of students on the front of portfolios, and would you believe, more males got through. When the names were removed the gender split balanced up. That is both shocking, and not shocking at the same time. 
Leo Burnett's didn't get back to me with a comment on this, and while the agency is by no means the only culprit on this – it seems to have struck a chord and shone a light on a problem that everyone should be dealing with.
What's the next move?