This first appeared in the AdNews Annual 2018. 
Buy the special issue as one-off here or support AdNews by subscribing here.
 As part of the AdNews Annual 2018, celebrating 90 years of AdNews, we featured a range of perspectives from brands, leaders and top marketers, to share what creativity means to them and how important it is. We also asked some to throw in a future–gazing thought or two on how advertising could shape out in the next 90 years.
Telstra was founded in 1975 and has 32,293 staff globally. We hear from Telstra marketing executive and chief brand officer Jeremy Nicholas.
Creativity is at the heart of all great brand teams and Telstra is no different.
Creativity is imbued into our messaging, our channel planning and execution of our marketing communications. It drives our branding beyond the advertising, helping us to create meaningful customer experiences through our new retail stores, cyber security solutions for enterprise customers, and our consumer products such as the Telstra TV or the soon to be launched Telstra Locator services.
Creativity enables us to drive differentiation, motivate our audiences to take action and tell stories that are true to our products and who we are as a brand. In doing all these things, creativity ensures the marketing team at Telstra can continue to drive growth and economic returns for our marketing investment.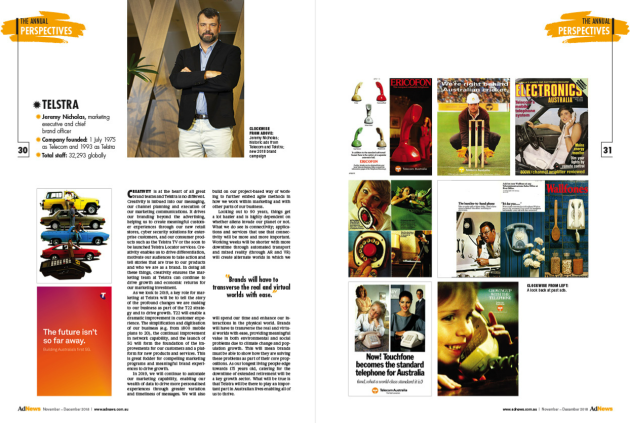 This first appeared in AdNews in-print
As we look to 2019, a key role for marketing at Telstra will be to tell the story of the profound changes we are making to our business as part of the T22 strategy and to drive growth. T22 will enable a dramatic improvement in customer experience. The simplification and digitisation of our business (e.g. from 1800 mobile plans to 20), the continual improvement in network capability, and the launch of 5G will form the foundation of the improvements for our customers and a platform for new products and services.
This is great fodder for compelling marketing programs and meaningful brand experiences to drive growth.
In 2019, we will continue to automate our marketing capability, enabling our wealth of data to drive more personalised experiences through greater variation and timeliness of messages. We will also build on our project–based way of working to further embed agile methods in how we work within marketing and with other parts of our business.
Looking out to 90 years, things get a lot hazier and is highly dependent on whether aliens invade our planet or not.
What we do see is connectivity; applications and services that use that connectivity will be more and more important. Working weeks will be shorter with more downtime through automated transport and mixed reality (through AR and VR) will create alternate worlds in which we will spend our time and enhance our interactions in the physical world. Brands will have to transverse the real and virtual worlds with ease, providing meaningful value in both environmental and social problems due to climate change and population growth.
This will mean brands must be able to show how they are solving these problems as part of their core propositions. As our longest living people edge towards 175 years old, catering for the downtime of extended retirement will be a key growth sector. What will be true is that Telstra will be there to play an important part in Australian lives enabling all of us to thrive.
New 2018 brand campaign
Historic ads from Telecom and Telstra
Historic ads from Telecom and Telstra
Historic ads from Telecom and Telstra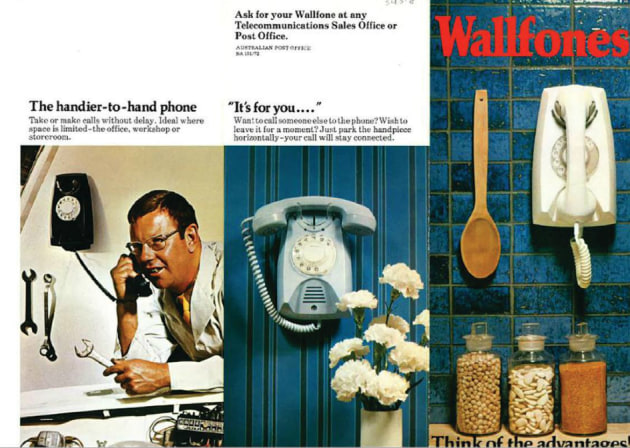 Historic ads from Telecom and Telstra
Historic ads from Telecom and Telstra
See more Annual Perspectives from these people below:
Vegemite marketing manager Matt Gray.
Stan head of brand Diana Ilinkovski
McCormick Foods Australia (Aeroplane Jelly parent company) managing director of commercial Paris Golden.
Tourism Australia CMO Lisa Ronson
Big Red Group co-founder and CMO Naomi Simson
Clemenger executive chairman Rob Morgan
 To support AdNews sign up here to get the in-print edition sent to your door.