This first appeared in the August issue of AdNews magazine.
When The Royals began seven years ago, its managing partner Steve O'Farrell was squatting in a friend's Cremorne agency, alongside the other founders Nick Cummins, Dave King and Andrew Siwka.
Despite the somewhat cramped start, whereby O'Farrell's wife was the receptionist and their baby was in a bassinet under the desk, today, The Royals stands at 85 people across Sydney and Melbourne, 40 of whom joined just this year. In the 12 months to March 2018, The Royals grew its revenue by 19% year–on–year, fuelled by a new research and development lab, a recently formed CX division and 18 account and project wins, including iSelect, Bakers Delight and Australian Super. And the agency was named AdNews Independent Agency of the Year in 2017 in recognition of its huge achievements.
To say it's been a big year for agency is an understatement, but its founders are confident it won't crash and burn, or they'll sell up anytime soon.
"We are acutely aware of the growth we've recently undergone and now our aim is not to fuck it up and let the wheels come off," Dan Beaumont said. Beaumont is managing partner who joined the agency in 2014 to lead its foray into Sydney.
"I don't think we've reached our peak and the thing that excites me is that the best work is yet to come," he explained. "Bigger clients are starting to come to us and our body of work is getting stronger."
The agency, which operates off one P&L across Sydney and Melbourne, was born out of the four founders' frustration in working for multinationals and not being able to pursue the types of projects they were passionate about. O'Farrell said most of what The Royals produces is work multinationals "wouldn't sign up for". "We back campaigns we truly believe in, such as our work for marriage equality last year, or working with the Asylum Resource Centre," he revealed.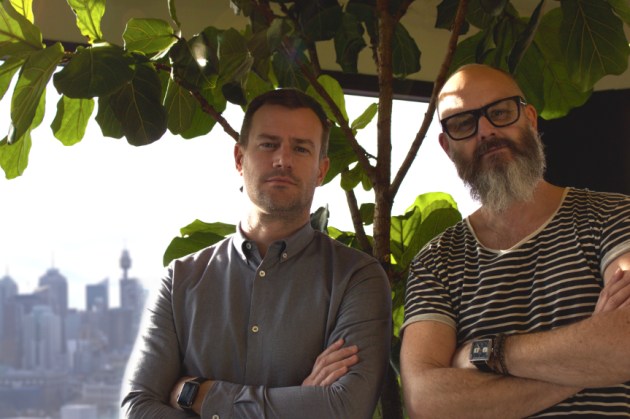 Dan Beaumont and Nick Cummins
"It can be a hard thing for a holding company to undertake because they are all about delivering certain profitability into the mothership."
Creative partner, Cummins described the Sydney/Melbourne offices as "one egg with two yolks" having slashed the stereotypes of Sydney and Melbourne offices being pitted against each other.
"I've worked at agencies where Sydney and Melbourne have hated each other and have competed for everything — money, awards. We don't have that," he said.
The Royals classifies itself as an "integrated creative company" and alters its services to meet clients' needs, whether that be consulting, CX work or creating a TV spot.
The Royals' 'born modern' approach and fluid structure has not only attracted blue chips brands, but also startups like ride sharing service Ola and credit app Afterpay. It's moving into a new realm that's shifting its perception to that of an agency of the new economy.
While Beaumont reflected that the marriage equality campaign is The Royals' work he's most proud of, for O'Farrell it's been creating a company that feels like a family.
"Our industry can get a bad rap, but our success is testament to the fact that if you have integrity and look after your people, you will succeed," he said. "And beyond that, you'll be able to take on and beat much bigger and hairier multinational corporates in the process."
As for what's next for The Royals, selling to a consultancy or holding group is off the table, and for now, the idea of more offices has been parked.
"We would never rule out more offices, but we've just gone through such a big leap in size and capacity and capability in the last nine months that we need to bed that down first and indoctrinate our new people into The Royals' system," Beaumont said.
"So, for the next 12 months it will be consolidation and making sure we have the right processes and systems in place after a fair bit of stress in the last nine months. I don't think you'll see us doubling in size or opening a New Zealand office before we do that."
Dave King - Innovation Partner
What does an innovation partner do?
My role is to bring an R&D approach to different aspects of processes and culture within the agency, often looking a little further out to opportunities on the horizon. We investigate emerging technologies and the related cultural and behavioural shifts that we might need for us to evolve the way we disseminate and distribute our core creative product. I help commission measured experimentation in areas where there is most likely to be opportunities for us and our clients. We have a philosophy of 'prototype or die', which keeps us collaborating with our clients on new ideas so that we can collectively learn by doing.
Why did you go out on your own 10 years ago to form a consultancy?
In 2007, I was running the Melbourne outpost of a digital agency that was suddenly bought and absorbed by a big mainstream group. For a few months after that, I ran the digital team at the new place. But, I quickly came to the conclusion that 'digital' meant something different there than it did to me. It was treated like an awkward appendage of the main, well–funded TV idea.
The Royals was meant to anticipate a time when the internet wouldn't be seen as something 'other'. I wanted to create a place where the idea that connection through content, ideas, experiences and technology could have resonance and impact for us, our partners and collaborators. Over the years, we've been lucky enough to mix it up with so many talented, interested people who've been a part of our company, but also within our surrounding community. We've attracted like–minded entrepreneurs, raconteurs and tech dilettantes to coalesce around our vision. This could never have happened if we thought the internet was
for banners.
What's the most challenging part of your role?
A lot of people in roles with a future–facing perspective feel the need to make medium– to long–term predictions. But, I actually think predictions are pretty easy — no one's going to hold you accountable anyway. For me, the most challenging aspect is applying focus to our resources today. Right now. The tools we all have at our disposal are people's time, effort, passion and skills. You shouldn't dish them out too liberally. But, the tension is that you can't truly understand emerging media and tech unless you just start.
Michaela Futcher - Head of Strategy
What's your previous experience in the industry?
It's funny that saying I've been working in this industry since I left uni is suddenly not as cool as it once was. I love to work with people who haven't always been in agencies or who have zigged and zagged a bit. Unfortunately, mine has been a very accidentally consistent approach. Following the world's most useless degree, majoring in electronic and temporal art (yes, that's a thing), I did start out as an art director at DDB. I became a strategist five years later so there has been some interesting inconsistency there at least. Other than that, I've worked on all the usual suspects, at all the usual big agencies in Sydney. The wildest experience was on the Tiger Beer account whilst at Droga5. This account took me through the wild west of booming, developing Asia, focus groups in smoke–filled rooms in Vietnam and Malaysia, navigating the fine legal line in China, and shooting some truly beautiful work designed to build not just a strong regional brand, but one that challenged the very notion of modern Asia across the world. It was a crazy time, but a good time.
What does your day–to–day role look like?
I believe a strategist has two key roles. To be interesting and to be useful. If you find yourself being neither, then you should probably just go home. Interesting implores that we question everything, disrupt the norm and are curious enough to be constantly wondering what's next and what if. Useful means we get shit done. The days of hiding in rooms, writing briefs and making charts is surely over. We need to be all over everything. Strategy doesn't stop just because the brief is written. Increasingly, I think strategists are finding they need to be more proficient in more things, with less myopic depth in one area of expertise and more breadth across many areas of interest. The world is moving too fast around us to idolise our quiet time. We need to keep moving and keep questioning, and we need to ruffle some feathers along the way. I guess that's what I like to think I spend my day doing. In reality, I'm probably just being yelled at to do my timesheets.
Kristy Camarillo - Talent Manager
Why do people want to work at The Royals?
Our culture is such an integral part of The Royals' DNA and what we've built our reputation on. It's something that people feel instantly when they come into the agency. We recognise humanity, diversity of all kinds, unique perspectives and the importance of flexibility to enjoy a variety of life experiences. That all translates into our growing list of clients and the type of work we do. For our people, it means the opportunity to gain great exposure to diverse and enviable clients and projects.
What do The Royals look for in candidates?
Achieving our vision "to be the most interested agency in the world" relies on us hiring the most unique and talented people. Perpetually curious thinkers who'll inspire other Royals and our clients. We look for talented, passionate individuals who are interested in the world around them and who naturally embrace and demonstrate our values.
There 's 12 traits we look for in a Royal — a compelling backstory, agility to cope with constant change and a high HQ (humility quotient) are a few . Above all, the top characteristic we value most is a ferocious curiosity. We ask bespoke questions in our interviews to identify as many of these as possible in our recruitment process. We like to call it "carefully curating humans", as the right mix of people is where the magic in our culture starts.
What's the talent pool like in Australia?
My job is to start conversations with people even before we need them, regardless of whatever positions we have available. So, I'm lucky that I get to constantly connect with so much amazing talent.
Clara Tang - Group Account Director
How did you land your job at The Royals?
Through keeping good connections. I had the luxury of meeting a great mentor many years ago who's now a very good friend. She knew what I was looking for, knew that I was a great fit here at The Royals, and she made the introduction. The rest is history. At the end of the day, we work in a very small industry. We are often in the trenches together, pushing ourselves and pulling together campaigns under pressure, and it is in those times that great relationships are forged. You never know when you will be able to draw on those relationships down the track. Landing a great opportunity is a result of experience, skills and reputation, but referrals are incredibly powerful.
What attracted you to The Royals?
I often tell people it's the values the agency holds, the entrepreneurial spirit it carries, the great energy you feel when you walk through the door, and the way the agency builds strong relationships with clients and agency partners. But, really it's the dog–friendly policy and the secret bookshelf door to our boardroom that takes the cake.
What is the most rewarding aspect of your role?
Being able to contribute to the ongoing development of the agency at such an exciting time of growth. We are constantly trying to improve and evolve to deliver for our clients and to get the best out of everyone in the team.
Mikael Perhirin - Head of Customer Experience
You've worked in agencies all over the world. Why The Royals and why Australia?
After six years in Paris I got to the point where I needed a change of scenery. I had a strong bond with Australia and took the spontaneous decision one day to pack up my 30kg of life's necessities, sell all my belongings and give it a go. I joined The Royals for the eclectic and unique bunch of people they've curated and brought together. The opportunity to work with like–minded people, the rarity of still being independent, and a working foundation based on a good relationship with their brave clients, were the main appeal to joining the team.
How does the European market compare to Australia?
It's much more volatile, competitive and pressured in Europe, and there's a huge difference in population numbers. The main creative hot spots across Europe, including Paris, London and Amsterdam, are saturated with agencies, and client budgets are now smaller compared to what they were 10 years ago, which impacts on the value, momentum and the quality of work. Australia offers unique opportunities to do things differently, albeit a little behind in the technology and CX front. Clients here are hungry for change and are demanding new thinking and ways to do things.
AdNews is proud to deliver strong, independent and credible news 24-hours a day, almost 365 days a year. And we know our free, online news helps power your career and knowledge. But, can we ask a small favour? To fund our ongoing commitment to delivering the best industry news, that you show your willingness to support us by taking a digital subscription to AdNews magazine? The cost is less than $50 for the entire year, and $4.94 per issue. Support AdNews. Support journalism.
Have something to say on this? Share your views in the comments section below. Or if you have a news story or tip-off, drop us a line at adnews@yaffa.com.au
Sign up to the AdNews newsletter, like us on Facebook or follow us on Twitter for breaking stories and campaigns throughout the day.