This is a free excerpt from AdNews print magazine July edition. You can download a digital version of AdNews and subscribe to the premium print edition here.
Want to order a pizza? Schedule a meeting? Dispute your phone bill, or even find true love? There's a chatbot for that. 100,000 chatbots already exist on Facebook Messenger, but marketers need to better understand how to harness their potential.
Users around the world are logging in to messaging apps to not only chat with friends but also to connect with brands, engage with content and browse ecommerce platforms.
Just as apps helped solved whatever problem a brand had five years ago, now we've moved into the age of the chatbot. Driven by the huge uptake in messaging apps, chatbots have become increasingly of interest to brands, boasting distinct characteristics that make marketers salivate, from their user numbers and engagement rates to retention and demographics.
Hundreds of Australian brands have created their own bots, from Estée Lauder's beauty bot that will offer free samples, to UBank's bot that provides home loan assistance. You can also find news bots that update you daily, shopping bots that help you choose gifts and finance bots to check your account balance or send money.
Race between the tech giants
Media companies and marketers are still investing more time and resources into social networks' main channels than they are into messaging services, according to research from BI. However, this is set to change as messaging companies build out more services and provide more avenues for connecting brands, publishers and advertisers with users.
"There are a lot of ways people can build conversations on Messenger. It doesn't have to be AI straight out of the gate. Don't run before you crawl," Facebook messaging app market development and growth lead Sophie Blachford says.
Testing the waters
Most chatbots are rule−based, but Facebook's own bot, called M and released in 2015, is one of the few bots that aren't. Instead, the virtual assistant is built on algorithms and, when faced with complex requests that the algorithms can't handle, it's powered by humans.
"We are entering a new phase of not just social media, but also how we communicate as humans. We are starting to reject the broadcast style of newsfeed interaction," On Message founder Douglas Nicol says.
Publishers make their push
Publishers, especially those in news, are already experimenting with chatbots and using messaging platforms for distribution. While revenues are currently limited, it's a channel that media companies are keen to explore, because of the potential audince − particularly in younger millennial and Gen Y demographics.
Policing behind closed doors
Microsoft's Tay and Boost Juice's cheeky bot also highlight another issue about how bots within private messenger channels can be policed. Unlike public advertising and marketing which is policed by a watchdog, like the Australian Standards Bureau (ASB), chatbot interactions tend to happen in a private space.
Skeptics of the shiny new thing
Testing and experimenting are one thing, but the advertising industry is notorious for getting so enamoured by the latest technology, social network or media platform, that core business goals are forgotten.
"Chatbots are still in their infancy. I relate it back to websites in the early 2000s. They were kind of ok and cost a lot of money, but still generally crap," Proxima co-founder Sebastian Pedavoli says.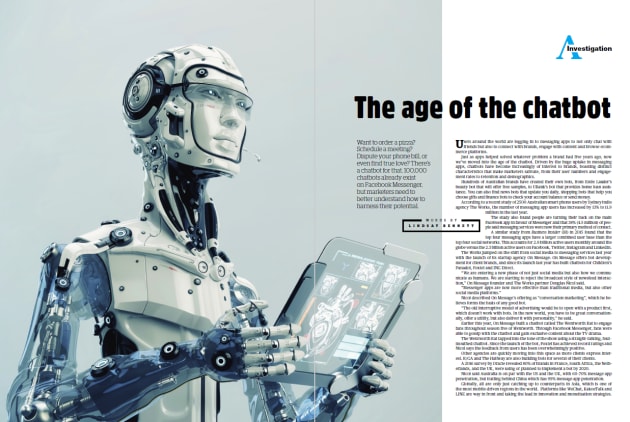 To read the full article download a digital version or subscribe to the premium print edition here.
Have something to say on this? Share your views in the comments section below. Or if you have a news story or tip-off, drop us a line at adnews@yaffa.com.au
Sign up to the AdNews newsletter, like us on Facebook or follow us on Twitter for breaking stories and campaigns throughout the day.