News Corp doesn't see other publishers as competitors of its new content marketing agency 'Sudden.ly', instead it's squaring off against creative agencies.
"I don't necessarily see us pitching against publishers," Smith said.
"It's going to be the creative agencies, PR firms or the big consultancy firms that are starting to play in this space."
Smith was speaking to AdNews at the News Corp upfronts held on Tuesday in Melbourne where Sudden.ly was officially launched to client partners and media agency execs, among a slate of other initiatives.
Suddenl.y will act as a "digital newsroom" for clients creating shareable content for a brand's assets that could range from a podcast, to a blog, a meme or even an Amazon Alexa skill, which Smith said is in high demand. 
There has been a crowd of agencies muscling in on content marketing in the last six months, from MercerBell to The Works, as well as publishers' like Bauer and Yahoo, who have launched dedicated content divisions.
"We are a business built on storytelling, we're not an ad business trying to do storytelling," Smith said.
"We are a content agency born from a content company born from storytelling. So it's not something we are trying to invent or start from scratch, it's something we've been doing for decades."
Smith is confident the company's heritage in journalism will help the agency stand out from other agency offerings in the market, and News Corp's scale will set it apart from its publisher competitors.
He also warned the industry shouldn't rush into this space, reflecting on the recent closure of Isentia's King Content. 
"The industry has to be careful about the buzzwords that come with this territory," he said.
But Smith isn't dismissing creative agencies altogether, instead sees a role for Sudden.ly to work collaboratively for clients, as it currently does with M&C Saatchi to service Woolworths.
He gave the example of a content piece Sudden.ly created for Wooworths earlier this year.
The idea for the video, which created a deep fried Crème Egg served in a hot bun, came from a conversation between customers on the Woolworths' Facebook feed, seen by M&C Saatchi who then briefed Sudden.ly to create the clip.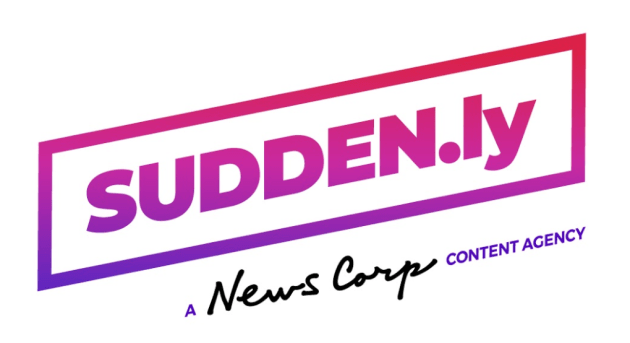 The name Sudden.ly was picked from more than 400 options
Smith's second go
Smith launched a similar content offering at Fairfax back in 2013 before being lured back to News Corp 12 months ago – his third time at the company.
So how does Sudden.ly differ from the content studios he launched for Fairfax?
"I think the principles are the same in the sense it's a focus on client channel not publisher channel," Smith said.
"But the key difference is the scale and also the data we have, which we understand through Content IQ [News Corp's insights tool], to really understand consumption behaviour of audiences that helps us form strategy for clients and also the breadth and depth of storytellers we have access to."
Sudden.ly will operate in Sydney, Melbourne, Adelaide and Brisbane and Smith plans to share staff and resources across these locations to ensure it can respond quickly to client needs.
"For years, we've personalised content for different brands in different states. What we are now doing, is putting our arms around all of these previous divisions of the business and creating a unified national approach under Sudden.ly," he said.
Sudden.ly is soon to announce a commercial director and an editor director to join Smith, as well as strategy lead Andrew Sidwell.
Smith said the agency doesn't have growth targets and will grow alongside its client base.
As for his future ambitions, Smith said he'd love to see Sudden.ly roll out across the global News Corp network, but will first focus on growing Australia.
"It's an exciting time for me here and coming back to News Corp at a time where it wants to be more than media now. I'm thrilled the business is backing us to do that and explore the options beyond News Corp's channels," he said.
"I know our company wouldn't want us recommending the brand puts the content on a competitors' assets, but I'll leave that for the client to decide and for our sales team to win the argument on where they should place their media, but we aren't about media, we are about creating the right content for then."
Have something to say on this? Share your views in the comments section below. Or if you have a news story or tip-off, drop us a line at adnews@yaffa.com.au
Sign up to the AdNews newsletter, like us on Facebook or follow us on Twitter for breaking stories and campaigns throughout the day.