Seven's programming slate next year should perform well to "middle Australia" and older demographics with a particularly strong first half of 2018.
That's the verdict of media buyers who attended Seven's Allfronts event in Melbourne on Friday.
Media buyers agreed that some of the technology announcements were short on detail and they expect to find out much more about new targeting and addressability technology in the coming weeks when Seven's commercial team visits agencies for in-depth briefings.
Initiative Australia chief executive Melissa Fein tells AdNews she was pleased with Seven's "different approach" in terms of their "humbleness", referring to chief executive Tim Worner admitting the network underperformed in the second half of this year.
"Even from their more relaxed dress sense to the way they presented, they were a lot more cognisant of the year that they've had and it created a humble execution of how they delivered their schedule," Fein says.
"In terms of their highlights, that first half of the year is very strong and that 5% audience growth they promised for 2018 is very achievable.
"We still see a few gaps in that second half. The Q3 programming, whilst different and innovative to bring back strong talent like Mark Bouris and Andrew Denton, it's not a proven format. There's a bit of scepticism around delivering those big numbers against some of the competition."
Zenith chief executive Nickie Scriven says she enjoyed the event, although would have liked to see a better gender mix of presenters with Seven's marketing director Ana Bacic the only female presenter.
Scriven believes Seven's slate offers "tried and tested formats" that "hit middle Australia really well".
"You've got your MKR and House Rules as well as a really good schedule of sport in the Commonwealth Games and Winter Olympics that will definitely continue to spike their schedule and give them a good platform to promote their other shows," she says.
"What I think is really exciting is their teleseries on key Aussies, such as Olivia Newton-John and Barnsey, they will be rating winners. I couldn't believe how much Delta looked Olivia."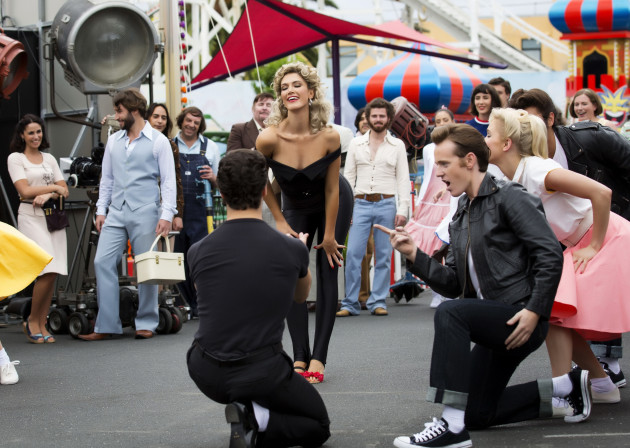 Olivia promises to be a big hit for Seven this year.
Content that 'skews 35-plus'
Hyland founder and principal Virginia Hyland tells AdNews she believes Seven's new TV shows will perform well with older audiences, which may boost ratings as proportionally more older viewers watch TV, but may not be as well received by advertisers looking to reach younger eyeballs.
"I'll certainly be a viewer for next year, it felt very nostalgic and very much speaks to the 35-plus audience," Hyland says.
"You've got the Olivia Newton-John and the Jimmy Barnes series, a lot of people under 30 might not know much about them. You've also got Mick Molloy and Andrew Denton coming back on, and then you've got Mark Bouris who will appeal to that older business person demographic.
"I'm not sure if they've gone with that strategy because they know 35-plus are heavier viewers of television or whether they are sticking to their security blanket of audiences they know. The under-30s won't get a lot of love on Channel Seven next year." 
Hyland explains that the majority of advertising audiences are still after 25 to 39-year-olds.
"The buyers who are buying those audiences are also in that age group making those purchasing decisions," she adds. "When they can't connect with the programming and they are buying for younger demos that will be a challenge for Seven to build confidence." 
Amplifi chief investment officer Ashley Earnshaw tells AdNews he left the event with a clear vision of Seven's content slate and the opportunity for advertisers.
"It gives clients quite a number of integratable opportunities to drive better results," he says. "Clients ultimately do want to be able to integrate their brands or assets into shows, so that was positive.
"I think Clive's focus on driving their 'FVOD' (freemium video on demand) is absolutely the right space for them to be driving with international players in the market.
"I think their announcements on addressability and targeting is something we will work with them over the next year to get more detail. It's very important for clients to be able to target audiences to drive better return on investment," Earnshaw adds.
All media buyers speaking to AdNews would like more detail on Code 7 – Seven's targeting technology that will help advertisers better connect with programs to drive specific business outcomes.
Fein describes addressability as a "game changer for television".
"We know TV has got the scale, but to be able to integrate that with a targeting capability will see TV start to win back a lot of the money that has gone to Facebook and Google over the last 12 to 18 months," she adds.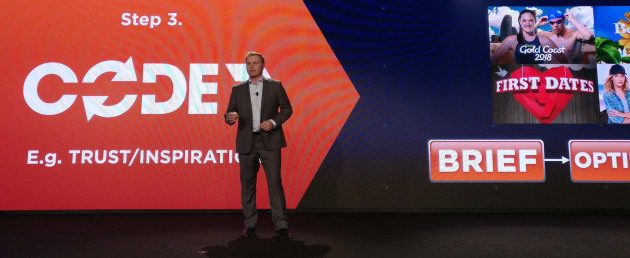 Media buyers look forward to learning more about Code 7 in coming weeks.
Check out our full coverage on Seven's Allfronts
Seven amps up 2018 after admitting it 'fell short' in 2017 
Kurt Burnette on Seven's big push into delivering addressable ads
Seven to launch new 'freemium' video player 7 Plus
Have something to say on this? Share your views in the comments section below. Or if you have a news story or tip-off, drop us a line at adnews@yaffa.com.au
Sign up to the AdNews newsletter, like us on Facebook or follow us on Twitter for breaking stories and campaigns throughout the day.