Seven's coverage of the Rugby League World Cup will deliver addressable advertising to people who live stream the event on digital devices in what is a market first for television in this country.
The network tells AdNews it has secured six broadcast partners for the event, including McDonald's, Telstra, Crownbet, Oak Milk, Harvey Norman and Coles, and received strong advertiser interest for bigger games as well as women's matches.
"The big news for us is that for the first time ever in Australia we will be delivering addressable television," Seven West Media chief revenue officer Kurt Burnette says.
"What that means is that tomorrow night when Australia plays England and you go to a 15-second ad break, the ad will be different on broadcast than it is on the live stream of your device.
"We will be targeting ads to different people based on behaviour states, geo, age and sex based on the clients needs beforehand."
Burnette says he expects the amount of addressable creative to grow as the tournament progresses and that the technology is so new that Seven will "test, learn and iterate" as well.
"What we are seeing is between three to five different creative and we expect advertisers to work up to it," Burnette explains.
"As we get to semi-finals and the finals when the audience will be at its peak with 1.7 million people watching, if you are watching on your device the ad you get served will be more specific to you as an individual, whether it is someone who is shopping for a particular product at Coles in the next few weeks or someone that is not currently on Telstra plan that the teclo would like to reach.
"We expect the number of creative served to gather momentum towards the end of the tournament."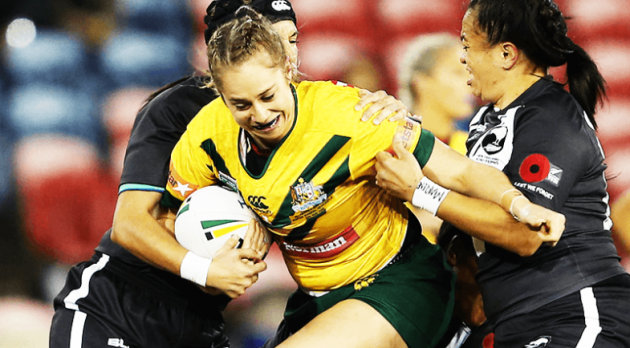 It will be the first time all women's games are broadcast of FTA TV.
Strong advertiser interest
Seven reports strong advertiser interest for the big games, particularly those involving Australia, and some brands are specifically looking at some of the women's rugby league fixtures, continuing the recent groundswell of interest around women's sport.
"It will be the first time in history that there will be a double header in the final with the women's and men's deciders. There's a real sense of interest and focus on women in sport, that's been the biggest shift that we've seen."
For advertisers, the world cup falls into the important lead up to Christmas, a time where certain brands invest heavily in advertising.
"Like major event television does, we will bring in light viewers and non-traditional TV watchers," Burnette adds.
Seven was a surprising choice to secure rights to the Rugby League World Cup – a sport that has been Nine's heartland for decades.
Burnette explains the network chose to bid for the tournament because it presents "clear air" to run major event television. Seven expects ratings to be strong for games involving the major teams, including 1.4 million viewers for tomorrow's opener between Austrlia and England and about 1.7 million north in the semis and grand finals.
"It's not at the same global scale as an Olympics or FIFA World Cup but what you will find is that it will rate better in Australia than a soccer World Cup," Burnette says.
"We will be able to grow the code and bring new people to rugby league because you don't normally associate the sport with Seven."
Another benefit for Seven is to help the network reach important regional areas that are passionate about the code, including Darwin and North Queensland, where the sport is the dominant code.
"For us to be able to talk to our advertising partners and consumers about the tennis and then the AFL, the racing, the rugby league world cup, Winter Olympics and Commonwealth Games it's an always switched on events strategy," Burnette adds.
Seven's coverage of the Rugby League World Cup kicks off tomorrow on 7mate at 7pm and Seven's main channel and 7.30pm.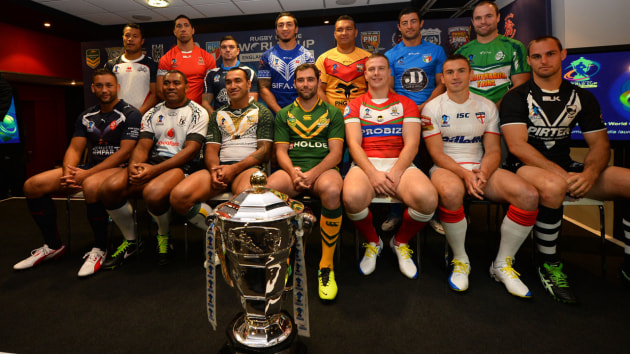 The Rugby League World Cup – In A Nutshell
The Rugby League World Cup 2017 will be the biggest sporting event in the region during 2017.
14 teams will play 28 games over five weeks, from 27 October until 2 December. This includes favourites Australia, England, Fiji, France, Ireland, Italy, Lebanon, New Zealand, Papua New Guinea, Samoa, Scotland, Tonga, USA and Wales (see above).
It will be played in venues across eight cities in Australia as well as in NZ and Papua New Guinea
It is expected to be the most attended rugby league event in history, with an estimated 450,000 fans expected to attend.
The Women's Rugby League World Cup will run from 16 November to 26 November featuring Australia, New Zealand, Papua New Guinea, England, Canada and the Cook Islands.
In a first for Women's Rugby League World Cup, all 12 matches of the tournament will be broadcast on free-to-air television through Seven Network.
Brett Kimmorley, Renee Gartner, Jim Wilson, Laurie Daley and Dan Ginnane.
The coverage
Seven's coverage will be hosted by Jim Wilson and Laurie Daley. Also joining Seven's coverage will be Renee Gartner and Allana Ferguson, along with Benji Marshall.
Play-by-play commentators for the Rugby League World Cup 2017 are: Mark Braybrook, Andrew Moore and Dan Ginnane. Joining them are: Benji Marshall, Allana Ferguson, Gary Belcher, Adrian Morley, Brett Kimmorley, Ryan Girdler, Scott Sattler, Brent Tate and Andrew Ryan. Glen Larmer will be our play-by-play caller alongside Daryl Halligan and Monty Betham in New Zealand.
Covering the Women's Rugby League World Cup are: David Tapp, Drury Forbes, Bill Harrigan, Nathan Cayless, Andrew Ryan and Renee Gartner.
Mel McLaughlin, Michelle Bishop, Josh Massoud, Liam Cox, ShaneWebcke, Pat Welsh and Chris Garry from Seven News also join Seven's Rugby League World Cup and Women's Rugby League World Cup team.
Have something to say on this? Share your views in the comments section below. Or if you have a news story or tip-off, drop us a line at adnews@yaffa.com.au
Sign up to the AdNews newsletter, like us on Facebook or follow us on Twitter for breaking stories and campaigns throughout the day.