Creative agencies can't keep up with the brand demand for hundreds of bespoke ads, but they shouldn't worry as consumers are here to take on the challenge, according to Jules Lund.
Speaking at last week's AdNews Media + Marketing Summit Sydney, Lund, who founded influencer marketing platform Tribe, said the world's advertising creative is increasingly being created by consumers, as it's cost efficient and they can produce content quicker than agencies.
"That's everything from social advertising to billboards. Only a few years ago you could get away with a TV commercial and a handful of still images a year, to now needing that every week or two," he said.
"This is not in replacement of creative agency work, we need both. There is no way that these guys are going to create stuff to that level though, but in volume, it solves the problem. Yet, you still need your award-winning agency content."
He added that while creative agencies will always be needed to provide clients with the high standard of work needed for a world-class campaign or brand, they do not have the capacity to meet the demands of small to medium sized businesses.
"Creative agencies are set up for high quality, low volume work, in-house departments can craft content as well. But small businesses don't always have the budget to afford that work. They can afford stock imagery but it's ineffective because it doesn't feature the brand and lacks personalisation," he said.
To demonstrate the uses of consumer generated creative content, Lund asked the audience to email a picture they had taken on their smartphone that had a random brand in it somewhere to the Tribe team.
Two members of his team took the images and moulded them into marketing campaigns on the spot, appearing across outdoor ad spaces to demonstrate consumer capabilities.
At the end of the event the campaigns from the audience's images came up on the big screen (see gallery).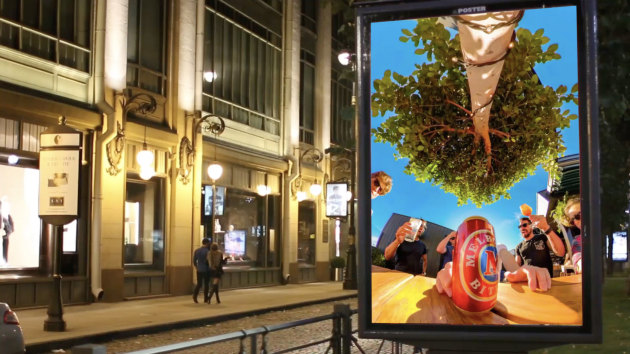 The above image was taken on a 'boys trip' an audience member went on.
Lund said creative content is in such high demand, that in one day, Tribe received 1152 submissions for close to 100 clients it works with, equating to one submission every 1.25 minutes.
These were not just high-profile influencers, but anyone on Instagram with over 3,000 followers, which he refers to as microinfluencers.
"In this new world, if you want your content to perform you've really got to nail three key areas. The variety, the volume and the creative format. This shift has happened so quickly in many ways that advertisers are caught off-guard," he said.
"You can't just ram a catalogue ad or print ad into an Instagram feed, because one of two things happens; either the audience sees it's not relevant or you just spend thousands of dollars creating content that doesn't resonate."
Lund said customers are now beginning to think more like marketers but with a focus on personalisation, not simply due to Instagram's widespread popularity but also because of the impact of influencers and enhanced mobile technology.
One member of the audience had a photo of her son modified to appear as though a Nike campaign.
"Personalisation is the key to conversion, consumers now don't only expect the content to be relevant but they expect it to feel personal. We know that Facebook user-generated content actually engages audiences 6.9x more than brand generated content," Lund said.
"Who better to create content that customers love, than customers themselves. There exists the demand, there exists the supply and there exists the tech enablement in the centre."
Keep an eye on #AdNewsMMS for more from the event. Get your tickets to the Melbourne Media+Marketing Summit here.
Have something to say on this? Share your views in the comments section below. Or if you have a news story or tip-off, drop us a line at adnews@yaffa.com.au
Sign up to the AdNews newsletter, like us on Facebook or follow us on Twitter for breaking stories and campaigns throughout the day.