Coca-Cola is targeting teens with its 'Epic Summer' campaign that sees the brand launch a new TV commercial, a wearable label and overhaul the iconic Kings Cross billboard.
Summer is always a big focus for Coca-Cola and 2018 is no different. The beverage giant has launched a multimillion-dollar campaign, driven by a new TV commercial and digital play.
The TV ad will air during high rating profiles including My Kitchen Rules, the Big Bash League and the Australian Open, as well as on teen-focused channels including MTV and Channel V.
Online video content will feature across a number of digital platforms, including YouTube, Vimeo and Spotify.
As part of the campaign, Coke has teamed up with Pedestrian TV's sister site, Pez. The launch of Pez was teased in 2017 and has officially gone live today, spruiking banner ads for Coke as part of a three month partnership.
Pedestrian TV head of editorial Josephine Rozenberg-Clarke says Pez is designed to be an inclusive space for young people and help them navigate sexual health and body image issues and the ever-changing world around them.
Pedestrian TV co-founder Chris Wirasinha adds: "Since we first started Pedestrian our goal has been to create the most expansive and immersive platform for young Australians. We're thrilled to launch pez and speak credibly to this hard-to-reach audience and fill the gap left by the decline of traditional titles for Aussie teens."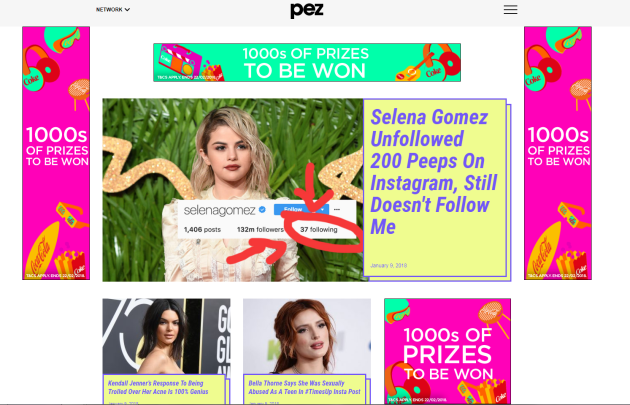 Pez has gone live today in collaboration with Coca-Cola
Pez will also produce social content for Coke, and the campaign spans across outdoor, influencer marketing and PR.
For the first time, Coke has launched labels you can tear off the bottle and wear as a wristband.
Coca-Cola's iconic Kings Cross billboard will be used in a fun and cheeky way, with a traditional Coke image edited by a young Australian street artist, with their own artistic spin.
Coca-Cola Australia spokeswoman Marina Rocha says: "Coke has become synonymous with summer and every year we continue to evolve our dialogue with our consumers and provide new experiences they can enjoy."