Tony Broderick, head of TV partnerships at Twitter, is optimistic that the Seven Network will get involved in the Nielsen Twitter TV Ratings.
Seven is currently the only TV network of the big three holding out of signing up to the ratings and speaking to AdNews Broderick said: "They're definitely very keen. I work with Seven really closely and they're definitely looking at it as part of their strategy, but no news yet, unfortunately," he said.
"I'm very optimistic because Seven continue to make Twitter a part of their strategy, you just have to tune in to My Kitchen Rules. They're integrating some really funny tweets in ways that are really subtle, but compliment the format."
According to Twitter, one in five of Australian Twitter users joined the platform to follow TV content, and it's for this reason that Twitter felt it made sense to partner with Ten's I'm a Celebrity Get Me Out of Here.
As part of the partnership the program integrated Twitter voting into the series which harnessed the real-time nature of the platform as fans decided who would take part in the next trial or be saved from elimination.
Audience tweets were also incorporated into an on-air segment that ran weekly, allowing the celebrity campers to guess who was being tweeted about and win prizes for correct answers.
Broderick told AdNews that due to the success of Twitter being used in the UK version of I'm a Celebrity, working with the Australian version was a natural fit.
"It's gone really well actually (in Australia). What was most exciting about this particular partnership is that we were working with initially ITV studios, many, many months ago, back when they were developing the partnership in Australia," he said.
In the last week according to Nielsen Twitter TV Ratings, I'm a Celebrity reached a unique audience of 42,000 people, putting in third spot behind Seven's My Kitchen Rules on 44,000. Q&A trumped both the commercial networks, receiving a unique audience of 76,000.
"What is interesting with I'm a Celebrity in terms of unique audience is it's relatively on par with My Kitchen Rules," Broderick said.
"They tend to occasionally take each other over. What I've seen is generally I'm a Celebrity is in the lead, the reason that they build that audience is My Kitchen Rules tends to have a much larger audience of people tweeting about a show but with lower followers, more your everyday Australians," he said
"But what I'm a Celebrity has done really well is they don't have as big an audience tweeting about a show but they have highly influential people tweeting about the show – journalist bloggers and celebrities."
When asked if tweeting during a program deters audiences from actually watching the program and engaging with advertising, Broderick said tweeting actually had the opposite effect.
"80% of our users use Twitter on mobile, so it's naturally a second-screen device. We also have research that shows that people who tweet along to TV shows generally stay more engaged, so they are less likely to change the channel, and they're more likely to have a more positive response to advertising," he said.
The final of I'm a Celebrity airs this Sunday on Ten.
See last week's Nielsen Twitter TV Ratings for yourself below: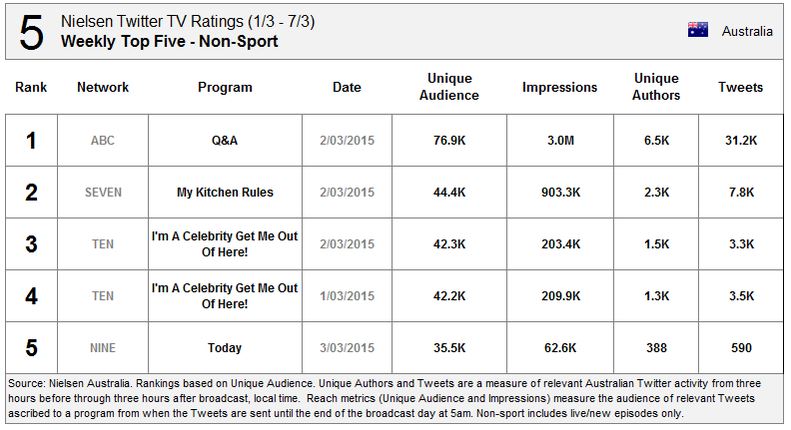 Have something to say on this? Share your views in the comments section below. Or if you have a news story or tip-off, drop us a line at adnews@yaffa.com.au
Sign up to the AdNews newsletter, like us on Facebook or follow us on Twitter for breaking stories and campaigns throughout the day.