Channel Nine is the second television network to announce it will be using the newly launched Nielsen Twitter TV Ratings (NTTR).
NTTR data for Australia works by ranking TV programs based on the number of times tweets about the show were viewed when the show aired (as well as before and after the show).
In addition to the new offering for the Aussie market, as of next week NTTR will also be widely releasing free weekly data on the top five most social TV programs in Australia. In March it will then be releasing 'Brand Affinity' – whereby a Twitter user's TV tweets are matched up with their tweets on brands to create better product targeting opportunity for sponsors.
At the official launch of the ratings last night, Twitter demonstrated how tweets help boost live TV ratings and the increased audience engagement from this makes the perfect opportunity for TV networks to monetise such social content – by luring in sponsors.
Tony Broderick, head of TV Australia at Twitter, was keen to stress that its new ratings offering was simply "complementary" to the OzTam ratings and is designed to "marry up" with the TV ratings and act as a second layer of data.
"TV and Twitter viewers are much less likely to change the channel," Broderick said.
"We did some research and found that on average if someone is watching TV they are likely to change the channel around 17% of the time, if you introduce a mobile device for second screening this is reduced to 13%, but if they are using Twitter this is reduced even further to 8% - which is great news as they tune in for longer and are more engaged."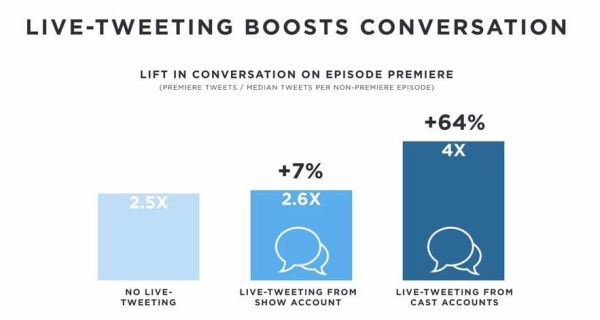 Broderick said Twitter felt it wasn't in a position to create the tools needed for the ratings and that an independent and impartial metric, such as Nielsen, was needed to the job best.
NTTR is a Nielsen owned product, but is powered by the "data hose" from Twitter and any deals from TV stations go via Nielsen.
From Channel Seven and ABC to Fox International Channels Australia and SBS, crowds of intrigued TV honchos attended the event to learn more about the new offering.
Despite being a taxpayer-funded station and unable to join up to NTTR due to its no advertising policy, a spokesperson from ABC said the event was still a great opportunity for ABC to learn about the latest ratings innovations and that there were still plenty of other ways it could bump up its TV ratings using Twitter.
Following Channel Ten's announcement last year that it would be using the newly launched Nielsen and Twitter TV Ratings, last night it was also revealed that Channel Nine has also hopped on the bandwagon. This means both will be able to release overnight Twitter ratings data for their shows.
Channel Seven remained vague about its commitments to NTTR, saying only: "Our objective is securing the biggest audiences across our media platforms and delivering those audiences to our clients. The biggest engagement with audiences is through broadcast television."
So how exactly can TV networks and advertisers capitalise on it all, and not only "make a return on investment, but a profit" on such high levels of audience engagement on Twitter? Twitter's show-reel last night explained all. It gave examples of how real-time tweeting when a show is on makes people "feel part of a team".
It highlighted examples of when TV presenters or cast members tweet at the same time a show is on and how this massively drives social media engagement (up to nearly 400% in the US when its Celebrity Big Brother presenter tweeted live tweets).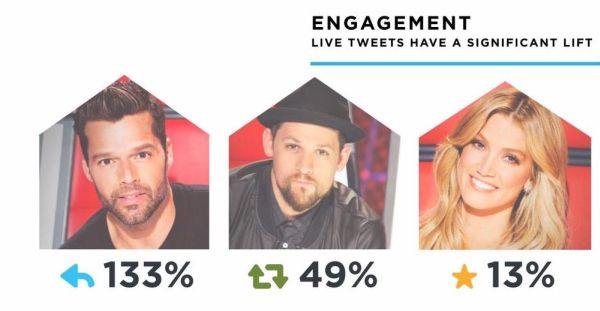 Using Top Chef Canada as an example of its 'Amplify' product, the @TopChefCanada account would tweet during the show, for example, a video about how its chefs use a hack saw to crack and egg – but just before the video is played, a mini pre-roll ad from Hellmann's Mayonnaise appears. This is just one example on how advertisers can capitalise on TV audience engagement.
Where the pre-roll option (Amplify) is used, revenue is shared equally between the TV channel and Twitter. If TV networks choose to use live broadcast voting Twitter tactics to boost ratings (a common engagement tool in the US with The Voice), then naturally any revenue from advertising promotions is 100% their own, and is not shared via NTTR.
In the NTTR presentation, preview data from recent shows like the Australian Open tennis final was shown to be the top Twitter TV show, with 18,000 people tweeting a total of 47,100 times – which was four million Twitter impressions seen by more than 200,000 people.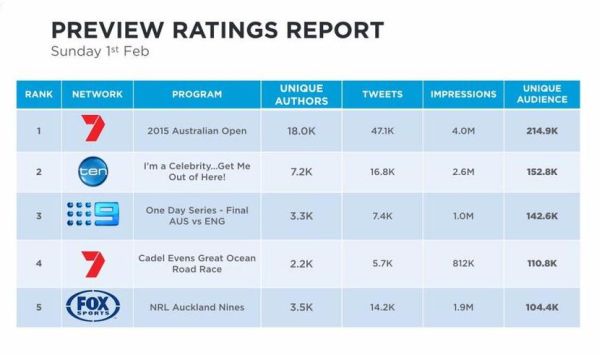 According to US data from Nielsen, a 10% rise in the number of times tweets about a TV show were seen during a show could result in a 1.8% lift in live and consolidated ratings in the next week.
Global head of TV creative at Twitter, Fred Graver, said Twitter is fundamentally changing the way people watch TV and said the "re-tweet is the new autograph".
"Many people who have been working on this are from the TV industry – we are TV people so we are not going to screw up your show".
Twitter is also now ready to roll out "Watch With Twitter" to Australia. This is the release of APIs that allow you to customise set-top boxes, IPTV, game consoles and catch-up services with Twitter data.
Have something to say on this? Share your views in the comments section below. Or if you have a news story or tip-off, drop us a line at adnews@yaffa.com.au
Sign up to the AdNews newsletter, like us on Facebook or follow us on Twitter for breaking stories and campaigns throughout the day.