Sports and reality dominate the first Nielsen Twitter TV ratings in Australia as the measurement body bids to offer TV networks, buyers, and advertisers hard analytics on what is being talked about on Twitter.
While the initial numbers from the joint venture between Network Ten, Twitter, and Nielsen are slight in scope, the trio are promising big things.
"Being able to measure and evaluate TV programs by their social engagement allows networks to better understand audience reactions to their programming, while offering advertisers and agencies another element in evaluating where to place their media spend and the impact of those placements in driving earned media," Nielsen head of Twitter TV ratings in Australia Scott Gillham said.
The Nielsen Twitter TV ratings launched in the US a year ago, and were announced in Australia in May. The aim is to help TV networks in Australia explore the commercial opportunities Twitter and social engagement can afford the networks. It should be noted that while in the US Nielsen provides the TV ratings, it does not in Australia. These are measured by OzTam and Regional Tam. OzTam is jointly owned by Seven, Nine and Ten.
The Twitter ratings aim to foster understanding of how the discussion of a particular TV show is playing out in social. Earlier this year, Twitter managing director of global brand and agency strategy Jean-Philippe Maheu suggested that the ratings would eventually impact the price of TV ads.
According to the first numbers released, more than 1.2 million tweets relating to TV programs were sent by Australians in October, generating more than 97.5 million impressions.
The highest rating programs of October were the NRL Grand Final, the Bathurst 1000, and the finales of reality shows The Block, The Bachelor, and The X Factor.
The NRL Grand Final gathered 8.4 million impressions (or views), the Bathurst 1000 got 3.4 million impressions, the finale of The Block got 4.2 million impressions, the final of The Bachelor got 4.1 million while  The X Factor rounded out the top five programs with 1.4 million.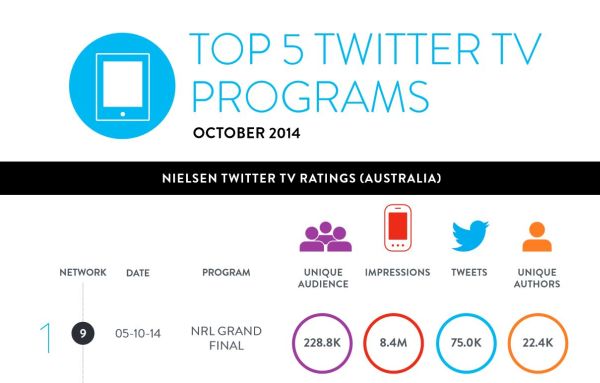 Click above for the full list 
The early numbers have confirmed what many have suspected, with sporting events getting the most Twitter love from users.
The initial findings indicate that 36% of all TV-related tweets were about sporting events, 20% about reality shows, 20% about current affairs, 16% about news and just 6% were about drama series.
Twitter's global chair of television,Sydney-based Danny Keens said the Twitter ratings have come about as a result of the need to establish an agreed-upon benchmark for measuring social media chatter about TV shows.
"Our TV partners in Australia have consistently asked for one common benchmark to measure the social engagement of their programming," he said.
Network Ten, which partnered with Twitter and Nielsen to come up with the ratings system, said the ratings benchmark was vital as it set about convincing advertisers that its push into social TV would be worth it. Being able to measure the value of social followings could help networks demonstrate to advertisers that lower rating shows, with high social engagement are more valuable vehicles than previously thought based purely on TV ratings.
"Ten's ambition is to be number one in social TV," Ten's head of research, analytics, and inventory management Sarah Keith said, "which we define as the union of TV and social media engagement, conversation and interaction between followers, viewers and brands."
"This new ratings system will help us continue to drive, track, and most importantly measure both engagement and conversation around our programming," she said.
While Ten consistently falls behind Seven and Nine in terms of Oztam's overnight TV ratings and share of audience, it claims to have a strong catch-up TV audience. Gillham said chatter on social about a TV show could prompt users to seek out catch-up services, driving demand in the platform
While the early numbers offer only a cursory insight, Twitter has hinted at further research into 'social brand ambassadors' as part of the ratings analytics push to monitor influencers on social media. It claims those who tweet about brands and TV send out three times as many tweets as any other group and have twice as many followers as a result.
Nielsen Twitter TV Ratings measures all programs across more than 100 FTA and subscription TV stations and provides metrics of activity and reach for episode, program, network station, insight and ranking mentions of actors, cast/talent, athletes, sports teams and real-time monitoring of authors and tweets for every program on air.
Definitions:
· Unique Audience: The total number of distinct Twitter accounts accruing at least one impression of one or more different Tweets ascribed to a TV episode.
· Impressions: Total number of times any Tweets related to a program were seen.
· Unique Authors: Number of Twitter accounts that posted at least one Tweet about a program.
· Tweets: Number of Tweets related to a TV program.
Have something to say on this? Share your views in the comments section below. Or if you have a news story or tip-off, drop us a line at adnews@yaffa.com.au
Sign up to the AdNews newsletter, like us on Facebook or follow us on Twitter for breaking stories and campaigns throughout the day.