Pepsi, Budweiser, Ram trucks, Mountain Dew and Amazon's Alexa are the top five brands associated with the 2018 Super Bowl this year, according to data from martech company Amobee.
The Dodge Ram truck ad generated the most engagement on social media but not necessarily for the right reasons.
The online blowback was swift for Ram after the carmaker used a sermon given by the Rev. Dr. Martin Luther King Jr as the voice-over for its spot.
The ad showed emotive scenes of people helping others with the voice of King in the background. At the end, the phrase "Built to Serve" was shown on the screen, along with the Ram logo.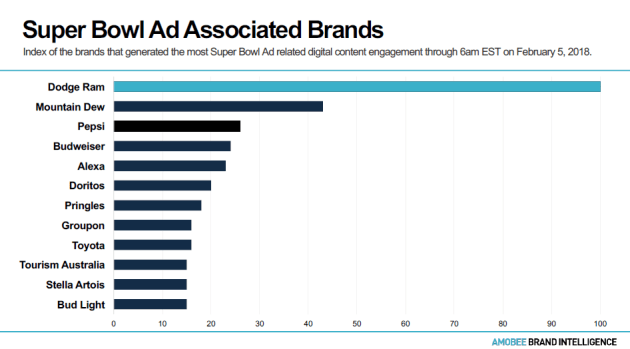 Many questioned if it was appropriate to use a deceased civil rights leader in the context of selling trucks.
"MLK wanted equal rights and for me to buy a Dodge Ram," one Twitter user wrote. Another wrote: "Black people can't kneel and play football but MLK should be used to sell trucks during the super bowl. Unbelievable."
People responded more positively to Mountain Dew's Super Bowl spot, which featured Morgan Freeman and Peter Dinklage team up in an epic lip-sync battle. The brand was mentioned in 18% of all Super Bowl ad-related digital content engagement.
Pepsi also pulled 11% of all Super Bowl engagement, lifted by its halftime show sponsorship and throwback campaign, featuring Cindy Crawford, Michael Jackson and Britney Spears.
Watch all the Super Bowl ads here
Amobee principal brand analyst Jonathan Cohen says that while last year the Super Bowl breakout spots were largely around social issues, such as the 84 Lumber ad and Airbnb's diversity spot, this year brands focused more on humour.
"From the meta energy of Tide's 'we can make anything a Tide ad campaign', to Doritos and Mountain Dew's lip-sync battle between Morgan Freeman and Peter Dinklage, to Eli Manning and Odell Beckham Jr. having the time of their life in a Dirty Dancing themed NFL spot; most of the audience favourites this year were all about having fun," he says.
"There still was some more serious fair that was well received. For instance, Coca-Cola's ad about diversity and Verizon's thank you to first responders generated particularly positive audience sentiment in real-time, but the volume of audience reaction was more around comedic fare."
In other Super Bowl ad controversy, the Hindu community is calling for Toyota and its ad agency, Saatchi & Saatchi, to issue an official apology for "brushing-off Hinduism" in its 60-second spot.
Rajan Zed, who is president of the Universal Society of Hinduism, says the ad fails to represent Hindus alongside Christian, Muslim, Buddhist and Jewish religions in its reflection of world religions.
"How could you possibly showcase "We're All One Team" by turning your back to 1.1 billion Hindus and thus slighting world's oldest religion?," Zed questions.
Celebrities that generated the most tweets around Super Bowl ads
1. Morgan Freeman - 26,074 Tweets (Mountain Dew Ad)
2. Michael Jackson - 19,109 Tweets (Pepsi Ad)
3. Cardi B - 14,036 Tweets (Alexa Ad)
4. Peter Dinklage - 13,202 Tweets (Doritos Ad)
5. Danny DeVito - 8,439 Tweets (M&M's Ad)
6. Steven Tyler - 5,878 Tweets (Kia ad)
7. Jeff Goldblum - 5,025 Tweets (Jeep Wrangler)
8. Tiffany Haddish - 4,705 Tweets (Groupon)
9. David Harbour - 4,452 Tweets (Tide)
10. Britney Spears - 4,384 Tweets (Pepsi)
Have something to say on this? Share your views in the comments section below. Or if you have a news story or tip-off, drop us a line at adnews@yaffa.com.au
Sign up to the AdNews newsletter, like us on Facebook or follow us on Twitter for breaking stories and campaigns throughout the day.