CBS ownership gives Network Ten "confidence" in how it plans and produces content with "some plans" for the two networks to work more closely together already in play, Ten chief executive Paul Anderson has said.
Speaking to AdNews on the sidelines of Ten's all singing and dancing upfronts event, Anderson said not to expect any dramatic changes in the short term, its relationship with MCN would continue and he would like to lead Ten under CBS ownership.
Last week's upfronts event left media buyers with a sense the TV network was confident and optimistic about its future under American ownership.
This is a sentiment shared by Ten's boss, who says new ownership gives the network "a whole bunch of confidence".
"This is the most successful television network in the US and they have all of the same challenges we do about producing great content and monetising it given the different ways that audiences view content these days," Anderson says.
"Survivor is a good example. It's a CBS show and the biggest reality show in the world and it's also one of ours. We've got to work out ways of gaining some synergies for productions with CBS and we've got some plans already. It gives us confidence and we can tap into their expertise that they have in their market."
For the past six months Ten has been mired in an ownership saga that was sparked by two of its largest shareholders - News Corp executive co-chairman Lachlan Murdoch and WIN owner Bruce Gordon - when they backed Ten into a corner in which the only option was to enter administration.
This led to a bidding war between the Murdoch-Gordon consortium and CBS, which was rubber stamped by a NSW Supreme Court judge on Friday and is expected to complete this week.
How ownership saga impacted operations
Anderson says Ten's leadership and staff tried to separate the ownership tug-of-war with the day-to-day operations of the network.
"We have a pretty amazing bunch of staff and on air talent that have carried on almost regardless," Anderson says. "We separate the day-to-day, the business as usual stuff, from what goes on with the recapitalisation of the business.
"That's not entirely easy to do, but for all intents and purposes, the proof is in the pudding because our ratings across the last five months are higher than five months before that."
Industry sources have speculated the ownership saga and administration might have financially shackled Ten from making the content investments it needed in 2017 to be competitive in 2018.
When asked if administration forced Ten to be much more prudent in content planning, Anderson says: "No, probably the opposite of that."
"We've got this consistent 7.30pm schedule across the whole year, with one hole after Masterchef that we had to fill," he adds. "We've been waiting to do Bachelor in Paradise and have eight seasons of the show to choose [contestants] from."
Ten's content strategy is to build on tried and tested tent pole franchises, or as he puts it "more of the same, but doing it better".
Aside from Bachelor in Paradise, another example of this is the addition of Gordon Ramsay and Nigella Lawson as judges on Masterchef, as well as recruiting Lisa Wilkinson for The Project, which will run on Sundays as well as weeknights.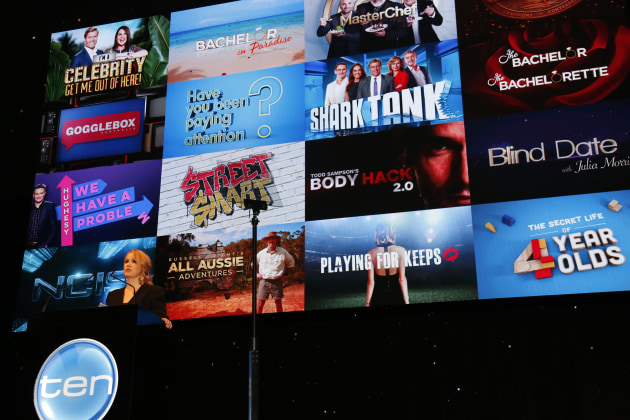 CBS ownership means more, not less locally produced content.
Don't expect drastic changes
CBS was unable to share details about its plans at Ten's upfronts event last Thursday because it took place the day before the takeover was sealed in court.
However, in the background CBS and Ten have had "lots of discussions" about the future direction of the network and Anderson says not to expect any "dramatic changes on any front".
"What you will see is that we've got nine new shows, 14 if you include that pilot week. We expect this to be a case of 'steady as she goes', but with the backing to do more," he adds.
"I think what you've seen [at our upfronts] is there's absolutely going to be more [local content investment]. All the networks in this country have 7.30pm domestic franchises and what we can't be seen to be doing is giving up later in the evening and giving up that ground to other forms of entertainment.
"Gogglebox and Have You been Paying Attention show that if you have good content in there, audiences watch it."
What about MCN's future role?
Media sources have speculated to AdNews that they believe some changes are imminent, including changes to leadership and question marks over the future of Ten's sales and technology partner MCN, which is part-owned by Foxtel.
Ten was cautious to point out the strengths of its relationship with MCN at its upfront events and Anderson reiterated this sentiment to AdNews.
"The relationship with MCN has been an outstanding success for us," he says. "All of the things that we joined forces with them for – the technology, scale and efficiency – all those things still ring true and the results on that front speak for themselves.
"With what they are doing with SIA and their data platform, we will be part of that."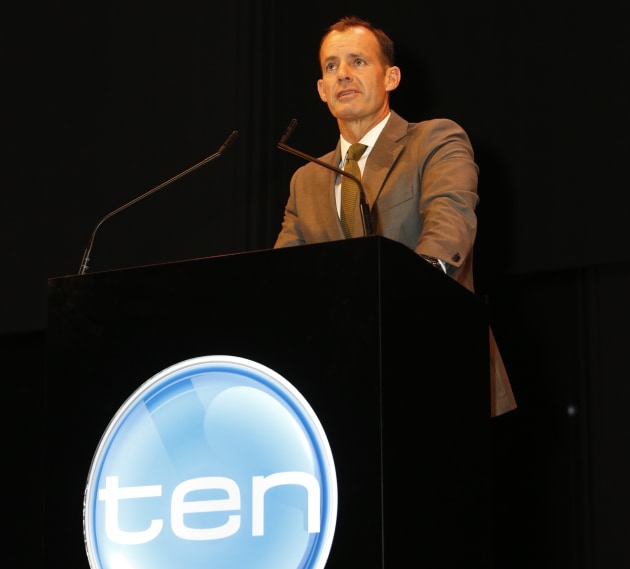 And Anderson's future...
Anderson was not able to confirm whether or not new ownership threatened his own position at the helm of the network, but made clear his desire to continue in the role.
"I'm obviously keen to stay on. Ten has an amazing group of employees and on air talent that have remained really loyal and worked super hard though this period and really haven't skipped a beat in terms of the eyeballs we deliver each night," Anderson says.
"It remains to be seen what CBS want to do once they fully take ownership but we have a great network with the most successful television network in the US to back us."
Having successfully guided Ten through one of its most tumultuous periods in the network's history, it would seem inconceivable and
perhaps harsh if its new owners wielded the axe too quickly.
Anderson remains a popular figurehead internally and is widely respected across the media industry.
However, foreign buyouts often end up with regime changes after a bedding in period to transition the organisation towards a new strategic (and sometimes cultural) direction.
For now, it's very much business as usual for Ten and its employees and media partners. And having lifted the considerable content output debts that weighed the network down has placed it in a much stronger position to compete with commercial TV rivals Nine and Seven.
"CBS ownership is a great thing for television and this industry. Having three strong networks is a good thing and the enemy is not each other," Anderson says. "Having a strong industry that has a form of advertising that provides the best return of investment for marketing dollars, and we've proven that, we just need to keep fighting the good fight and producing great content."
Have something to say on this? Share your views in the comments section below. Or if you have a news story or tip-off, drop us a line at adnews@yaffa.com.au
Sign up to the AdNews newsletter, like us on Facebook or follow us on Twitter for breaking stories and campaigns throughout the day.