It's been a solid year for SBS so far, punctuated by lifts in prime time audience share, outstanding documentaries and growth in news and current affairs.
This week, the multicultural broadcaster held a half-yearly upfront event to showcase some of its new content, including three eye-catching productions, Look Me in the Eye, Sunshine and You Are Here.
It is the first time SBS has held a half-yearly showcase event (see photos below), and the reason is straight forward: "We're a network and because of our small budget we make lots of short run series," SBS director of TV and online content Marshall Heald tells AdNews.
He said between an upfronts event, held in November, and now, a lot of shows will have been commissioned and gone to air that it "wouldn't have an opportunity to make noise about".
During the showcase, SBS chose to highlight Look Me in the Eye, You Are Here and Sunshine because the shows offered a "diversity of creative approaches", such as short-run drama, a new factual format and Indigenous storytelling.
"It's about diversity of themes, creative approaches and showing the strange of what we do," Heald adds.
AdNews was on hand to cast an eye over the shows and key cast members, getting a taste of what viewers can expect.
Not a dry eye in sight
Look Me in the Eye is a 'social experiment' (done in a genuine way) that helps Australians reconnect to prominent people in their past.
Hosted by Ray Martin, the premise of the six-part series is that an estranged pair enters a room and stares into each others eyes without talking for a period of time.
"I wouldn't have done it, to look in the eyes of someone you are estranged from for five minutes without talking, sometimes it was 12 minutes," Martin said. "It was remarkable to see the difference in people who hadn't spoken for two years to 40 years.
"It was some of the most emotional and tense two-and-a-half weeks I've ever been involved in.
"What makes this really valuable is that everyone will relate to it...often it's a case of, 'you silly bugger, why didn't you just go back and talk' rather than this estrangement where we dig our heels in."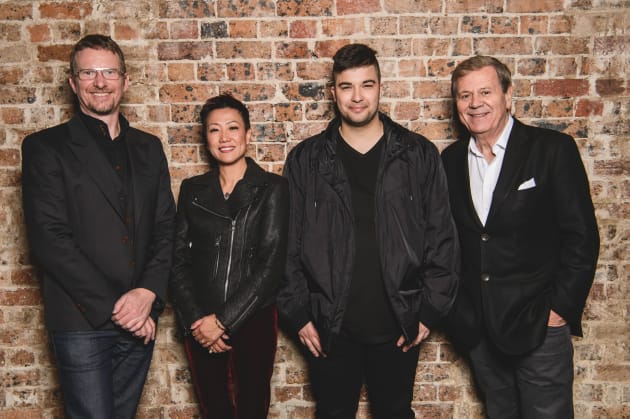 Look Me in the Eye: Marshall Heald, Jenny, Daley and Ray Martin. Check out more photos from the event below.

The show really tugs at the heart strings and is likely to hit a raw nerve with many viewers, leaving some, including this reporter, with teary eyes. Heald says the show illustrates the "transcendental power of reconciliation".
Two examples that were brought to life at the event included Brisbane mum Jenny, who reconnected with her only child Carl in one episode, and Perth-based Daley, who met his dad for the first time in more than a decade.
"I brought [Carl] up as a single mother since he was two years old and we were really close," Jenny recalled. "When he told me he was moving our with his girlfriend and he didn't need me any more, it was like someone had killed me.
"When I saw Carl's eyes, I had very mixed feelings because I was so excited to see him and also I had a lot of hope. I can tell through his eyes that he just wanted to say 'sorry'."
Daley told the room he didn't expect his father, a wharfie, to travel across the Nullabor to begin the reconciliation process.
"When I saw my dad, I saw myself in 30 years - that I was his son and I could see that he cared," Daley said.
"It was 10 years of hurt that all came flooding out and I broke down...it was a wonderful moment of human connection that I've never experienced with him before."
Sunshine aims to shine a positive light on the (often unfairly) maligned South Sudanese community.
A little ray of sunshine
Another show that really caught the eye was a new drama that explores the difficulties South Sudanese refugees face settling into Australia.
The show follows the fictional story of Jacob Garang, an aspiring South Sudanese-Australian basketballer, played by new on-screen talent Wally Elnour.
Garang is on the cusp of securing dream US college basketball move when he is caught up in a police investigation. The show stars Anothony LaPaglia and Melanie Lynskey, and unearths some outstanding South Sudanese talent, including Ez Deng.
"To me it's going to be a heartbreaker in our community," Deng said. "We're not being represented well in the media in Australia, so this is going to shine a little light and hopefully my community will see a reflection of themselves, and Australian people might understand who we really are as a people, not just the criminal [portrayal in the media]."
Warwick Thornton, the director of Samson & Delilah, is behind We Don't Need a Map.
You Are Here takes a fresh look at Indigenous storytelling by commissioning some of this country's finest Indigenous film talent to capture moments that shaped Australia's history and through the eyes of our first people.
It includes Warwick Thornton's We Don't Need a Map, Erica Glynn's In My Own Words, Tyson Mowarin's Connection to Country and Trisha Morton-Thomas' Occupation Native.
"A lot of Australia's history was written with a lead pencil and an eraser," Thornton said, before later adding: "Not one frame in these films was wasted on dickheads and racists, they already have their own platforms."
Another show that is sure to stir controversy is the second series of Struggle Street, there's also a mythbusting look into obesity, and an intriguing US drama, The Good Fight, about an African American law firm.
In sport, the Premier League returns to SBS with a match each week from August and the broadcaster will also show the US Open. Next year SBS has rights to show certain matches at the 2018 FIFA World Cup in Russia and will also broadcast every stage of La Vuelta.
Full details of SBS's programming slate are detailed below.
A year of growth
In the year to date, SBS's primary channel share has increased by 0.3 points to 5.1% and the share of SBS network (SBS, Viceland Food Network and NITV) is also up 0.3 points to a 7%.
One highlight this year has been the outstanding documentary series Filthy Rich and Homeless, which had an average audience of 474,000 viewers across three nights and a total reach of 1.65 million, including 717,000 in the coveted 25-54s demographic.
It also begun shifting perceptions of how Australians view homelessness, an important topic in a wealthy nation where the number of homeless people living rough is spiraling across the country.
In the first half of 2017, SBS World News increased its audience share year-on-year for its 6.30pm program (up to 3.8% metro share from 3.5%), and the late news bulletin (up to 3.5% metro share from 2.9%). Current affairs show Insight is up 1.1 points to 6.4% share and Dateline has increased half a point to a 5% share.
Although SBS Viceland had a slow start over the summer, it has picked up audience share considerably in the past quarter and Food Network continues to perform above expectations.
Another highlight has been the growth of the catch up service SBS On Demand, which now has more than two million registered users after only nine months of gathering viewer details.  Average monthly video views increased by more than 50% in the first half of this year. 
The Chef's Line has established a loyal following of foodies.
One of SBS's most anticipated productions this year was new cooking format the Chef's Line.
Average ratings for the series was around the 150,000 to 180,000 mark when figures are combined on SBS's main channel and the Food Network.
The show was the largest single undertaking by the multicultural broadcaster for a single entertainment production, with 65 episodes filmed in a brutal schedule of two episodes per day.
Heald said the show managed to resonate with 24-55s in a tough 6pm slot where it was up against Nine and Seven news as well as Family Feud.
"The 25-54s was probably about a third of our total audience...where it struggled a little bit was older audiences who aren't used to a competition dynamic on SBS," he said.
"It was up on slot average if you looked over the past three years, we definitely grew in that 24-54 range but lost some older viewers. Of course you want a strong total people but 25 to 54s is what you need if you are a hybrid funded broadcaster."
Heald said that the sponsors "loved it" including one of Australia's largest advertisers, Harvey Norman. There has also been interest to take the format abroad.
Upcoming programs
DOCUMENTARY
SBS
Look Me In The Eye
Starts 6 September 2017 
A social experiment based on the studies of neuroscientists, this documentary series hosted by Ray Martin, explores what happens when two estranged people come face to face – without conversation – to look each other in the eye. Made up of six one-hour episodes, Look Me In The Eye features Australians from a wide range of backgrounds who are genuinely looking to reconnect with someone in their life. Each of those seeking to reconnect has an unresolved conflict, or has drifted apart from a family member, friend or colleague. When all other attempts have failed, it's time to try something different.
Struggle Street
Coming in 2017
Today nearly three million people in Australia live below the poverty line. SBS's observational documentary series gives a voice to the many Australians doing it tough, helping all of us to better understand complex issues of social and economic hardship. Through honest and compassionate accounts of people and communities, the series will give people the opportunity to share their stories of resilience and community spirit with all Australians. With major investment from Screen Australia and the assistance of Film Victoria and produced by Keo Films for SBS.
The Obesity Myth
September 2017
The Obesity Myth is a documentary series that follows the struggles of morbidly obese patients and their families as they go through the weight loss program at Melbourne's Austin Health. With almost two-thirds of Australian adults tipping the scales as overweight or obese, The Obesity Myth will break down barriers to social cohesion by challenging commonly held views of obesity. The Doctors at Austin Health are taking a different approach by treating obesity as a chronic genetic disease. Patients are told, often for the first time in their life, their weight problems are not their fault, but a result of a genetic predisposition. The Austin's treatment regimen, which is a last resort for many patients who are at risk of early death due to their weight, uses a combination of diet, medication and bariatric surgery to transform bodies and lives.
Secrets of our Cities
September 2017
Hidden in our suburbs lies the true face of our immigration nation. How did we get here? What shaped our cities? What secrets lie within them? Presented by Roy & HG's Greig Pickhaver, the series will uncover the buried stories of hope, new beginnings, success and the tales of hardship, tragedy and despair lurking in the streets of our suburbs. With major investment from Screenwest and produced by Joined Up Films for SBS.
The Ghan
December 2017
The Ghan is an innovative documentary that takes audiences on an immersive journey on Australia's most iconic passenger train. Australia's first 'slow TV' program will spend a number of hours travelling on the famous train through the heart of Australia from Adelaide to Darwin. The Ghan also explores the contributions of the transcontinental line to the foundation of modern multicultural Australia. Using contemporary graphics alongside archival imagery, audiences will learn the story of how the construction of the 'Ghan line', the subsequent development of central Australia and the growth of Darwin, Alice Springs and Port Augusta can be attributed to local Indigenous communities and early immigrants.
NITV
You Are Here – NITV and SBS
Starts 8.30pm, 23 July 2017
You Are Here, a series of powerful documentaries premiering on NITV and SBS. Presented by Miranda Tapsell, You Are Here explores the place of Indigenous people in Australia today. Included in the series are Warwick Thornton's We Don't Need a Map, Erica Glynn's In My Own Words, Tyson Mowarin's Connection to Country and Trisha Morton-Thomas' Occupation Native, which all capture moments in time that have the power to shape our history. From national issues, to personal battles and triumphs, each story inspires a sense of place and allows viewers to discover new perspectives on the Australian spirit through Indigenous storytelling. Commissioned under NITV and Screen Australia's Moment in History initiative, with funding support from Screen West, Create NSW and Screen Territory
WIK VS QUEENSLAND
December 2017
Wik vs Queensland is a one-hour documentary for NITV that takes audiences back to one of the most significant judgments and tumultuous political periods in Australia's history. On December 23, 1996, the High Court of Australia - in a 4/3 decision - granted native title to the Wik People in a landmark decision Wik Peoples vs The State of Queensland.
SBS Viceland
Earth Works
7.40pm, from Saturday 22 July 2017
Celebrating global sustainability through musical expeditions, Earthworks is a new series that combines inspiring artists with stunning natural environments to connect music and nature in its purest form. Features Miguel, Animal Collective and Local Natives.
Motherboard
8pm, Wednesday 26 July 2017
New technologies, cultures, and discoveries are constantly reshaping our planet. Whether it's on the ground or on the web, documentary series Motherboard travels the world to uncover the stories that will define what's coming next and how it's happening faster than ever before.
Sarain Carson-Fox explores global Indigenous communities in Rise.
Rise
9.35pm, Thursday 27 July 2017
At the frontline of Indigenous resistance, Sarain Carson-Fox travels to Indigenous communities across the Americas to meet people in this series who are protecting their homelands and rising up against colonisation.
States of Undress (season two)
8.30pm, Thursday 7 September 2017
Hailey Gates returns to explore global fashion and issues the industry often ignores, showing viewers what the world wears, and why.
DRAMA
Sunshine
October 2017
Sunshine is a vibrant, kinetic and compelling high-stakes fictional crime drama that explores a world of contrasts - truth and reconstruction, past and present, hope and heartbreak – felt by those forging a new life in a foreign land. Based in Melbourne's outer-west Sunshine and its surrounds, the story follows Jacob Garang - a young, aspiring South Sudanese-Australian basketballer played by new on-screen talent Wally Elnour. Garang is on the cusp of being picked up by scouts for the US College league when he gets caught up in a police investigation involving a teenage girl from one of Melbourne's affluent suburbs.
Anthony LaPaglia and Melanie Lynskey star alongside an outstanding South Sudanese Australian cast being seen for the very first time on Australian TV. Sunshine is produced by Essential Media for SBS with major investment from Screen Australia and the assistance of Film Victoria.
The Good Fight
Starts 8.30pm, Wednesday 2 August 2017
Picking up one year after the events of the final episode of The Good Wife, an enormous financial scam has destroyed the reputation of a young lawyer, Maia Rindell (Rose Leslie), while simultaneously wiping out her mentor and godmother Diane Lockhart's (Christine Baranski) savings. Forced out of Lockhart & Lee, they join Lucca Quinn (Cush Jumbo) at one of Chicago's preeminent law firms. Each week, The Good Fight captures stories inspired by real events, covering terrorism, cyber bullying, censorship, hate speech and fake news litigated by Chicago's leading African American law firm.
Riviera
October 2017
Slick ten-part drama series Riviera centers on a young, recently married woman (Julia Stiles - pictured below)) whose blissful life of Mediterranean luxury is torn apart when her billionaire husband (Anthony LaPaglia) is killed in a yacht explosion. Beneath the postcard-perfect luxe, immaculate, glamour of the Cote d'Azur on the French Riviera lies a life tainted with dark secrets, dishonesty, crime, double crossing and maybe even murder.
What Would Diplo Do
8.30pm, Tuesday 8 August 2017
In a nod to mockumentaries everywhere, James Van Der Beek plays a fictional version of DJ superstar Diplo in a collection of parables about life as told through the eyes of a guy who can bring 60,000 people to their feet… but kind of sucks one-on-one.
The Handmaid's Tale
Season one available now
The highly anticipated adaptation of acclaimed author Margaret Atwood's award-winning novel The Handmaid's Tale, from MGM Television, made its Australian premiere exclusively on SBS On Demand, with the full series available to stream from Thursday, 6 July. The ten-part series is the story of life in the dystopia of Gilead, a totalitarian society in what was formerly part of the United States. Facing environmental disasters and a plunging birth-rate, Gilead is ruled by a twisted fundamentalist regime that treats women as property of the state. As one of the few remaining fertile women, Offred (Elisabeth Moss) is a Handmaid in the Commander's household, one of the caste of women forced into sexual servitude as a last desperate attempt to repopulate a devastated world.
Other dramas returning include Bosch (season three), Vikings (season five), Outlander (season two) and Versailles (season two).
FOOD
Gourmet Farmer: Fat Pig Kitchen
7.30pm, Thursday 3 August 2017
Change is afoot on Fat Pig Farm. The architects have been called in, a business plan formed and Matthew Evans is about to go full circle – from reviewing restaurants to building his own. The stakes have never been higher… When the doors are flung open of his farm-to-table restaurant Fat Pig Kitchen, Matthew will serve up only what he grows and rears on his own farm and neighbouring communities. Food critic turned farmer turned restaurateur…how hard can it be? Produced by Essential Media for SBS.
Food Safari Earth
October 2017
Maeve O'Meara returns with Food Safari Earth, a glorious fresh exploration of all the bounty of the earth. Filmed across the four seasons and with access to commercial and home gardens, Food Safari Earth will explore vegetables at their absolute best, some with the dew fresh from picking. From the early history of man, vegetables, fruits and grains have been the major part of the human diet; meat, whether hunted or herded, being a special occasion ingredient. There is no doubt Food Safari Earth captures the zeitgeist. Worldwide there is a move towards meatless meals to explore more vegetable-based eating for environmental, religious, health benefits and simply for the pure taste. Produced by Kismet Productions for SBS.
Food Lab by Ben Milbourne – Food Network
November 2017
Food Lab by Ben Milbourne is a series that combines food, fun, great locations and empowers viewers to become better cooks. Each episode is set between Ben's newly remodelled kitchen, on the road in stunning Tasmania visiting farmers, schools and markets, and in the lab with Ben's mate, food science nerd Joel Gilmore. The series will showcase beautiful local produce alongside fascinating science behind cooking and feature many simple, tasty recipes for viewers to create, and experiment with, at home.
In October, the world's only Human Panda, Eddie Huang, goes on a hilarious journey exploring race, identity, multiculturalism, and his irritable bowel syndrome through food.
SPORT
Tour de France
Throughout July 2017
SBS in July is all about the Tour de France, as Australia tunes in to the spectacle and drama that is the world's biggest cycling race. For the first time, every stage of the 2017 Tour de France has been available in full on SBS digital platforms - Cycling Central online, and the ŠKODA Tour Tracker App. From the first pedal stroke at start line to the finish line and podium presentations, audiences have access to more race coverage than ever before. The Tour de France 2017 is hosted by SBS's Michael Tomalaris and for the first time ever an all-Australian commentary team of Robbie McEwen and Matt Keenan. 
US Tennis Open
Starts 6 September 2017
In a partnership with ESPN, SBS's US Open coverage will commence during the quarter finals stage. Played on hard courts in Queens, New York, the US Open is the final of the four annual tennis majors, wrapping up the year for the major tournaments. SBS will broadcast some of the biggest matches, live and free on SBS, SBS HD, as well as streamed live online.
Premier League
Returns Saturdays from 12 August 2017
The biggest football league in the world returns to the home of international football, SBS, next month. SBS's exclusive free-to-air coverage of first-class games will be broadcast live every Saturday night from 12 August. Premier League live coverage is hosted by SBS's football reporter Lucy Zelic and award-winning football analyst, former Crystal Palace midfielder, Craig Foster. SBS will continue to show one live match each week across SBS and SBS HD, along with weekly highlights on The World Game, Mondays at 11.00pm on SBS and SBS HD.
ENTERTAINMENT
SBS Pop Asia – SBS Viceland
Sundays, 9am
Hosted by Andy Trieu, SBS PopAsia is Australia's number one destination for all things Asian pop. With exclusive and never-before seen interviews with the hottest Asian celebrities, the latest music videos fast-tracked from Asia, updates on events and activities in Australia and non-stop pop from the biggest Asian sensations. Fans can catch up on SBS On Demand  and  accompanying 24/7 digital radio channel and podcasts, which boasts big-name hosts like, Australian K-Pop star Kevin Kim, Youtube celebrity, comedian and actor MyChonny,  and Simon & Martina from Eat Your Kimchi.
If You Are the One – SBS Viceland
Sundays
Cult-hit Chinese dating show If You Are the One is about to get a makeover for four special episodes throughout July on SBS Viceland. The major role reversal gives women a chance to bare their hearts in front of 24 eligible bachelors, and the men get an opportunity to join the notoriously hilarious and witty dating panel in front of a live audience. One woman will be front-and-centre before a panel of 24 single (and incredibly well-dressed) men as she goes through the gruelling process of 'seduction'. No quirky personality trait will be left uncovered.
American drama Berlin Station comes to SBS later this year.
Have something to say on this? Share your views in the comments section below. Or if you have a news story or tip-off, drop us a line at adnews@yaffa.com.au
Sign up to the AdNews newsletter, like us on Facebook or follow us on Twitter for breaking stories and campaigns throughout the day.