Today marks the third radio ratings of 2018, including digital radio ratings, with results representing 11 March to 14 April and 22 Apr to 26 May.
In the third of eight radio ratings surveys for the year, Southern Cross Austereo's (SCA) embattled 2DayFM breakfast trio of with Em, Grant & Ed again gained more listeners, taking a 4.9% share.
This marks a good hike from a 3.4% share in survey one and the 4.4% in survey two. The stats are again the highest for 2Day Breakfast since survey eight 2013.
This is the third year running SCA's Sydney 2dayFM has had a new breakfast spot line up at the start of the year, following Rove & Sam in 2016, The Em Rusciano Radio Show with Harley Breen in 2017 and now for 2018, it's the 2DayFM Breakfast with Em, Grant & Ed.
See: Grant Denyer joins Em Rusciano show or SCA may have been 'overly patient' with Rove & Sam.

While nowhere near the dizzy 2GB or Kiis heights, the rise demonstrates SCA's talent changes could be working.
Also in the popular breakfast slot between 5.30am to 9am, 2GB again wins out overall, with a 15.3% share of listeners, up from 14.3% in the last survey.
Within the FM breakfast slots across Sydney, in second place for breakfast listeners is Kyle and Jackie O, despite a slight drop from a 12.3% share to a 11.9% share.
Next up, in third spot was ABC Sydney with a 9.9% share, then WSFM with an 9.4% share – having secured an extra 1.3 percentage points, up from an 8.1% share last survey.
Nova Entertainment saw both its Nova 96.9 and Smooth FM stations drop in breakfast to 6.4% and 5.8% share respectively, compared to a 6.9% and 6.6% share last survey.
Total Sydney listeners
Across total listeners in the Sydney market, yet again Macquarie Radio Network's talkback show 2GB pulled in the most listeners, with an 12.7% share of Sydneysider ears.
In second spot for total listeners, but first spot in the market's commercial music FM offerings, Australian Radio Network's (ARN) WSFM jumped up a healthy 1.3 percentage points to gain a 9.7% share. This is a big hop from fourth spot in the last survey and the boost saw it knock sister station Kiis 106.5 down to third spot with an 8.8% share.
Nova's Smooth FM came in next at fourth position with an 8.7% slice, followed by ABC Sydney with a 8.6% share.
Driving it home
Across Sydney's drive time spot Kiis Network's national show featuring Melbournian "rising stars" 'Will & Woody', aka Will McMahon and Woody Whitelaw, won the 4-7pm drive time slot battle again, taking a 9.9% share.
Despite the win this is a drop from its 11% share last survey, and sees Nova's 96.9's Kate, Tim and Marty, with a 9.7% share this survey, snap at the duo's heels.
The emergence of the cheeky chaps follows predecessors Dave 'Hughesy' Hughes and Kate Langbroek moving from ARN to rival radio group SCA's Hit Network - filling the gap left by long-standing drive hosts Hamish & Andy.
Hughesy & Kate, in their new 2Day FM drive, earned a 6.8 share this survey, up from a 5.5% share.
Digital radio wars
Looking at the digital radio scene in Sydney, ARN's Edge Digital channel, which has been going for four years, takes the share of overall listeners.
Of the 705,000 total DAB+ listeners across the city, up from 698k listeners in this last survey, a total of 137,000 listened to Edge, up from 106k in survey two.
The second most listened to digital radio channel was again ABC Jazz, with 104k fans, up from 95k. In the last survey SCA's Triple M Greatest Hits say at third spot with 81k listeners, up from 68k. However this survey is has shed 10k listeners, dropping to 71k listeners. ABC Grandstand now takes third spot, with 89k listeners
Make sure you are subscribed to AdNews in-print as our August edition takes a look at digital radio.
Sydney: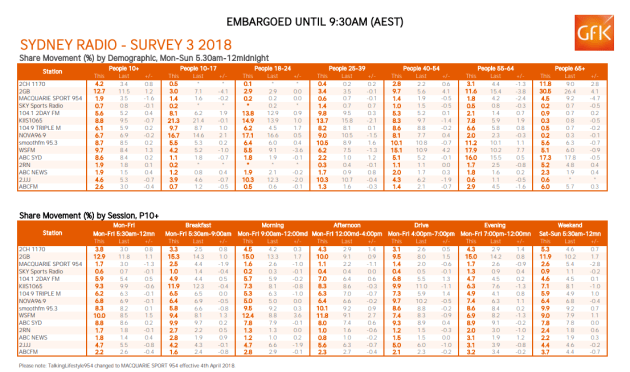 In the second radio ratings of the year across the Melbourne market, 3AW remained number one with a 14.4% audience share, growing by 0.7 percentage points.
In the FM battle, ARN's Gold 104.3 took out the second spot for total audience share, reaching 10.6% and growing by 0.6 percentage points.
SCA's 101.9 Fox FM came in a close third with an audience share of 10.5%, falling by 0.9 percentage points. It was followed by Nova's Smooth FM, which dipped by 1.2 percentage points, reaching an audience share of 8.9%.
3AW continued to reign supreme in the breakfast slot with an impressive 20% share.
SCA's Fox FM breakfast show trio of Fifi, Fev and Bryon remained in second position, despite its audience share dropping off by 0.9 percentage points, falling to 9.4%.
The fan favourite among Melbourne listeners, continues to prove itself as the leader in the breakfast show spot, after spending last year, repeatedly coming in behind Nova's 100 breakfast program.
ARN's Gold 104.3 breakfast show, featuring new host, UK radio personality Chris O'Connell, came in third, growing by 1.0 percentage point to an 8.0% audience share.
It overtook Nova's smooth 91.5 FM, which came in equal fourth, with its More Music breakfast show hosted by Mike Perso growing by 0.4 percentage points to an 7.7% audience share.
Triple M's Hot Breakfast Show with Eddie McGuire shared fourth position with smooth, growing 0.8 percentage points, garnering an audience share of 7.7%.
Nova 100's Chrissie, Sam and Browny show, was pushed down to fifth place, dropping off by 1.6 percentage points taking an 6.4% audience share.
Drive time action
In the drive slot, Fox FM's drive show teams, Carrie & Tommy followed by Hughesy and Kate continued to impress, taking the top spot with a 13.3% audience share, despite dipping slightly by 0.1 percentage points.
3AW came in second behind Fox, taking an audience share of 10.4%, dropping off by 0.4 percentage points.
Gold 104.3's Gavin Miller came in third, once again, growing his show's audience share the most, reaching 9.7%, up 0.4 percentage points.
Nova 100's Kate, Tim & Marty dropped down to fourth place, falling by 0.8 percentage points, with an audience share of 8.5%.
Trailing behind Fox FM was Gold 104.3, with a 9.7% audience share, growing by 0.4 percentage points.
Smooth 91.5 FM saw the sharpest decline, tumbling to fifth spot, recording an audience reach of 7.7%, down 1.3 percentage points.
The latest round of ratings was also the third inclusion of digital radio ratings. In total people, Coles Radio had the highest audience, growing by 5,000 listeners and reaching a total audience of 74,000.
The 90s iHeartRadio came in second with 64,000, up 16,000 listeners since last ratings.
In third place was ABC Jazz came and MMM Classic Rock at 59,000, with the latter growing its audience by 2,000 listeners. ABC Jazz listeners held the same.
Melbourne: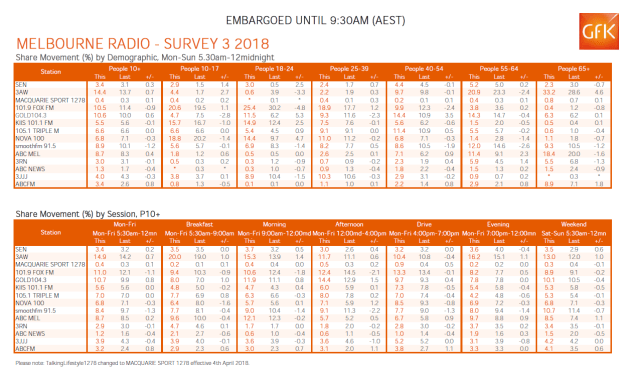 Brisbane:
Perth:
Adelaide:
Have something to say on this? Share your views in the comments section below. Or if you have a news story or tip-off, drop us a line at adnews@yaffa.com.au
Sign up to the AdNews newsletter, like us on Facebook or follow us on Twitter for breaking stories and campaigns throughout the day.