This first appeared in the March issue of AdNews Magazine.
The podcast playground has matured into a serious business over the last 12 months. From Nine to News Corp, Pedestrian to Mamamia, and Southern Cross Austereo to Nova, media companies are throwing their hats in the ring, chasing the next hot medium and the ad dollars it promises.
"Podcasts are on the same trajectory as SVODs. We've seen an explosion in consumers' appetite for video on–demand with Netflix and Stan, and people are hungry for personalised audio they can listen to, how and when it suits them."
That's the bold statement shared by Southern Cross Austereo (SCA) CEO Grant Blackley late last year. And it's one that underpins the craze for podcasts in 2017, which saw a large number of media companies and brands begin to explore the medium.
Podcasts aren't new by any means. They go way back to the 80s, the late 90s, and the early 2000s, but they were somewhat of a daggy medium. But, the last 12 months have marked an unprecedented level of acquisitions, deals, analytics and launches, as well as increasing interest from consumers that has turned the podcast into a red hot medium.
Long–running shows like This American Life have been around since the mid–90s and attract audiences of more than two million each week, but the 2016 US true crime audio series Serial is seen by many as the tipping point. It hooked audiences that hadn't been podcast listeners before and the medium exploded.
One of the biggest Australian–grown podcast networks in Australia is Mamamia, which racked up nearly 40 million downloads across its multiple shows in 2017 – a growth of more than 306% year-on-year.
Mamamia was an early adopter in Australia, according to the company's head of entertainment and podcast host, Holly Wainwright.
"I'm not suggesting we were an early adopter globally, because it's a medium that has been around for a long time, but we've been building a loyal following for two years now," she said.
"A lot of players are ramping up their podcast strategy now, but it's been a focus of ours for quite some time."
Mamamia's Holly Wainwright
As podcasting booms - 29% of Australians have listened to podcasts and that figure continues to rise - so too, the marketing opportunities the medium presents. There aren't too many great examples of home–grown branded podcasts, but out of the US, brands like eBay, Tinder and GE are captivating huge audiences with authentic, relevant stories.
In fact, GE-produced The Message knocked out Serial and This American Life to claim the top spot on Apple's list of most popular content - the first time a piece of content marketing by a brand has done so.
The beauty of the podcast lies in its inherent accessibility. In theory, anyone can produce a podcast and amplify their story. But, as the podcast landscape becomes more saturated and entangled, taking the approach of simply recording and hoping for the best may not be enough.
This is something Tinder, eBay and GE are very much aware of. The reason why their branded podcasts have achieved such success is because these organisations made the decision to partner with experienced podcast producers to get it right.
"With so much competition, if your podcast isn't going to be well–produced, it will struggle," Wainwright said. She explained that a podcast also has to be done for the right reason, and companies must stick to a strict routine.
"You have to remember a podcast is more than someone just sitting at a microphone and talking," Wainwright said.
Branded opportunities
The rise in interest toward podcasts by brands comes down to a few factors, including the increasing availability of podcast data, growing listenership, more vehicles with on–demand audio and the proliferation of audio assistance devices.
With the arrival of voice–activated devices like Google Home and Amazon Alexa over the festive season, it is expected this will further accelerate the explosion in podcasting and more broadly, audio on–demand in 2018.
Mamamia, ABC, Nova and Whooshkaa have all revealed they are currently exploring ways to best distribute their podcasts through Amazon Echo and Google Home devices.
A 2017 report from NPR found 70% of smart speaker owners listened to podcasts, which shows that as voice assistant devices gain more traction with Australians, podcast listenership is likely to rise as a result.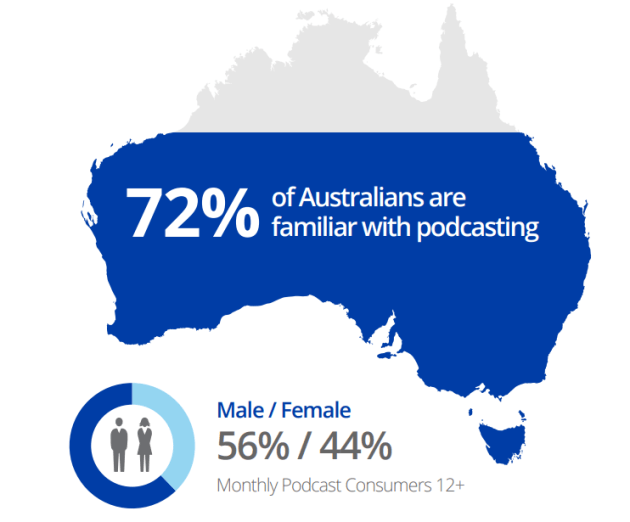 But, when a brand wants to get involved it has a few options. They can advertise within established podcasts, a route that brands like Squarespace, MailChimp, and sleep product maker Casper in the US, have taken.
Another route is to sponsor a short series spin–off of an established podcast or to develop their own bespoke series — either in partnerhip with a podcast producer or solo.
One of the biggest investments so far in Australian branded podcasting has been GE Australia's series Decoding Genius, produced with Fairfax Media.
The Story Lab head of program formats and development, Josh Butt, said it now makes sense for a business magazine or a bank to advertise their products within a show covering related topics, such as NPR's Planet Money or Stephen Dubner's Freakonomics.
"The audience is receptive already — their message has effectively been warmed up by the show's topic because they're both on the same theme," Butt explained.
"Done well, a podcast can be a fantastic medium for a client to communicate with their audience, whether that audience is one thousand or one million."
The Story Lab's Josh Butt
Butt does, however, acknowledge that podcasts such as Mamamia's brand–funded podcast Year One by English baby products maker Philips Avent, are probably not the most effective at targeting a very broad audience on their own.
"Clients need to identify the audience they want to communicate with. A podcast is a bit more niche, and if you're targeting say grocery buyers 25+, then a stand–alone podcast strategy might not be your best," Butt said.
"Although a podcast could be part of an audio strategy, you'd really want to support it with radio and other traditional media in your channel plan."
While the US is ahead of Australia in terms of brands creating their own podcasts, Whooshkaa content and marketing director Corey Layton said he has seen integration gaining traction here and expects it to grow this year.
"Brands are still experimenting in the strengths of each of the three offerings; buying ad reads (where the host reads out the ad message), buying integration, or creating their own show. Some brands are jumping in the deep end, but others are progressing warily," he said.
Layton believes once brands catch a glimpse of the advanced metrics available from podcasting, compared to the analytics available from other media, we will see more convert to the medium.
Whooshkaa's Corey Layton
In 2017, Holden partnered with Whooshkaa–supported AFL podcast 2 Guys One Cup, starring Wil Anderson. Holden gave
Anderson creative licence to integrate the brand into his show, which Layton said has driven strong recall results for the brand, but it took trust.
"Anderson was never going to follow a script. It isn't that type of show," Layton explained. "Holden had to be willing to trust the talent, and it's now set the precedent of what a true brand/talent partnership should be."
Since launching in Australia at the beginning of 2016, Whooshkaa has been working to educate agencies on the possibilities surrounding podcasts. Layton admits there is still more education to be done, but said it's getting easier with a slate of publishers and companies moving into the space.
Wainwright agreed, adding that podcasting is no longer a mystery to media agencies. She said Mamamia's podcast integration is a part of every commercial conversation the publisher has.
"It's not slowing down," Wainwright said. "There's a lot of room for more growth this year."
The March issue of AdNews has hit desks. You can subscribe to the print edition or download a digital version here. Not all content appears online, some is exclusive to the magazine, so the only way to read it all is to get a copy - don't miss it. 
Have something to say on this? Share your views in the comments section below. Or if you have a news story or tip-off, drop us a line at adnews@yaffa.com.au
Sign up to the AdNews newsletter, like us on Facebook or follow us on Twitter for breaking stories and campaigns throughout the day.