Nine has launched its dedicated small and medium enterprise (SME) TV buying platform, 9Voyager, in a move to open the television market up to more than two million SMEs in Australia.
The self-serve automated buying platform has been built by Nine using its own proprietary technology to allow business owners to buy TV ad inventory across Channel 9, 9Go, 9Gem, 9Life and digital video platform 9Now.
9Voyager was first announced at Nine's 2018 Upfront in October last year and is built using 9Galaxy technology. It allows any SME to access advertising inventory and pay via credit card, all in one transaction.
Nine chief sales officer Michael Stephenson says the platform is in response to research conducted by the network around the barriers for entry into TV advertising, with cost revealed to be the main reason.
With a fully automated buying platform, and with a minimum spend of $15,000, Nine will "guarantee" a certain level of audience reach, dependent on the location the money is spent in, while also creating the client's ad for them.
9Voyager has a fully integrated creative briefing functionality. Accessing over 12,000 creative and production partners around the world, Nine will shoot, produce and deliver a "high quality 30 second commercial" for SME partners using global video creation platform 90 Seconds.
While there are 2.1 million recorded SMEs in Australia, Stephenson says Nine is "more directly focused" on the 'medium' enterprises, that primarily consist of 20-200 employees, of which Nine estimates there are approximately 51,000.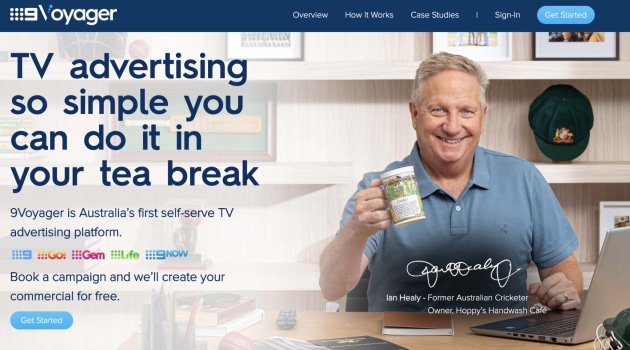 9Voyager's launch page
"They are very significant businesses that already advertise. Outside of that there are sole traders and smaller businesses that may choose to use 9Voyager but it's not where I've had my initial focus," Stephenson says.
"Why they are important is because 91% of that 51,000 already advertise and they already see the benefit of using advertising to drive real growth for their companies and 50% of those are already using self-serve platforms, so they are already familiar with the process."
Nine also found that many SME's are already using these self-serve platforms to primarily buy Facebook and Google inventory but want an alternative.
Clients including Bonnydoon Golf Club, Pacific Boating and One Big Switch have already been using the Voyager platform in beta.
While Stephenson was unable to give an exact figure for average client spend, he says on average the 51,000 medium business Nine are targetting currently spend $200,000 annually on other advertising channels.
However, he added that "can vary massively", but says should they all choose to use Voyager there is a sizable opportunity for Nine.
All work created by 90 Seconds and Nine is restricted to the network's assets and cannot be used elsewhere, with Nine also eventually allowing clients to upload their own creative, should they have already developed their own.
Nine will also auto-allocate where the advertising appears but will use its 9Galaxy technology to ensure competiting products and categories are not run alongside one another.
The platform will also launch alongside a campaign to run across Nine, featuring former Australian cricketer and small business owner Ian Healy.
Nine has also partnered with Qantas so each time a business buys a campaign through 9Voyager it will earn one Qantas Point for every dollar invested in the advertising booking.
"Our technology has created another way to access our powerful marketing assets. Today we are also launching the 9Voyager Academy," Stephenson added.
"SME's across the country will be able to attend our marketing workshops which will help our partners to understand the role of marketing and advertising for small and medium-size businesses whilst giving them hands-on demonstrations to ensure they get the most from 9Voyager.
Ahead of the 9Voyager launch, Nine established a specialist sales group Nine+ to create marketing and advertising solutions for Australia's SMEs using Nines television, digital and publishing assets including 9Voyager.
Former APN Outdoor executive Tim Rose most recently joined Nine to lead the Nine+ team.
Nine has also presented the 9Galaxy platform globally at some of the leading media technology shows around the world including the NAB show in Las Vegas in April 2019 and Sales Innovation Tech Fest in Pretoria in South Africa in 2018.
Have something to say on this? Share your views in the comments section below. Or if you have a news story or tip-off, drop us a line at adnews@yaffa.com.au
Sign up to the AdNews newsletter, like us on Facebook or follow us on Twitter for breaking stories and campaigns throughout the day.