The ability of the TV industry to measure and monetise audiences across their broader ecosystems will be the most pressing issue for networks in the coming year, Nine chief executive Hugh Marks has said.
Speaking to AdNews on the cusp on Nine's Upfronts event last week, Marks believes how efficiently TV networks use their content across multiple platforms – linear broadcast and digital – will determine their ability to thrive and compete with tech giants in the future.
"What I would be really encouraging people to start to understand, and it's certainly what advertisers are doing, is to get to grips with the content experience across multiple platforms," he says. "We as an industry need to start to report metrics that talk to the total viewing experience rather than just the overnight number."
Marks' focus on shoring up the cross-platform cosumer journey comes in of Nine's most successful years of linear broadcast television in recent times.
Nine's main channel has grown its prime time commercial FTA share against rivals Seven and Ten by 4.1% this year, including a 5.1% lift in 25-54s and increases across all major demos (18-49 up 5.5%, 16-39 up 5.7%, grocery buyers up 6.7%).
Nine Network is also up by 2.6% in total people and  has made solid gains of between 2.9% and 4,2% across key demos, these gains are clearly illustrated below.
These massive turnarounds place the network in a much stronger position when negotiating inventory volume deals with media buyers and key advertisers for 2018 and beyond.
"When we come into market with growth in our thousands, let alone growth in share," Marks says. "If you look at the traded unit being the CPM, we will certainly be at some advantage in those negotiations.
"At the same time we know we need to continue to work in partnership with those agencies and advertisers over the longer period cycle. That's why we're bringing to market the completion of the 9Galaxy product and the introduction of the Nine data proposition.
"Most advertising that we will be selling will be underwritten by technology and data. Once you are in that environment then you are competing with the global tech companies."
The importance of digital
Marks is keen to point out that Nine, and other TV networks, offer "great content that is brand safe and brand enhancing" across multiple asstes.
His remarks acknowledge the reality that while Nine's traditional rivals are still Seven and Ten, their bigger picture compeitors extend well beyond TV, with YouTube and Facebook, among other new tech entrants, increasingly vying for the same advertising dollars.
It's why Marks tells AdNews he is just as pleased about Nine's progress on platforms adjacent to traditional linear TV.
For example, Married At First Sight smashed records for catch up television audiences at the start of the ratings calendar year with catch-up TV numbers of around 150,000 per episode. There were also more tweets about Married this season than the previous two combined, making it the most talked about season yet.
Australian Ninja Warrior has also enjoyed huge numbers of views on YouTube, its website and its other digital assets as fans who missed the live action are able to snack on highlights on demand.
Contestant Jack Wilson was one of the stars of Australian Ninja Warrior.
Being able to capture, measure and monetise cross-platform audiences is the future of TV (which some network chiefs now refer to as 'total video'). It's about striking the right balance of mass reach event TV audiences with programs that can be repurposed and spread across multiple digital platforms where consumers are increasingly going to for content.
"We're just starting to understand how different shows pull different numbers and different platforms – there's a real mix of how we're measuring results compared to how we might have done three to five years in the past," Marks says. "These shows that we've got are doing big numbers, but particularly when you layer in what's happening on other platforms.
"When an advertiser buys a unit of content, we need to monetise that in the most efficient way. Our ability to bring a whole ecosystem to advertisers is critical. We offer advertisers linear broadcast, catch-up and you can also have a viewing experience on 9Honey and this year we are going to bring that more onto social as well.
"That integrated advertising experience alongside and in and with the content – that's our secret sauce. Nobody else has got that – it's premium, brand safe, with engaged audiences, 100% viewable, we've got it. That investment across platform is so important for our whole business."
Building on a solid base
The past year has provided Nine with a consistently strong schedule, a point that was repeated at Nine's Upfronts but also acknowledged by media buyers after the event.
Marks entered the role with the network well below par and endured a tough first half to 2016 where ratings plummeted after poor showings by Australia's Got Talent and Reno Rumble, which was quickly axed.
It is well known the the CEO and programming chiefs sat down and mapped out a new vision for Nine that involved a huge 50% increase in local content for 2017. This included bringing Australian Ninja Warrior to these shores as well as giving Married At First Sight a makeover.
Other tent pole shows have also rated strongly this year include The Voice and The Block, which is more than 25% up on year-on-year audience.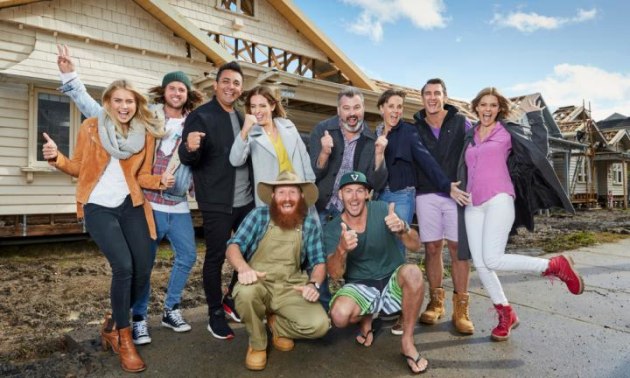 The Block: a standout performer for 2017.
Last night, The Block blew its rivals out of the water posting 1.51 million metro viewers – half a million more than Nine News in second place and well ahead of Seven's Little Big Shots (893,000), which runs in the same slot.
"We were either going to be successful, which I was going to bet on myself based on quite a few years of experience in this business, or not. There was never going to be any half measures, we were always going to have a crack, and we did."
"The thing that's really important to me, personally, is that people put faith and trust to stay with us so that we could fix our programming slate, and we did that and delivered. That trust is really important an I hope we see that again for the coming year."
Marks admits it is much harder to grow an audience when you are defending than when you are attacking, but Nine will continue to build its slate with new offerings next year.
"We are very focused in bringing more strong shows to the market. We know this is a long game and we need a lot of other titles that are proving can work, whether they are major franchises or stay as what we bring them into the market," Marks says.
Next year, the slate adds Love Island, a show aimed at millennials that will run on 9Go and 9Now, a new series of Underbelly about infamous underground kingpin Mark 'Chopper' Read (pictured below) and Shaun Micallef's Talkin' 'Bout Your Generation and Buying Blind, a new 'property thriller'. Check out more on Nine's programming slate, here.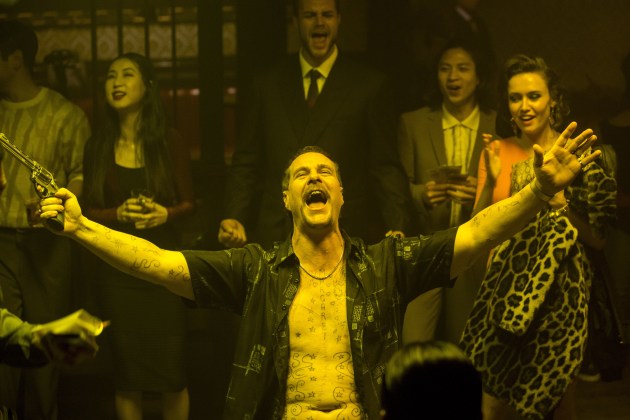 Marks on 9Galaxy
One of Nine's major announcements is 9Galaxy that allows advertisers to buy guaranteed audiences across Nine's off peak and multichannel inventory rather than spots.
Media buyers have reacted positively to Nine's pledge to guarantee audiences, with some saying it's a "game changer" and all agreeing it's a necessary evolution of how television is traded.
"If you are a buyer of media and you buy Facebook and YouTube. If they sell you 100 TARPs, you get 100 TARPs. In television if we sell 100 TARPs sometimes we deliver 120 and sometimes it's 80. That doesn't look good on an advertiser's scorecard," Marks explains.
"The knowledge that what you buy you're going to get is huge for them and the reputation of television. This takes the unreliability out of the buy."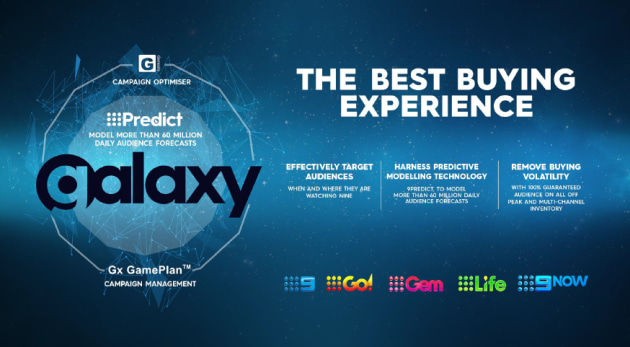 9Galaxy promises advertisers guaranteed audiences and better targeting of audience segments.
Marks on media consolidation
The government's media reform package, which is due back in the Lower House of Parliament this week, is expected to become law and break down some of the ownership barriers than have prevented media companies from combining.
There have been plenty of rumours in the press about a potential Nine-Fairfax Media tie up; both parties are joint-owners of Australian SVOD Stan.
Marks says he is not aware of many discussions about consolidation "on the ground" and pours cold water of any imminent moves with Australia's second-largest newspaper business.
"I'm a passionate television guy," ," Marks says. "If you look at our business, which involves the 9 TV channels, 9Now, Stan and what we will increasingly do in social with short-form and long-form – that's the new television excosyste; it's also where Facebook and YouTube are heading.
"I'm much more focused when I'm looking at other businesses on who adds to our ability to execute on that strategy. I don't know if any of these [rumoured partners] fall high on that list of delivering on our strateigc outcome, but that's where we've got to invest."
Marks says that CBS Corporation's potential buyout of rival Network Ten will be important to provide it with stability and know-how when it comes to getting the most out of TV shows.
"I think a bit of competition is absolutely important to the relevancy and vibrancy of our platform. I welcome CBS's invesment in Ten – I think it's a really positive investment," Marks adds.
Have something to say on this? Share your views in the comments section below. Or if you have a news story or tip-off, drop us a line at adnews@yaffa.com.au
Sign up to the AdNews newsletter, like us on Facebook or follow us on Twitter for breaking stories and campaigns throughout the day.