Media owners put on a strong united front in Canberra last night (31 May) alongside Prime Minister Malcolm Turnbull and communications minister Mitch Fifield.
They're calling on members and senators to vote in favour of the proposed reform package and update Australia's decades-old "irrelevant" media laws to allow the local media industry to better compete with global forces such as as Google.
Protecting local content, Australian stories and Australian jobs, was the underlying theme at the historic gathering of 28 media CEOs in Canberra, and they were all singing from the same hymn sheet, putting their agendas aside for what was described as "the greater good".
The package aims to end media regulations that are 25 years old, put in place pre-internet in a time Fifield calls a "bygone era", and rendered redundant by digital advancements.
It also aims to help Australian media companies compete on the global stage by countering the dominance of digital players, which do not have the same restrictions as local media companies or invest in local content.
The CEOs didnt hold back.
Fairfax CEO Greg Hywood made some pointed remarks about "archaic" regulations that "have acted as a brake on innovation and competitiveness" for Australian businesses.
"This nation has one of the most restrictive media law regimes in the English speaking world, it's outdated, outmoded and increasingly irrelevant. Laws were set in a pre-internet era, and feels like a lifetime away. While other countries have moved and adapted, Australia has stubbornly refused to move into the 21st century," he said.
Hywood said the reforms are "essential" for growth and for media owners to deliver Australian communities the very best media they can.
The current laws have been in place since the 80s when media was a very different industry.
Macquarie boss Adam Lang, also chair of Commercial Radio Australia, also asked senators to consider the context in which the current laws were set, using a footy example as the event fell on the night of rugby league's State of Origin.
"These laws we are operating were put in place when Peter Sterling was still playing football," he said. Sterling, a star of the 80s was calling the match last night.
"The internet was a fledging technology operated by specialists, very few thought of having an email address, no one could think of a phone that could leave the office, radio was only available in AM and FM. Facebook and Google would have been science fiction in those days, now they are reality. Television, radio and print are not the only mainstream media any more."
See: CEOs lend unprecedented cross-media support to media reform package
Creating a stronger industry
Coralling the 28 CEOs and their organisations into agreement is no mean feat, and countless execs in the room told AdNews it was something they had never seen before in their time in media.
Speaking to AdNews about the difficult negotiations, Fifield said that it was a "good process" too shape the reforms bill.
"The sector as a whole recognises that change is needed and the leaders of the industry have been prepared to put aside their particular interests and accept that not everyone is going to get what they want, but everyone is going to get part of what they want," he explained.
What unites the rivals, according to Foxtel CEO Peter Tonagh, is a belief in one thing: "a thriving, vibrant media sector".
"We are facing unimaginable competition with deep pockets and unbelievable scale and technology. These global players have little interest in Australian stories and aren't subject to the same outdated regulatory hurdles that we as committed Australian companies are. This uneven playing field is a challenge for us at Foxtel … but my message isn't about any individual company. It's not about Foxtel. It's about the fact that no Australian media company can survive unless there's a healthy Australian media sector."
Nova Entertainment CEO Cathy O'Connor told AdNews the only barriers now were from outside of the media industry.
"There's no barriers where the media is concerned, we're all here today as a united front because we think the changes are the fair thing for the media industry. There are headwinds around large digital players, every player is feeling it and it's only going to get worse. Government needs to act now to mitigate the threats to Australian jobs, diverse content, and a vibrant Australian media sector," she said.
"All the media operators in this country believe it will provide a more resilient industry."
SCA CEO Grant Blackley said that in his 35 years in media he's never seen such a show of unity, adding that the package gives media companies choices they currently do not have.
"If the reform is passed, fundamentally it allows us to make choices we can't make today. It could allow us to buy or acquire or merge with news print, which we can't do today because we own TV and radio. Secondly, we can work more closely with the metropolitan broadcasters. Most think that is code for we will sell or they will buy, but it doesn't always mean that.
"A case in point, we just moved to a Channel Nine affiliation and put 107 journos to work in regional Australia that we never did before. If this reform doesn't happen, there will be no diversity at all, there will be more consolidation and I think it's the reverse of what everyone is thinking.
"If we get these laws passed, we can consolidate, merge, sell or buy, but we will be able to organise ourselves in such a way that we can participate more strongly, be more financially stable, can invest more in bringing more stories to bear, put more people in jobs in market – and if we don't change, that can't happen."
Fifield praised the media organisations for looking beyond their own agendas for the good of the greater media industry.
"Speaking with one voice is a testament to the leadership of the Australian media industry and the shared challenge the industry faces," he said.
Counting votes and cross-bench support
While everyone in the room is optimistic and banking on the package to pass the upper house, there is still the possibility that it won't.
The reforms package needs crossbench support, and the turn out from media CEOs in Canberra is designed to get it. Labour and Greens will be a hurdle for the reforms as both parties have in the past opposed the two-out-of-three-rule and One Nation's block of senators have threatened to oppose it unless further cuts are made to the ABC.
One source in the room suggested to AdNews that the success of the package could come down to someone making a deal with Hanson, potentially putting control in her hands.
When AdNews asked what would happen if it doesn't get the support it needs, Fifield was dogged in his determination.
"I'm determined to get it through, but I never speculate on behalf of my crossbench colleagues. I'll leave it for them to speak for themselves, but we're having good discussion with them," he replied.
Although, The Sydney Morning Herald reported earlier this week the reforms were gaining senate support, including crossbencher Derryn Hinch. It means the vote is just seven short of getting through the senate.
Seven West Media CEO Tim Worner told AdNews that while the numbers and votes tend to fluctuate, "it'll be close" while Fairfax CEO Greg Hywood spoke to opponents of the reforms directly in his address, saying their objections were misguided.
"To opponents, I say beware," he warned the room. "The failure to act now is likely to have long term and adverse impacts on journalism and this industry. The sectional interests you think you are protecting, will actually benefit in the long run from a stronger, more modern Australian industry.
"We, in the industry, take at face value that opponents of change are genuine in their concern about short-term consequences, but the justifications of change and modernisation is overwhelming and more urgent than ever.
"If we continue to allow outdated legislation and artificial restrictions slowly strangle innovation, we will regret it. We have to be allowed to compete from a position of strength and equal opportunity, to be leaders, not followers."
Fifield joked on stage that if the rival media companies can come together, then the senate could rise above the "partisan fray".
"So, the government has done its part in pulling media reform out of the long grass and putting out an agenda in front of the parliament, the media industry has done its part in working with us to craft this package and getting behind it with one united voice," he said.
"Now its time for the parliament to do its part and seize this historic opportunity to provide support for the Australian media industry.
"This is an area that should easily be above the partisan fray, but if the Australian media industry can come together, there's absolutely no reason why the senate can't come together."
Betting on compromise
What is notable is that each media owner has had to compromise to put their support behind the current package, which is a major step forward. The package doesn't suit anyone holistically, and there are no real individual winners.
Foxel CEO Peter Tonagh admitted Foxtel was not happy about changes to the anti-siphoning list did not go further, but instead of digging his heels in and rejecting the proposal, he accepted that change is more important.
"We've had too many years in this industry, of frustrated attempts at change where we each go back to our own corner and argue for what's right for us," he said.
"What makes today different is that we each stand here willing to accept that these changes aren't optimal for any of us they don't suit our individual businesses, but we stand here united because we believe they are for the greater good of a sustainable media industry."
Over the course of the past two years (and more), various factions across media owners have battled over specifics and attacked the "piecemeal" nature of previous proposals. The comprehensive package put to parliament ahead of this year's budget appears to offer a solution every party is willing to back.
Worner told AdNews: "There are some aspects of this package that do not suit people in the room, but we have all decided to put our own interests aside for the interests of the industry. That's what we're seeing, a show of unity because it's so important."
Concessions around gambling advertising in the package are understood to be largely to appease senator Nick Xenophon, who has been vocal on the matter, but loss of revenue for commercial broadcaster is expected to be compensated through support in other areas, such as women's sport and lower TV license fees.
SCA's Grant Blackley concurred: "We're in TV and radio, from our perspective do we want to see anti-siphoning changes and have sport move off into the paid environment – no we don't. Do we see the abolition of license fees, yes, but we've settled for less [than we wanted].
"Do we want to see gambling changes – its a professional and moral conundrum, but the industry is accepting that it is in the public good. There is a series of things here and everyone has comprimsed. I don't think everyone is happy but nevertheless, this is the first time in my 35 years that everyone has come together to drive holistic change."
Unregulated rivals Google & Facebook
Google and Facebook were the focus of a lot of the concerns from media bosses, and are broadly seen as the enemy of a strong Australian media sector.
"We cant forget for a minute the threat of those entities, which are untaxed, unfettered and vivacious," said Hywood, taking aim.
A number of concerns were raised about the level of tax paid by these companies. On the subject of whether more could be done to create a level playing field by placing tax levies on global players, as has been suggested countless times before, Fifield's attention was strictly on the reforms bill in front of Parliament now.
"A number of people have come to me and said we need to do something on the tax side, or on copyright, or in relation to consent, and we could certainly put propositions forward, but we have a concrete proposal on the table now, that can help today," he said.
The push for media reforms recognises a shift in ho media companies view as their competition.
Worner told AdNews: "Our opposition is not with people in the room, it's with large unregulated players who don't create anything and pay very little tax. They are media companies, they may like to refer to themselves as tech companies, but they distribute media – that's a media company.
Taking to the stage, Worner said: "Foreign and unregulated players are driving rapid changes in our market place. The challenge for all of us is to match that pace of change within our organisations. We haven't sat on our hands while the world has changed around us, we want to deliver content wherever our audiences want it, and we work hard at coming up with Australian programming that has to stand out from the crowd. Long with our print and radio friends, every day we strive to bring real news, not fake news to communities across the nation."
Ten boss Paul Anderson told AdNews that there will be "havoc" if the bill is not passed.
"Money is going to digital, the vast majority is going to Facebook and Google and You Tube which means local companies are going backwards. This package allows every media company to configure themselves in the best way for the future. If we don't have a financially viable sector then everything else suffers."
"Everyone has got something out of the package, but not everything they wanted. The issue is that if this bill is not passed, those global unregulated players are going to play havoc with audiences and with advertising revenue. The consequences of that are job losses and loss of Australian stories in an industry that's already struggling."
SCA's Blackley believes the package will bring vibrancy back to the sector by giving Australian media companies more opportunity to grow and compete. The alternative is a weaker media industry.
He said: "The existing media market is competing against large groups like Facebook and Google, which are fundamentally taking 90% of every new dollar, which means 10% is being shared across the rest of the media, means we cant grow. I think [media reforms] will bring a vibrancy back to the market pplace that allows us to compete and work better with clients and community. We work exceptionally hard to do that now, but this will allow us to do that better."
Protecting Australian stories
The media reforms are ultimately about ensuring a sustainable future for the Australian media and the local stories it produces.
This was a point Worner stressed to AdNews: "Tonight is about protecting the telling of Australian stories and that's why we're seeing competitors come together in a way that hasn't been seen before."
Addressing the room, Worner added: "These changes will help us continue to provide quality local content that dominates our schedules and that Australians tell us every day when the ratings come out, that they want more of. The changes allow us to invest in that commitment at the same time transforming our business."
Nine Entertainment CEO Hugh Marks, agreed it's about levelling the playing field for those that create content.
He told AdNews: "It's unprecedented that you've got all media here agreeing to things that aren't really in their interests, saying the world has changed, the laws are old and we need a regulatory framework that continues to adapt to that environment so we can compete more effectively with rivals oversees.
"We're the content makers, so how do we compete with those that don't make content? That's what keeps me awake at night: how do I continue to employ journalists, producers camera crew? We can only do that if our businesses remain viable."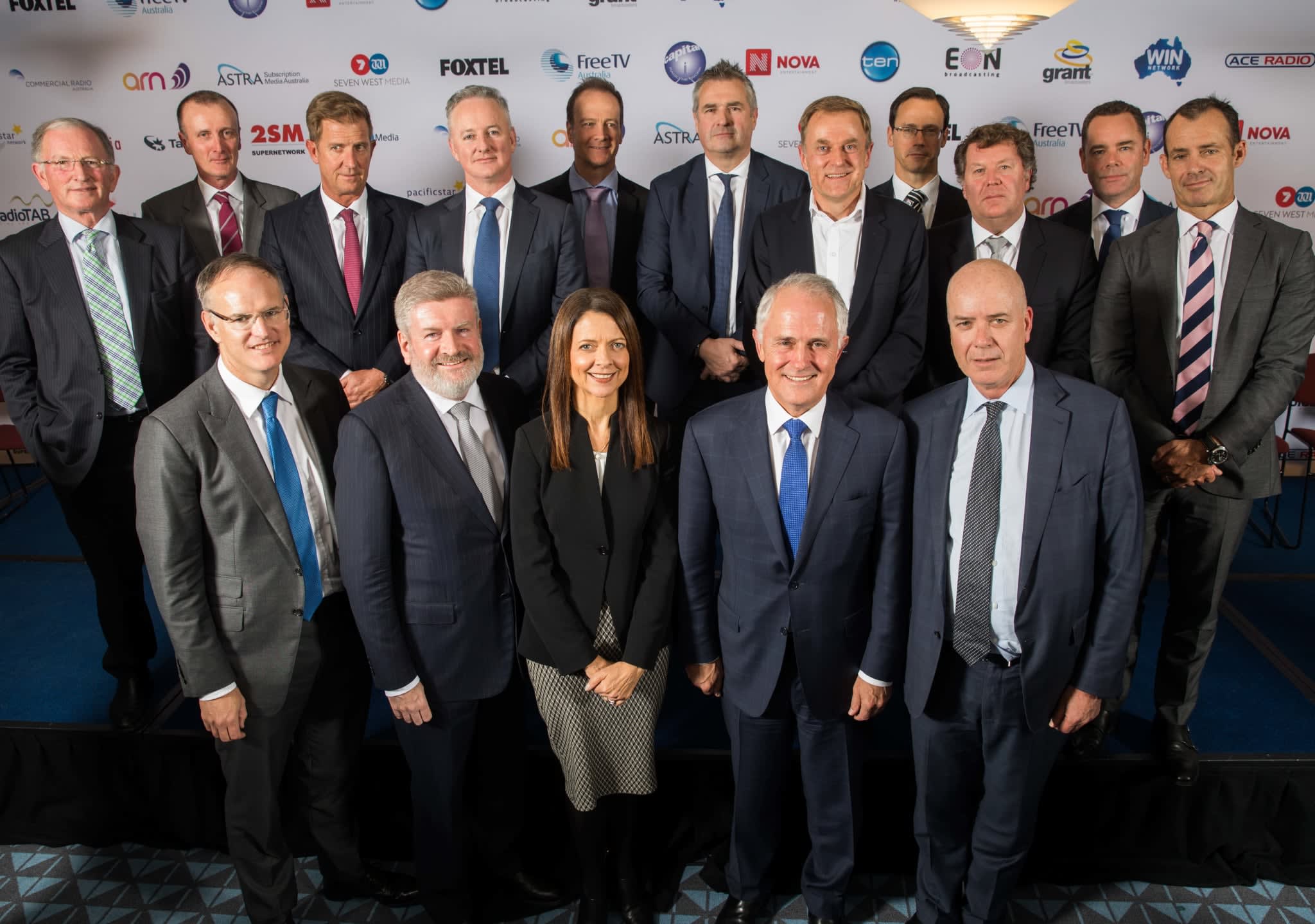 Michael Miller, News Corp executive chair was the first media representative to speak, and kicked off by saying he was there representing not the biggest parts of the media but the smallest, referencing local and regional community news organisations.
He said that while the current laws were intended to protect Australian companies against a loss of diversity, what they are actually doing is accelerating the loss of local content jobs and community spirit.
"Regional commercial media has to sell to advertisers a compelling reach and frequency story and that means multi-channel and multi-platform audience. Global players can do that unconstrained by media regulations or community obligations. Global tech players are able to offer scale and reach that Australian companies are forbidden," he said.
"Regional media has two cards it should be able to play; a better local connection, and tap into the scale of a bigger organisation to deliver effective advertising campaigns to those audiences. Both of those cards we are forbidden from playing."
Not only would change be good for the industry, not voting in favour of the reforms and maintaning the current laws would have a detrimental impact to the industry.
"The laws as they stand damage Australian media, jobs and ultimately Australian communities," said Miller, calling for 100% support for the package.
This is not the first time media reform has come around, but it may well be the closest its ever been to being a reality. It's certainly the most united the industry has been for at least a generation, if not longer.
Hywood sums it up: "In three senate committee hearings, the issues have been sliced and diced to exhaustion. The social issues have been endlessly examined but at its heart this is an economic issue, an issue of the commercial survival of an important Australian industry competing with the world's best and most aggressive operators all the while being hamstrung by its government's own regressive legislation.
"I urge all members and senators to pass this legislation for the common good."
Prime Minister Malcolm Turnbull also threw his weight behind the package.
Have something to say on this? Share your views in the comments section below. Or if you have a news story or tip-off, drop me a line at rosiebaker@yaffa.com.au
Sign up to the AdNews newsletter, like us on Facebook or follow us on Twitter for breaking stories and campaigns throughout the day. Need a job? Visit adnewsjobs.com.au.