UPDATE: Media reform: A package of compromise for the greater good
Prime Minister Malcolm Turnbull has urged the senate to back the tabled media reforms package, not just for the good of a stronger media industry, but for Australia's democracy, its future and its culture.
Turnbull was addressing senators yesterday at a special media summit in Canberra which saw 28 CEOS from Australia's largest and most influential media companies band together in unity behind the media reform package put forward by Communications Minster Mitch Fifield earlier this month.
The package needs cross-bench support to be passed and media companies have come together in an historic show of unity to lobby senators for change.
"I have been in this industry for a long time and seen a lot of changes … this senator [Fifield] is not the same as other senators, he has done an extraordinary and remarkable job," said the Prime Minister.
"I've been involved in this industry as a journalist, an exec, a subject of commentary from time to time, but I've never seen the industry this united. What has brought them together is a clear necessity of survival."
"Everything you've heard about the antiquated nature of the media laws we have is absolutely right. These laws are from not just the olden days, they are from an era young people could barely imagine. Before the internet, smartphones, Facebook, when all these big broadcast platforms were monopolies and the only way you could reach the population was through one of the radio stations or TV stations. Then along came subscription TV and that gave another angle but the internet provided access to everybody and the world. What it has done is change the operating environment of Australian media.
"Those rules we are seeking to change, the reach rule, the two out of three rule, these are laws that catered for a bygone era, there is no question of that. We as politicians, as senators and government cannot be blind to the consequences [of the changing internet digital world.]," he said.
Turnbull was emphatic that the changes to media laws are not just important to the CEOs and shareholders of the big media companies, but as an issue that goes far beyond that and speaks to the future of Australia.
"The question is, do we want to have a vibrant Australian media sector? I would say, yes we do. The work journalists do is as important as every piece of work every senator does. Our democracy depends on a strong Australian media sector.
"The health of the media sector is not just an interest for fund managers and shareholders, our democracy depends on it. That is why the industry is united, that is why the senate should be united."
He praised the degree of unity from the media industry CEOs, and their efforts to compete with global rivals in challenged circumstances, dubbing it "unprecedented".
"Believe me, this is important, it's about our democracy, our future, our culture, we need a strong Australian media sector and we need laws that enable them to compete and beat and win on a level playing field. At the moment our laws are holding them back and the only beneficiaries are offshore competitors.
"I urge the Australian senate to support these reforms. This is not just about the media industry this is about Australia's future."
CEOs of 28 Australian media companies took to the stage together, while News Corp's Michael Miller, Foxtel's Peter Tonagh, Fairfax' Greg Hywood, Seven's Tim Worner and Macquarie's Adam Lang each gave presentations on behalf of the group. They also issued a group statement.
See: CEOs lend unprecedented cross-media support to media reform package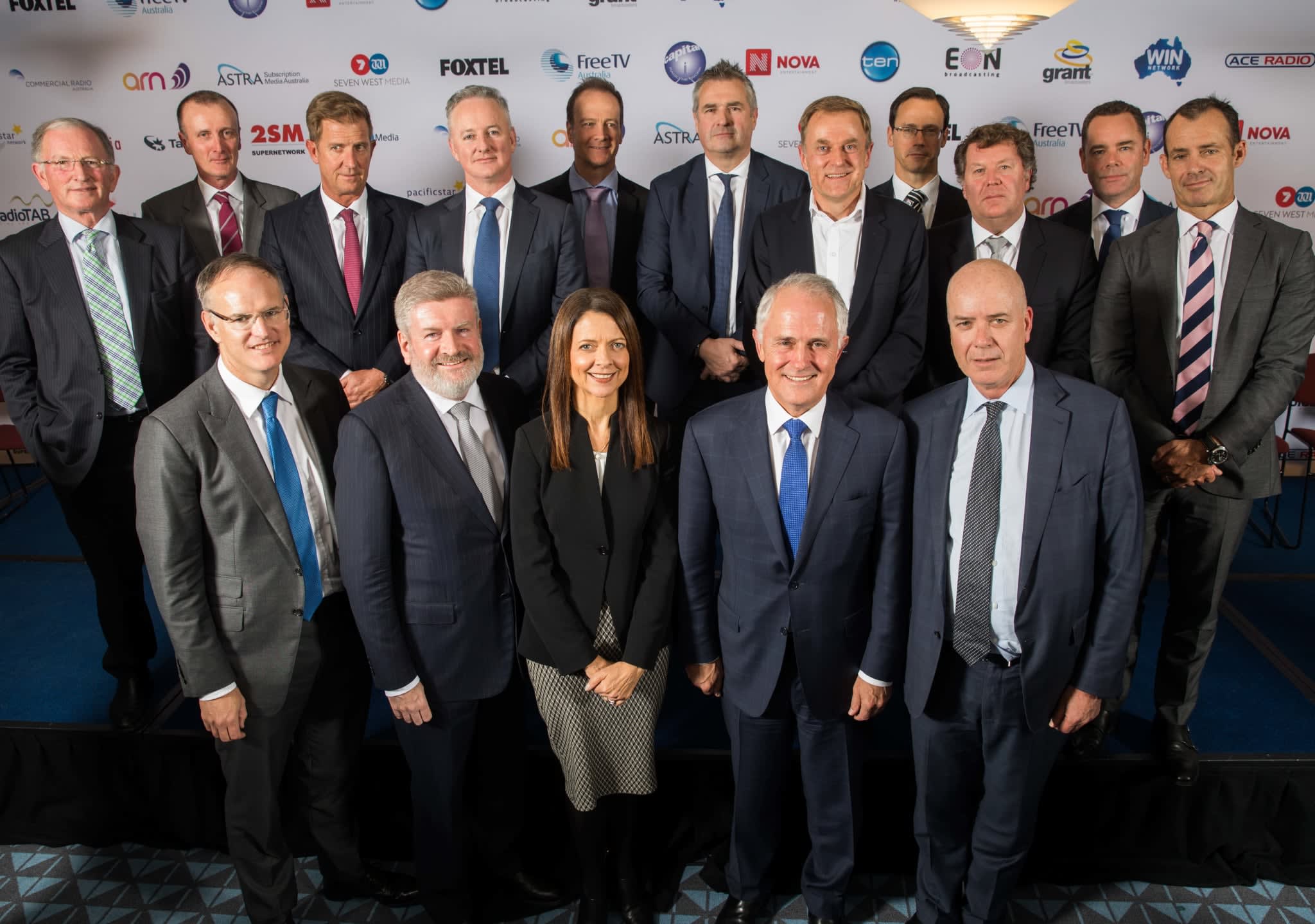 Have something to say on this? Share your views in the comments section below. Or if you have a news story or tip-off, drop me a line at rosiebaker@yaffa.com.au
Sign up to the AdNews newsletter, like us on Facebook or follow us on Twitter for breaking stories and campaigns throughout the day. Need a job? Visit adnewsjobs.com.au.