The IAB and Nielsen have finally revealed their new total audience digital measurement offering, which the pair have described as the "holy grail" of digital measurement.
Digital Ratings (Monthly) fuses together Nielsen's data from home and work desktops with Australian smartphone and tablet internet user information, as well as census tagged data for PC and mobile web.
Outgoing CEO of the IAB, Alice Manners, explained in a media briefing that this is the most significant and important launch the IAB has made in partnership with Nielsen since the businesses rolled out the Nielsen Online Ratings in 2011.
Nielsen's executive director of digital audience measurement, Dr Stuart Pike, says the move is as "good as digital audience measurement gets anywhere in the world".
"There's an awful lot of talk in a lot of other markets and even from other research firms about how they're measuring mobile, but most of the time when you dig a little deeper it's exactly that, just talk," he says.
"In contrast in the Australian market what we have is a comprehensive digital audience measurement system measuring unduplicated real people - not devices - real people across desktop, laptops, smartphones and tablets.
"From my perspective this is a massive step forward. This means we're now giving this market a complete audience picture that we can use as currency for the buying and selling of advertising," Pike added.
The IAB and Nielsen are still yet to roll out stage three of this measurement process. While it doesn't have a concrete roll-out date, this next stage will see the ratings released daily.
The next stage will also include a third party data provider, which is understood to be Facebook, with Nielsen partnering with Facebook for its social content ratings both locally and overseas.
It is also unclear how much the data sets will change between stage two and stage three. The launch of Digital Ratings (Monthly) sees a break in the data between the old system and the new, and it is unclear if they'll be another break when the new daily content ratings are launched.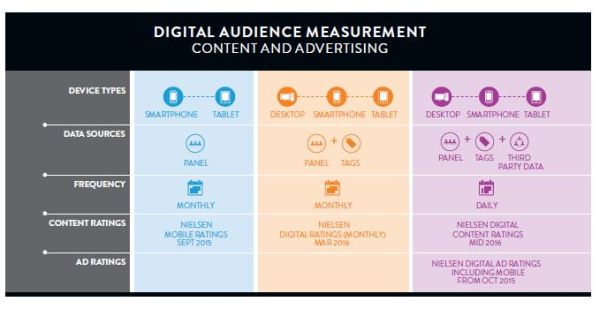 "The total digital universe"
For the IAB and Nielsen this new measurement offering builds on its mobile ratings report that it rolled out in October of last year. While it was able to then reveal who was really doing well in the mobile landscape, this Digital Ratings (Monthly) data, they say, is now able to give the whole picture of the "digital universe".
This new ratings sees more than one million Australians added to the overall number of people engaging in the digital landscape, with the total rising to close to 19.6 million who have accessed digital content across computers, smartphones and tablets. These new numbers also see an increase in total time spent online per person from 32 hours to 49 hours.
During February 2016 it shows, Australians spent more than 28 hours just on their smartphone, higher than any other digital device.
The increase in numbers is being explained by Nielsen as an advancement of the methodology and better measurement and reporting of the time people spend engaging via mobile devices.
The data also aims to show the true size and relativity of the different device-level segments. While computers are still the device of choice for most Australians, being used by approximately 18 million people, the data shows how previously un-captured mobile audiences compare in scale and engagement. Smartphones saw over 13 million people actively browsing websites and apps in February 2016, and tablets saw 7.5 million people doing the same.

"It took a while and it needed to"
Nielsen was re-awarded the IAB's measurement tender in October 2014, with this ratings update touted to be ready for July 2015.
The fact that this new ratings system is behind schedule is not an issue for Manners, who says: "it's taken a while and it needed to."
"We needed to rely on the entire industry to come together," she added.
Nielsen's head of media Monique Perry added: "It's not a cookie cutter approach and we couldn't take what we'd built for other markets. We needed to work with the industry to customise a solution that met the needs to this market," she says.
Pike also outlined that both parties poured over every number, and while he admitted that it did take longer than anticipated to build out the mobile panels, he says it was more about the fact that Nielsen has "never scrutinised things as hard" as it did with the Australian IAB, and has a better product as a result.
Manners also took the opportunity to have a crack at other medium's metrics saying: "As the largest ad segment, when you compare the rigour that we put into this and then you look at some other mediums and how they measure, the depth and the level [we have] is huge.
Who tops the new world order?
One of the main beneficiaries of this new data set is of course publishers, who are going to get their mobile moves vindicated. However, the current event and global news sub-category hasn't seen a massive shift in who comes out on top, rather just an audience increase.
News.com.au, smh.com.au and ABC News Websites all continue to hold the top three spots in terms of highest total unique audience. However, all top 10 sites experienced a total audience level increase of between 40-75%. See the numbers for yourself below.
When it comes to which brands are succeeding in mobile, it's no surprise that Google and Facebook come out on top. When it comes to reach Google is top with 92.43%, its followed by Facebook with 78.86%. From a time metric perspective, the search engines, portals and social networking category was the clear leader reporting a 205% increase in total minutes from desktop only to total audience. This is driven by the Facebook, Google Search and Instagram apps.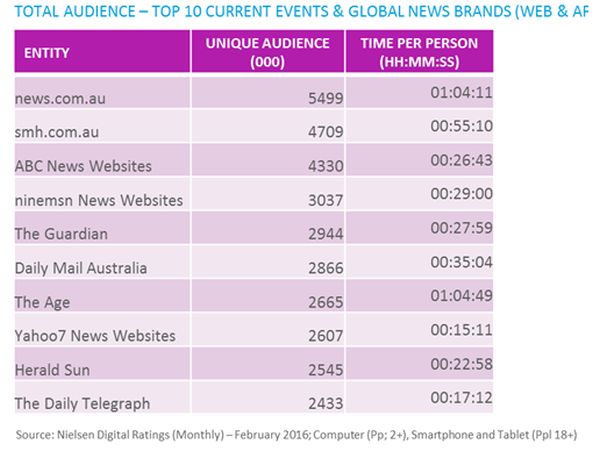 Have something to say on this? Share your views in the comments section below. Or if you have a news story or tip-off, drop us a line at adnews@yaffa.com.au
Sign up to the AdNews newsletter, like us on Facebook or follow us on Twitter for breaking stories and campaigns throughout the day.