The IAB has published its first full Nielsen Mobile Ratings Report and with it comes a hope for more confidence in mobile that will lead to more strategic investment from advertisers and publishers. The report shows 60% of all time spent online is spent on mobile, almost half (42%) of total time spent on smartphones is spent browsing or in apps More than 10.7 million people used video and streaming services on smartphone and 4.9 million people used sports services. See below for tables of which digital brands have the largest digital audiences across smartphones and tablets.
Facebook and Google dominate in terms of audience figures, but there are nuances between the behaviours across categories and segments that will help publishers make decisions on how they create and distribute content, and provide a more quantified framework for agencies and advertisers to allocate dollars. Currently, around one third of digital ad dollars in Australia go into mobile, according to the latest IAB PWC online ad spend report from May.
Four of the Top 10 ranked sites in terms of unique audince on smartphone are local sites with Telstra, Yahoo!7, Austrlaian Federal Government and Fairfax Media stting alongside Google, Facebook, YouTube and eBay. On tablet devices,  news Corp is in the top 10, while fairfax is edged out. Twitter doesn't make the Top 10 on smartphone, but does on tablet. [More detail on publishers below]
The report offers publishers, advertisers and agencies a level of data not previously available. While publishers such as Yahoo!7 would have had visibility of their own numbers and behaviours across platforms for its content, it wouldn't have had the broader picture.
What it does is give advertisers more visibility on which brands and platforms have greater audiences on mobile, and should help to understand where is best to invest in the channel, and according to Lisa Walsh, director of research at IAB, drive more strategic investment.
"It will underpin the significant growth in mobile ad spend that we expect that to continue to rise. I would anticipate as the market matures there will be changes and rearranges in terms of where money is spent, but I wouldn't want to put a percentage on it. It will inform a more strategic spend and more strategic use of mobile."
Nielsen Mobile Ratings – the key stats [July]
• 12.5 million Australians accessed the internet on smartphones and
• 7.4 million Australians on tablets
• Australians 18+ spend 33 hours per month browsing or on apps on smartphone– more than any other device
• 29 hours are spent on desktop
• 23 hours 41 minutes are spent on tablets
• 9 million Australians used commerce or shopping sites
• 5 million used commerce or shopping sites on tablets
• 10.7 million people used video and streaming services on smartphone
• 5.2 million used video and streaming services on tablets
• 75% of smartphone users connected to financial services
• 42% of total time spent on smartphones is spent browsing or in apps
• 10 million Australians are using smartphones for entertainment, news, social and search
• 8 million people use smartphones for shopping, music, travel and gaming
• Entertainment, social and search generate the largest audiences
• Gaming, messaging, travel and videos get a higher audience on smartphone than desktop
• Social, entertainment (10 hours) and gaming drive most time spent on smartphone
• Four hours spent on watching audio and video on smartphone, and half that on tablet
• 4.9 million people used sports services on smartphone
• 2.5 million did so on tablets
• 1 hour 19 minutes was spent on average using ecommerce

Which brands are dominating in mobile?
Across both smartphone and tablet devices, Google and Facebook dominate the table in terms of unique audiences and there is a significant gap between the next highest rating publishers. There are however differentiators/differences between where audiences spend time on smartphone and tablet.
Current events and news is dominated by the same brands that have historically been strong on desktop, such as news.com.au and smh.com.au, and while Google and Facebook sit at the top in terms of parent brands, local publishers such as Yahoo7, Telstra, Fairfax, Coles, Commonwealth Bank and News Corp rank highly. [See the charts of the top 25 brand rankings below.]
Sites such as The Daily Telegraph and Yahoo7 have stronger smartphone rankings than desktop. While in the rankings by parent brand News Corp sits higher up the tablet rankings that Fairfax, while Fairfax is ahead on smartphone access.
In the news category news.com.au comes out on top across both smartphone and tablet followed by the smh.com.au website, but from there the table of top 10 sites varies. The BBC makes it into the top 10 for tablets, but not smartphones. The Guardian has better audience on smartphone than tablet, as do the Daily Mail and Yahoo7 websites, while The Daily Telegraph and Herald Sun have better audiences on tablet than smartphone.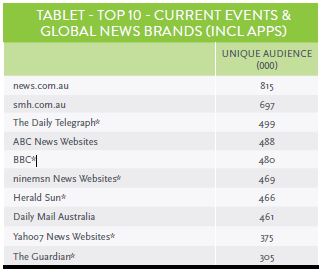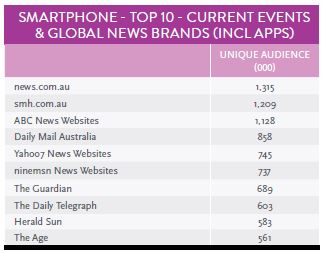 "It shows the importance of brand in a digital landscape," said Walsh. "Some of those brands carry cache and great utility and it translates no matter what the device. If you have a well-established and trusted brand consumers will come to it no matter what the screen size."
The big picture
Lisa Walsh, the IAB's director of research, told AdNews: "For the first time we have true audience measurement for mobile and tablet users in this country – granted it's not a full data set yet but we have a plan to move to full digital audience measurement. We knew there was money flowing to mobile, it's a much used and loved device, and a critical media channel so we needed to have s definitive rating – there was a groundswell of market needs to quantify the audience and be able to report on mobile use," said Walsh.
"There's been a strong desire for mobile audience measurement in this market for a couple of years now and in response the IAB and Nielsen and publishers stumped up some money to run a pilot last year which proved that it can be done, and now it's been scaled. This is step one on the path to holistic digital measurement."
Another of the report's aims is to give the industry visibility between categories and how people are using mobile devices to access content and apps.
"This will provide a publisher with a picture of where they stand in terms of their competitors, the size of their segment of the market– they wouldn't have had that holistic view previously – it's the first time they'll see everyone else's. It gives publishers a lens on that competitive landscape and where they fit for the first time," Walsh explained.
"For agencies it's an important first step and it gives them a quantum of the audiences they will be talking to [on mobile and tablet]. It gives them some insight and more pieces to the puzzle. It gives greater insight than they have at the moment when they're advising their clients on where they should put dollars."
Tablet vs smartphone:
Mobile behaviour is shorter, and there are more frequent sessions than desktop with smartphone sessions per month averaging around 200, 10-minute sessions, versus, around 50, 35-minute sessions on desktop.
There are more than 110 brands that have more than 500,000 monthly unique audiences, and more than 50 with more than 1 million. On tablets it is 60 and 24 respectively.
Like on smartphone there are 73 apps which have audiences more than 500,000 and 38 with more than 1 million. On tablet there are 24 and 14 respectively.
It shows that there are significant opportunities for publishers and advertisers to do more with mobile in Australia. In comparison, US consumers, spend 10 hours more on smartphone apps and three hours more on browsers that Aussies.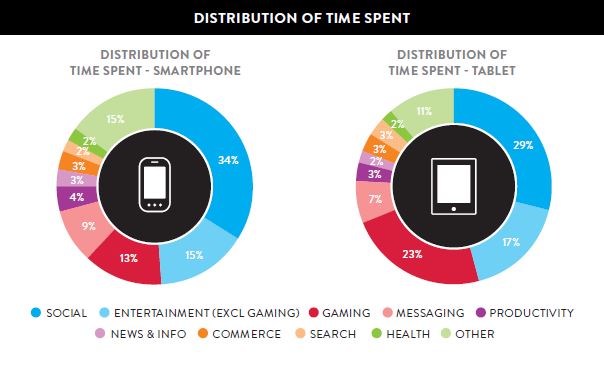 Not the full picture
The report follows the pilot the IAB has been running throughout this year, and what the IAB says is the first "major upgrade" to digital audience measurement in Australia. Australia is the fourth country Nielsen has introduced mobile ratings. It's been long awaited by the industry, but still doesn't give the full picture.
It's a halfway stage before Nielsen and the IAB release the full cross platform Digital Content Ratings expected to come in mid-2016. When that comes to market it will bring daily digital audience data.
Before that, in early 2016, the IAB and Nielsen will shift the Mobile Ratings Report into Digital Ratings Monthly, which will fuse smartphone and tablet data with the desktop data that has previously been available and will finally offer advertisers a "comprehensive trading currency".
That in mind, there are a few things the report doesn't do. It doesn't offer a total audience figure because the tablet, smartphone and desktop audience numbers are not de-duplicated. While the report shows that 42% of total time is spent on smartphone, 41% on tablet leaving 17% on desktop – adding the three does not provide total cross device audience.
It also doesn't attribute the content consumed within aggregator sites such as Facebook to the publisher – so all the audience is attributed to Facebook. For instance, if a user is reading content from one of PacMags or Bauer's titles from within Facebook, the audience is aggregated under Facebook – not credited to the publisher. This in-app behaviour will be part of the future stages of measurement and between now and then publishers will deploy a Software Development Kit (SDK) to glean greater visibility of what goes on within apps.
"That will come in the final step next year. It's important for publishers to get greater visibility and credit for that content being consumed. I anticipate [aggregators like Facebook] will continue to have power, but over time there will be others that will replace them, and growth from others," said Walsh.
Getting to this point has been years in the making, and there's still at least six months or longer until the full ratings are available, with some in the industry suggesting that it's too slow to come to market. Can the IAB and Nielsen go any faster?
"It's complex what we're trying to measure and it's a multi-pronged approach," said Walsh. "There are different metres required for each element. And it's constantly evolving. The industry is used to robust and rigorous audience measurement – it has to stand up to scrutiny. We need to ensure the robustness of the data we put into market and because we're dealing with is such a dynamic market that changes one day to the next, we need to catch up and measure now as well as having an eye on what's coming in the future."
Despite the growth of mobile, there are still often grumblings about the ad experience on mobile, with poor ad units and clunky mobile experiences common. The hope is that by giving more data around mobile behaviour and use, the report will drive more innovation in the kind of ad units available on mobile, and the way that content creators deliver content on mobile.
"The necessity to be in and on mobile will be the mother of invention in terms of improvement of ad units on mobile," said Walsh.
 Top 25 digital brands
Top 25 mobile apps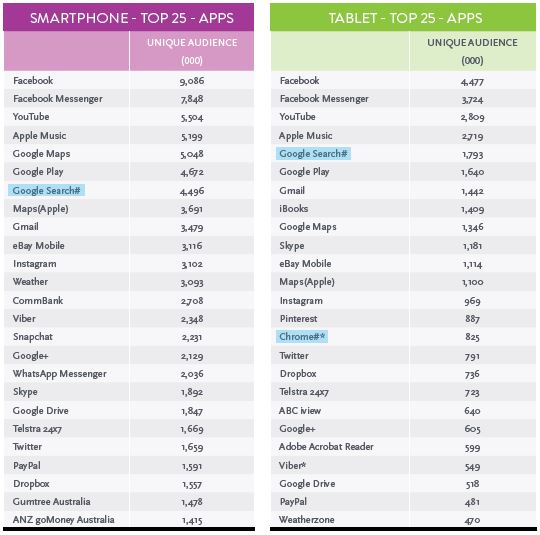 Have something to say on this? Share your views in the comments section below. Or if you have a news story or tip-off, drop me a line at rosiebaker@yaffa.com.au
Sign up to the AdNews newsletter, like us on Facebook or follow us on Twitter for breaking stories and campaigns throughout the day. Need a job? Visit adnewsjobs.com.au.