Mobile video ads experienced the biggest price rise of any ad format and the total number of video ads available for real-time buying increased 82% in the fourth quarter of last year, according to the TubeMogul Australia State of Programmatic Video report.
Released today, the firm compiled the findings based on information from digital video campaigns executed on the TubeMogul platform from January 2014 through December 2014 - spanning millions of mobile and pre-roll video ad views.
TubeMogul, which operates a programmatic video platform enabling brands and agencies to buy video ad inventory in real-time across devices, provides ad serving, targeting, optimisation and brand measurement.
The report, which tracks inventory and pricing trends, found that Australia's programmatic video advertising market surged in the fourth quarter last year, buoyed by the rise of automated trading that enables advertisers to secure premium publisher inventory.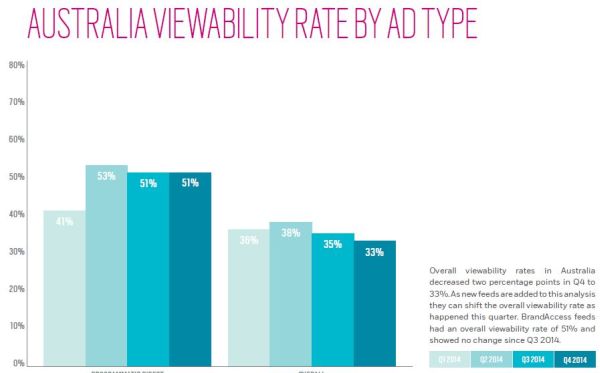 The company said the total number of video ads available for real-time buying increased 82% in the fourth quarter of last year, reaching an average of 923 million auctions per week, up from 506 million weekly auctions in the third quarter.
Sam Smith, TubeMogul Australia and New Zealand MD, said programmatic trading of video advertising in Australia continues to rise as publishers make more ads available through real-time bidding and agency trading desks become "more sophisticated" in their buying.
"The rise of programmatic direct as a trading mechanism is a strong indication that advertisers are looking to apply the benefits of software across every video ad they buy," Smith said.
"We believe that trading volume will rise further this year as the benefits of buying media transparently through software will benefit brand advertisers. Video in particular stands to benefit since it remains one of the best mediums out there for persuading a target audience."
Mobile video ads experienced the biggest price rise of any ad format. Mobile video posted an average CPM of A$23.93 in the fourth quarter, increasing 75% from the third quarter price of A$13.68. Available mobile inventory in Australia rose 2% in the fourth quarter and 261% in the year, compared to 2013 levels. The end quarter price settled closer to A$20.
"We are at the start of the mobile growth curve as brands are rushing in now to reach consumers that are on the move, many of whom are in the coveted millennials segment," Smith said. "We expect significant innovation and activity in this area in 2015 and beyond."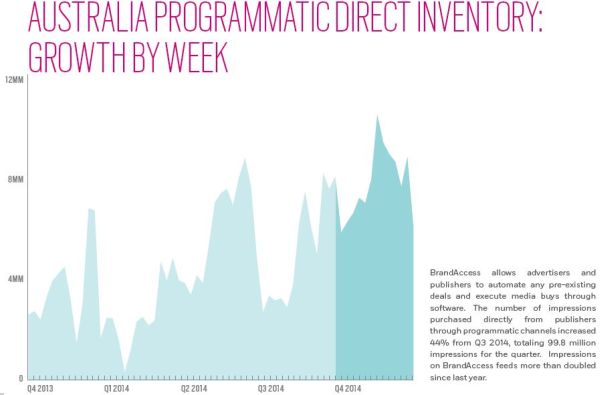 Programmatic direct trading – which enables advertisers to automate ad serving, optimisation and measurement for video ads bought directly from premium publishers – rose 44% in the final quarter of 2014.
The programmatic direct model helps advertisers to retain ownership of their first-party audience data while simultaneously allowing publishers to retain control over inventory pricing.
The report showed that prices, or CPMs, for pre-roll video ads bought through real-time bidding rose 8% quarter-over-quarter, reaching A$21.86. Tier two video ad inventory CPMs rose 2%. Tier 1 inventory increased 14%, with an average CPM of A$23.58.
TubeMogul hit AdNews headlines last year after teaming up with Foxtel to bring its programmatic video advertising in-house. It also spoke about the company's plans to "nail" Australian programmatic TV. Earlier this month its US office also poached Ikon Communications' head of tech and innovation.
For more TubeMogul news see below.
Have something to say on this? Share your views in the comments section below. Or if you have a news story or tip-off, drop us a line at adnews@yaffa.com.au
Sign up to the AdNews newsletter, like us on Facebook or follow us on Twitter for breaking stories and campaigns throughout the day.