This first appeared in the AdNews February magazine. Subscribe here to make sure you get your copy.
The creative contingent of adland is the beating heart of the industry. To fully embrace this, and with a mission to create awesome and inspiring covers, each month AdNews hand-picks an agency to work its magic.
New year, not so new attribution. The first investigation of 2020 is on the state of attribution and we called on Sydney-based independent DAYLIGHT Agency to take on the task of the cover. The ongoing debate over methods and approaches, as well as accuracy of the measurement, is still very much topical today.
Perhaps there is no better way to visualise this continued debacle with a cliche. If you put lipstick on a pig, is it still a pig? We'll let you decide.
AdNews journalist Paige Murphy spoke with DAYLIGHT Agency's executive creative director Chris Mitchell about how they wrangled in this four-legged friend and convinced her to put on a little bit of lippy.
What were your initial thoughts on the attribution brief at hand?
Tough one. Is there really such a "silver bullet" as digital attribution? Seems there are a lot of mixed opinions and grey areas around how valid some of these measures really are.
Post-first-brief chat, what went through your minds and what were the next steps you took as a team?
We felt we needed to know more about the subject, dig a bit deeper and find out how these attribution measures could be applied. What were they measuring? Awareness? Sales? Engagement? Creativity? What became obvious was that they can't stack up on their own. Digital attribution is merely a subset of the whole marketing attribution mix. When we dug deeper, and with the help of Anthony Lynn at PMA, we felt "digital attribution" is a flawed measure.
How did you know you'd landed on the best concept?
I was watching Peppa Pig and thought, "Now there's an idea." And when everyone in the office started chortling, we knew we were onto something.
Who from the team was largely involved and what were their roles?
We couldn't have done it without Ted Blore from Admagic. He can make a silk purse out of any sow's ear.
What were the biggest hurdles to making this a reality? Any challenges?
Training a pig to apply lipstick was pretty tricky!
Tell us about the actual creation techniques. How did it come together?
Geoff and I went to market, bought a pig and then shot it. Ted brought it to life.
Biggest challenges with the whole process? Did anything keep you up at night?
Did we pay too much for the pig?
Best bit about the process?
Getting the concept approved. Let's hope it creates a robust conversation.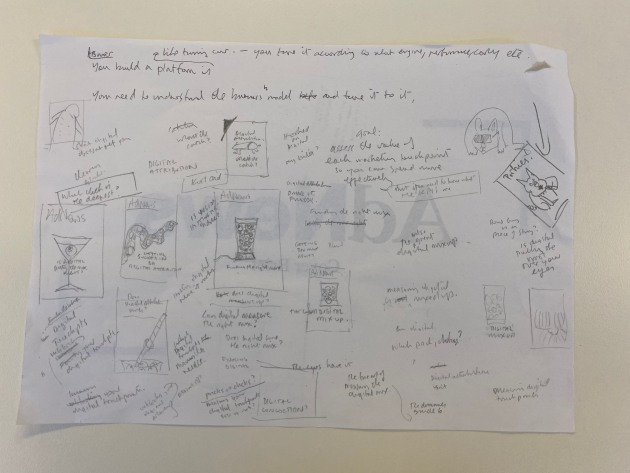 Credits
DAYLIGHT Agency
Executive Creative Director: Chris Mitchell
Executive Creative Director: Geoff Corbett
Marketing Director: Karen Keech
Admagic: Ted Blore
Talent: The Pig
Have something to say on this? Share your views in the comments section below. Or if you have a news story or tip-off, drop us a line at adnews@yaffa.com.au
Sign up to the AdNews newsletter, like us on Facebook or follow us on Twitter for breaking stories and campaigns throughout the day.