Beautyheaven GM Amber Robinson reveals how her brand is contributing to, and shaping the Female Future, at publishing stable Bauer.
Beautyheaven occupies a very fortunate place as one of few trusted outlets for beauty advice and reviews – mostly owing to its dedicated followers. How will you leverage the power of that audience this year to drive even deeper engagement with female audiences?
We're lucky to have a very engaged community on our own website and we put a lot of effort in to keeping our members happy with incentives and rewards. That said, we also want to be where beauty lovers are, so we have recently implemented a new social strategy to engage female audiences on Instagram, YouTube and other social platforms and will look to trialling more features on those platforms.
This dovetails with an increased focus on video, given that beauty tutorials and how-tos are hugely popular with our target demographic. We've doubled our video output month-on-month which I am pretty excited about.
Offline, our members love coming to events where they can socialise with other beauty lovers and try new products, so we're looking at expanding our existing event schedule and doing more bespoke events.
Our path to purchase is now dependent on experiences offered up by the likes of Beautyheaven. How do you expect this experience to change and develop, and how will that affect our purchasing habits?
Research last year from the Spiegel Research Center found that retailers who display online reviews see conversion rates rise by as much as 270% - and that negative reviews don't hinder sales. It's a no-brainer for online retailers.
For us, ecommerce on beautyheaven is a natural extension of the user pathway from consideration to purchase.
Industry wide, more providers are offering review services for retailers and brands. We syndicate our reviews to other websites using our own technology and third parties, so buyers can get that trusted advice via multiple pathways. My team also manages the Bauer sampling and review offering trialteam.com.au, which has more of an FMCG focus. The marketplace is so saturated with products and choice is overwhelming - people want advice and guidance and reviews can help with that.
I also believe that technology like AR and AI will become more widely used as conversion techniques - from virtual changerooms to highly intelligent recommendation engines.
What will be Beautyheaven's contribution to Bauer's Female Future strategy?
Beautyheaven and our trade website BEAUTYDIRECTORY are both proud to contribute to Bauer's 10 Million Words initiative, which sees the company committing to extensive editorial coverage of issues related to Female Futures.
Both websites are profiling female founders and leaders within the beauty industry, for example. We're also exploring themes of diversity and body positivity.
Will Beautyheaven reach out to other titles in the wider Bauer stable for inspiration, or indeed integration of any kind?
Integration in to the wider Bauer business is something I've taken on as a KPI this year. There are so many talented people at Park St and everyone from Paul Dykzeul down has been very open and committed to aligning our properties since beautyheaven moved in to the building in 2017. We're currently exploring ideas with both editorial and commercial teams across the business and seeing where there is synergy on Female Futures and other initiatives, including events.
To give you an example - the model Jessica Gomes recently came in for a Harpers Bazaar shoot and video. Bauer's in-house multimedia team was present to capture video for both publications, with different treatments to suit our different audiences. The resulting beautyheaven video was one of our highest performers last month.
As the largest group of beauty editors and content producers at Bauer, beautyheaven acts as a Centre of Excellence where we can advise on beauty briefs and strategy across the company.
How do you see the affect of wider culture playing into that, for example, the enormous influence Instagram and selfie culture?
There is actually lots of evidence that selfie culture is responsible for the increase in cosmetic sales globally over the last few years! And there is a natural synergy between beauty and Instagram as it's a mainly a visual platform. I don't think selfie culture is necessarily a bad thing (and this is backed up by research) - it's giving people control over their own image and most people use selfies to reflect and share their reality rather than be fake.
Consumers definitely trust endorsements from Instagram influencers they follow and will make purchases based on those recommendations, hence brands are moving budgets that way.
How do you feel about those channels, and this culture determining our idea of beauty? 
Women have always felt pressure to appear a certain way. When I was a teenager I was obsessed with the models in Dolly magazine. I feel that Instagram and other channels actually democratise the idea of beauty - there are so many incredible influencers who don't fit the typical model or actress mold and who are very creative with their look, giving confidence to young women to find their own style and experiment more.
Beautyheaven's Instagram feed is all about colour, creativity and fun. We don't want to dictate a narrow definition of beauty. Likewise we keep diversity in mind when recruiting for new additions to BEAUTYDIRECTORY'S influencer directory.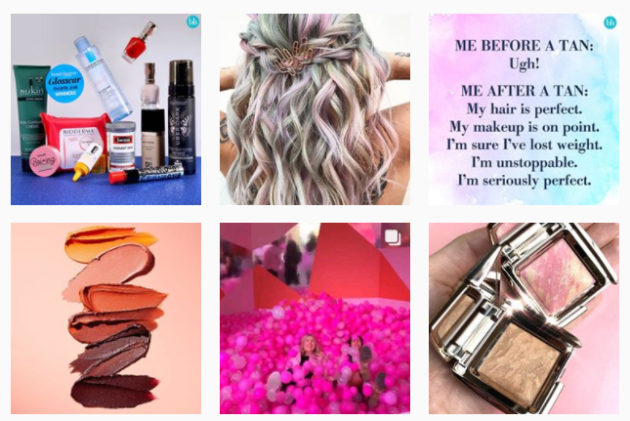 The beautyheaven Instagram
And how does this tie-in with the growing power of influencers? How can they be harnessed to develop the Beautyheaven community, and the Bauer Female Futures strategy?
A few years ago the team recognised the growing power of influencers and created an Influencer Directory on BEAUTYDIRECTORY to help brands match PR campaigns with a selection of genuine local Influencers we endorse.
We work with Influencers both editorially and commercially on beautyheaven - for example we did a Facebook Live with Chloe Morello last year
Typically the beautyheaven audience doesn't follow celebrity trends but recent surveys showed that about half our audience wanted to see more influencer content on our site, so we're establishing more of those relationships beginning with BD's Influencer Directory.
This would be across all our content including Female Futures.
This being a relatively new role for you, what are the three things you would like to achieve before the end of 2018 – not just in terms of your working life, but also in your personal life?
My number one goal this year is to build on the growth we've had over the last 12 months and diversify the beautyheaven and BEAUTYDIRECTORY business, which will involve more integration with other Bauer properties.
Empower my team to achieve great results while growing and developing in their roles. You can't achieve anything without a happy and focused team. Luckily mine is pretty amazing.
As a working mother with a husband who also works full time [I have a 11-year-old son and eight-year-old daughter], we have simple family goals like getting to the end of the year with everyone alive and well. If there is time to explore photography, travel and some physical pursuits that would be great, but basically I'm an Uber driver for my kids outside of work - maybe I should start charging?
Have something to say on this? Share your views in the comments section below. Or if you have a news story or tip-off, drop us a line at adnews@yaffa.com.au
Sign up to the AdNews newsletter, like us on Facebook or follow us on Twitter for breaking stories and campaigns throughout the day.