A block by consumer watchdog the ACCC on the sale of Seven West Media's Pacific Magazines to Bauer Media would result job losses, according to industry sources.
Redundancies would be greater in number than if the deal went ahead, say the sources. Allowing Bauer to unlock synergies and drag down overheads, by merging the two sets of magazine titles, was the better option in temrs of jobs.
"A number of titles, at both Bauer and Pacific, will close before too long if this deal doesn't happen," says an insider.
The big circulation titles, such as the Women's Weekly, are safe. But some of the others, especially in fashion, are in a tough market.
In 2018, Bauer shut Cosmopolitan. Last year it closed The Picture and People.
The purchase from Pacific is about runway, a phrase commonly used in startups, or the amount of time a business has to continue operating.
The key rationale is that the cost base will shrink with the merged businesses, enabling Bauer to publish for longer, creating jobs for journalists and content for Australian consumers, while moving with caution to a sustainable digital business.
The ACCC's concerns would also hose down expectations of reported  sale of the Bauer business in Australia to private equity company Mercury Capital. The addition of Pacific would be a neat package ready for a private equity razor to improve the bottom lime.
The family-owned Bauer is reported to be preparing to exit the Australian market, after trading losses of about $200 million since 2012. 
The reported price for a sale to private equity, $150 million, shows how far mass market glossy magazine masthead values have fallen. Nine Entertainment sold what was then ACP Magazines to Bauer in 2012 for $525 Million. 
The publishers argue that there would still be plenty of competition from digital players in the market post any merger.
Bauer and Seven West were taken by surprise at the "preliminary competition concerns " raised by the ACCC to the proposal to combine Australia's two biggest magazine publishers..
The deal is similar to when Bauer bought APN's New Zealand consumer magazines in 2013. There were no objections by NZ authorities and all the titles are still publishing.
"And digital competition has gotten stronger, not weaker, since then," industry insiders say.
The ACCC is particularly concerned about the impact on key weekly magazine titles. Bauer's Woman's Day competes with New Idea owned by Pacific Magazines, and Bauer's Take 5 magazine is up against Pacific's That's Life.
Local digital competitors include Mama Mia and 9Honey. And global platforms, including those run by celebrities themselves and bloggers such as Perez Hilton, also compete.
The submissions by the publishers to the ACCC quoted from the consumer watchdog's own digital platforms inquiry, including the decline of print advertising revenue and the rise of online, most of that ad cash going to the big global platforms, Google and Facebook.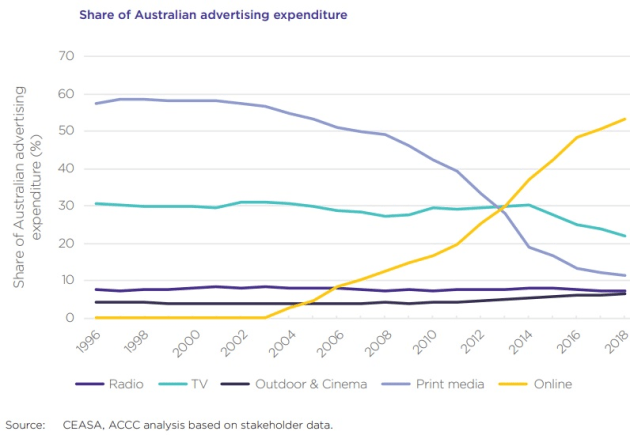 Out of every $100 spent in online advertising, excluding classifieds, Google gets $47, Facebook $24 and the rest $29.
The numbers on Pacific, which can be found within Seven West Media's results lodged with the ASX, tell the declining advertising revenue story.
Pacific revenue fell by 7.2% to $129.4 million last financial year. Only $34.28 million of that came from advertising. Digital revenue now represents 30% of total advertising revenue. Pacific cut it costs 6.4% to $121.2 million, leaving only $8.2 million.
Brian Han, senior equity analyst at Morningstar, believes it will be touch and go whether magazines will survive in the long term even with consolidation.
"Over the past decade, Pacific Magazine's profit has fallen from over $40 million a year … with decimating circulations, and proliferating online alternatives, and I'm sure Bauer hasn't done much better," he says.
Analysts believe the merger of the glossy titles is a key ingredient for the immediate health of the sector in Australia.
However, ACCC chair Rod Sims says Pacific and Bauer are the only magazine publishers in certain categories, and their titles appear to compete head-to-head on content and cover price.
The ACCC acknowledges the shrinking advertising revenue. "We are acutely aware of the dramatic decline in magazine revenue, both in terms of lost advertising and reduced sales," says Sims.
"Many magazines titles have closed over recent years, and more titles will close irrespective of this deal. 
"However, competition within markets has an important role to play to protect consumers, even in declining markets." 
The key Bauer and Pacific Magazine titles are profitable, the ACCC maintains. 
"If Bauer bought Pacific Magazines, Bauer would remove its closest competitor in certain segments," says Sims. 
"Our preliminary view is that this would allow Bauer to reduce the effort put into content production and the range of content, or to increase prices."
The ACCC says its concerned about these magazine categories: Home & garden; celebrity; fashion & lifestyle; health & fitness; puzzles; food; and parenting.
However, Han at Morningstar described the ACCC's view of the magazine market, especially by segments such as Woman's Day and New Idea, as antiquated.
"The notion that a combined Bauer-Pacific entity can raise prices (for advertisers and consumers) while reducing editorial content/production is almost laughable, given the endless infotainment and celebrity gossips/crap available online," he told AdNews.
Both Bauer and Pacific are preparing further submission to the ACCC. A final decision is due April 2.
Bauer's and Pacific Magazines' titles and the overlaps:
Have something to say on this? Share your views in the comments section below. Or if you have a news story or tip-off, drop us a line at adnews@yaffa.com.au
Sign up to the AdNews newsletter, like us on Facebook or follow us on Twitter for breaking stories and campaigns throughout the day.