Seven West Media -- with debt reduced, improved revenue and better margins -- has completed its acquisition of regional broadcast player Prime Media Group Limited.
The latest deal, expected to be the first of many, extends Seven's audience at a time when the differences between city and bush media are shrinking.
The benefits to advertisers are clear -- a single platform for extended reach -- and the cost of the buy for Seven turns out to be less than the headline $132 million.
The actual cost is about $72 million because Seven, as a 14.9% shareholder, will get some of its own money back in capital return and another $30 million or so of Prime's cash holding.
The buy will be funded via Seven's recently refinanced syndicated debt facility.
Brian Han, director, Morningstar: "The strategic and financial merits of a Seven West Media-Prime Media tie-up remains intact, even 745 days after the failed first attempt.
"Swallowing its regional TV partner is a logical deal for Seven, especially in an age where over-the-top technology has made the metropolitan-regional TV affiliation construct laughably quaint.
"The strategic benefits of offering a simple, integrated nationwide TV solution across linear and BVOD channels are unequivocal for advertisers."
Analysts at investment bank UBS UBS describe the deal as "strategically sound" and believe the earnings per share (EPS) benefit could be higher at around 5%.
They write: "Financially, the deal appears to be highly EPS accretive both before and after synergies. Based on PRT's adjusted FY21 earnings of $12.3m, we estimate that accretion could be greater than 5% on a full year basis in FY23 before synergies, and up to 10% including the high end of the indicative synergy range."
In the year to June, Prime posted total revenue $178.7 million, up 9.2%. Statutory profit after tax was $19.6 million, up 195.6%. 
Prime has commercial FTA TV broadcasting licences covering regional northern and southern New South Wales, the Australian Capital Territory, regional Victoria, the Gold Coast area of Queensland and all of regional Western Australia.
Prime produces local news content and also supplies Seven's programming content under a syndication program supply arrangement as SWM's regional affiliate in NSW, Victoria and Western Australia. Prime produces a nightly local news bulletin to the following areas:
Seven West Media's view: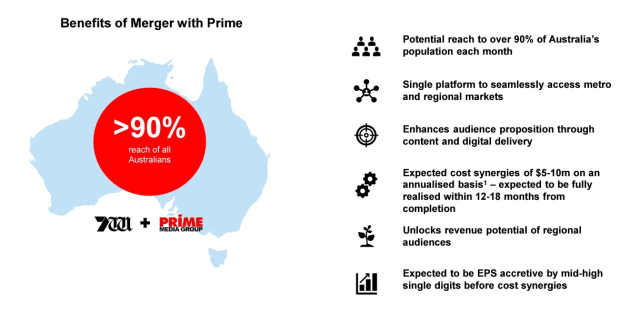 Seven West CEO James Warburton: "After enjoying a very successful partnership for many years, our two businesses are becoming one.
"The merger of SWM and PRT (Prime) is a real game changer for both businesses and for the Australian media sector.
"We now have the potential to reach more than 90% of Australia's population each month as one integrated company and to give advertisers and agencies easy and seamless access to metro and regional markets.
"Prime is a great business and is the #1 TV network in regional Australia by a big margin. In the metro markets, Seven has been #1 for 13 of the past 15 years, including this year, while 7plus is the #1 commercial BVOD service nationally.
"Together, we are the country's leading commercial premium broadcast, video and news network."
Warburton is at year two of a three year content lead reform program for Seven.
Have something to say on this? Share your views in the comments section below. Or if you have a news story or tip-off, drop us a line at adnews@yaffa.com.au
Sign up to the AdNews newsletter, like us on Facebook or follow us on Twitter for breaking stories and campaigns throughout the day.