Here's the good news. If there was an apocalyptic asteroid hurtling towards earth threatening to wipe out humanity there are only two things that will survive – cockroaches and copy writers.
"You can't kill advertising," warns Bob Hoffman, a 40-year adland veteran also known as the Ad Contrarian.
"But for the past 15 years we have traded what works for what sounded good.
"Marketers have lived in a self-invented dreamland and have lost touch with consumers, which I like to call people.
"Consumers want clarity and simplicity, we marketers want to complicate the shit out of everything."
Hoffman was delivering a keynote at ReThinkTV in Sydney today. He says there are three delusions plaguing marketers today – digital delusion, brand delusion and age delusion.
Hoffman, a consistent critic of what he describes as the "bullshit of digital", says digital advertising effectiveness is undermined by high levels of fraud, low levels of viewability and consumer antipathy to online ads on websites and social media platforms.
"As a result of our reliance on digital technology, we've made an unconscionable leap of logic that because we spend a lot of time on the web we think it's a great advertising medium," Hoffman said.
"Online advertising is a train wreck of biblical proportions. Half of what you pay is not viewable, ad fraud is rampant."
Hoffman rattled off a series of concerning stats to prove his point.
Only 52% of web traffic is human. The IAB estimates online ad fraud costs $7.2 billion each year although World Federation of Accountants says it could be closer to $30 billion – and it's growing.
Online ad fraud is on track to become the second largest source of income for organised crime syndicates by 2025 after the illicit drugs trade.
Display ads get six clicks per 10,000 ads served.
"You are more likely to complete navy seal training than click on a banner ad," Hoffman points out.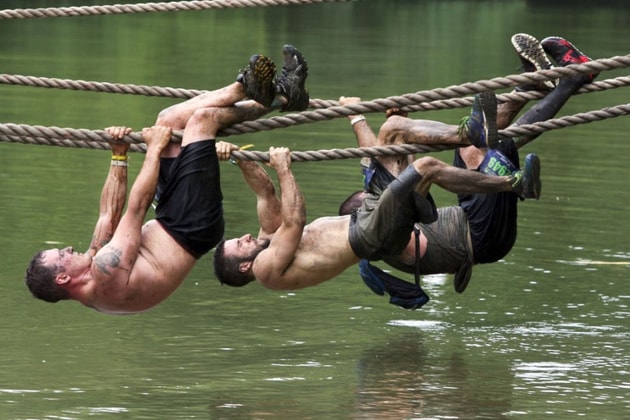 You're more likely to complete Navy Seal training than click on a banner ad.
Hoffman says Goobook (Google + Facebook) accounts for 77% of online advertising spend in the US.
He says that marketers are now starting to question the effectiveness of this investment, led by P&G chief brand officer Marc Pritchard.
"Over 88% of senior marketers find no measurable impact from social media, according to a study by Duke University and Deloitte," he adds. 
Nobody loves your brand
Hoffman's second marketing delusion is that marketers love their brands a heck of a lot more than consumers.
"Our brands are very important to us marketers and not that important to consumers," he said.
"That's what advertising is trying to create – brand preference, not brand love, a juvenile fantasy."
He adds that 92% of consumers couldn't care less if a brand suddenly disappeared.
The final delusion Hoffman points out is ad lands obsession with over allocating ads and campaigns to millennials despite over 50s being the "wealthiest generation that has ever existed".
Consider this: the net worth of over 50s is three times other generations in the US. They buy 50% of new cars and control 70% of US wealth.
"If over 50s in the US were their own country, they would be third largest economy in the world," Hoffman says.
So why are Baby Boomers the target of only 10% of advertising despite controlling 70% of the wealth?
Hoffman believes it is as simple as adland "hating old people" and wanting to market to young, sexy millennials like themselves.
"Marketing to young people is really narcissism disguised as strategy. It's marketing by selfie stick," Hoffman said.
AdNews caught up with Bob Hoffman earlier this week for a special podcast that is due to come out next week - keep an eye on AdNews.
Have something to say on this? Share your views in the comments section below. Or if you have a news story or tip-off, drop us a line at adnews@yaffa.com.au
Sign up to the AdNews newsletter, like us on Facebook or follow us on Twitter for breaking stories and campaigns throughout the day.