In the latest episode in the AANA's Marketing Dividends series, host James Hier, Wavemaker's chief growth and product officer, discuses Sport Australia's new marketing platform, the impact of those dreaded OBikes on bicycle manufacturers and learns a few tips from the secretive world of political lobbying.
Joining him on this episode is Sport Australia CMO Louise Eyres, Trek Bicycle Corporation APAC regional marketing director Ian Callaghan and Capital Hill Advisory managing director Stefanee Lovett.
Sport Australia is bringing together marketing heads from competing sporting codes to help promote its new Move It Australia marketing platform.
The campaign encourages Australian to spend 30 minutes a day doing any form of exercise to help the country tackle growing levels of inactivity across all age groups.
In an unprecedented move, Eyres is roping in marketing leads from 12 competing codes to push message in what she described as "a marketing 12 version of the G8".
"When I first suggested this idea of having a marketing 12 sort of sports version of the G8, people said, 'You're mad. It's never going to happen'" she said.
"We recognised as marketers that we are talking to the same consumer and it was by bringing those marketers together who are competitors…that we do have a shared agenda.
"So different sports have connections with consumers at different parts of your life stage.  You might come in to a sport and come out…But if we don't have a nation of active, healthy Australians, no one will win."
Sport Australia is working with national sporting organisations and also wants to work with businesses and different industry sectors to promote Move It Australia. 
Eyres is the first CMO of Sport Australia and the agency has only recently built up its marketing function as the role of sport in Australian society has evolved.
"The previous 30 years of the Sports Commission, we've really been a B2B business, so we were funding the Australian sports sector through national sporting organisations, such as Basketball Australia and Swimming Australia, and so on," she explained.
"But as the community's definition of sport has changed – now it is far more about physical activity and unorganised sport ­–­ we recognised that we had to become a B2C business as well and we have to get Australia moving, which was really the foundation for changing the brand."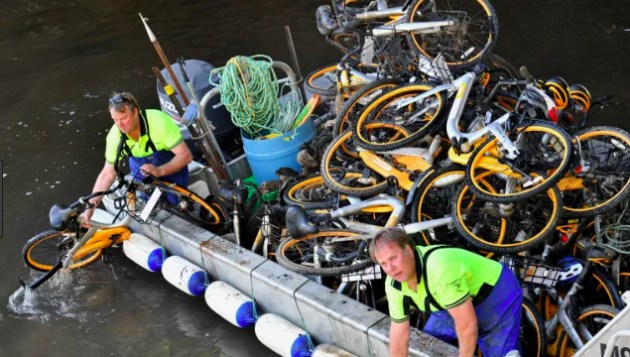 Dumped OBikes being salvaged from the Yarra River in Melbourne.
Bike sharing – a challenge or an opportunity?
Also on this episode of Marketing Dividends, Trek Bicycle Corporation APAC regional marketing director Ian Callaghan opened up about bike sharing schemes and whether he felt they were good for manufacturers or a threat.
Bike sharing schemes have taken off in Asia and have recently made their way to Australia, making headlines for the wrong reasons.
The initiative, by companies like OBike, is designed to provide a cheap and convenient personal public transport option in cities literally choking in traffic and pollution.
However, the bright yellow bikes have arguably contributed as much to the pollution as more traditional sources due to careless riders dumping everywhere, such as in rivers, on fences and in parks, causing public authorities a headache.
Hier asked Trek Bicycle Corporation APAC regional marketing director Ian Callaghan whether he believed the cut-price bike schemes were a positive development for premium bicycle manufacturers.
"The China example is probably the most visible one globally. Almost overnight, millions of these cheap shared bikes were delivered to all the major metro areas of Beijing, Shanghai, Shenzhen and Guangzhou," he said.
"If you take a step back and look at why that occurred, obviously, it's filling a need for the customer, the need for a cheap, effective way to transport themselves in China was needed.
"Bike sharing has come in and delivered that service.  So the opportunist in me says, 'Great, we've got known. More people are riding bikes in China'. More people riding, maybe [they may upgrade to] a higher quality product." 
Stefanee Lovett says data is 'gold' to lobbyists in Canberra.
On lobbying and data
Capital Hill Advisory managing director Stefanee Lovett tells Marketing Dividends that the rise of social media has created a unique opportunity for lobbyists to help businesses and politicians engage in new and unnatural ways with the public.
"Anybody can be a lobbyist technically," she said. "But it's the relationships that we have with those politicians and we often say it's our ability to speak the language of politics to business and vice versa that is a skill in itself and not everybody has that skill that they can transfer whether it's in an online platform or otherwise."
Lovett says that data is critically important for lobbyists to hone their messaging to the right target audience at the right time.
"For an election campaign or a public policy campaign, to understand who the individuals are that are relevant, or companies for that matter, where they're located and if they're in a marginal seat is absolute gold," she said.
"The next federal election, there could be one or two marginal seats. We need to make sure that our clients and their message can target the right politicians in the right way is fundamental and access to data and information is going to be critical to that to us, our clients but also their political parties." 
You can watch the latest AANA Marketing Dividends below.
Have something to say on this? Share your views in the comments section below. Or if you have a news story or tip-off, drop us a line at adnews@yaffa.com.au
Sign up to the AdNews newsletter, like us on Facebook or follow us on Twitter for breaking stories and campaigns throughout the day.