The inaugural season of Suncorp Super Netball has smashed expectations on all fronts, according to Netball Australia, host broadcaster Nine and principal sponsor Suncorp.
More fans have turned up to watch a higher standard of netball; 4.73 million people (nearly a quarter of the country) have tuned in to watch the competition on TV throughout the series; and far more brands have backed what is widely regarded as the pinnacle of women's sport in this country.
The 17-week competition culminated with the Sunshine Coast Lightning defeating the Western Sydney Giants 65-48 in the decider on Saturday night, led by defensive star Karla Mostert and peerless shooter Caitlin Bassett, who netted 49 goals from 51 shots.
The decider drew a peak TV audience of 636,000 and an average audience of 447,000 on the Nine Network. That's an 81% increase on Ten's coverage of the ANZ Championships grand final last year.
"In terms of the number of the people that went to games across the 17 weeks, the broadcast TV ratings, the growth in our commercial programme, increased visibility from a media perspective – the improvement in all of those metrics justify the decision," Netball Australia CEO Marne Fechner tells AdNews.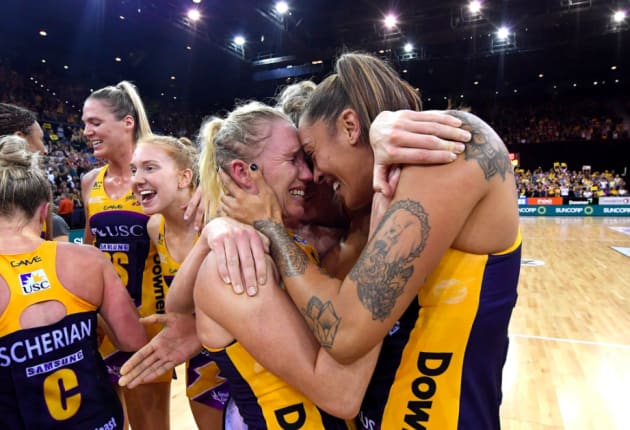 Lightning players embrace after claiming the Suncorp Super Netball title.
Netball's new era
The decision Fechner refers to is for netball to transform the league from a trans-Tasman competition to a domestic Australian league with more local teams. This has been enabled by support from a new host broadcaster, Nine, and Telstra.
The result is far greater exposure of the sport and a huge lift in commercial backing.
This season, more than 200,000 fans attended games, up 42% on last season's figures. Telstra's netball live engagement increased by 100%. And the the average netball match pulled in TV audiences on Nine in excess of 120,000 viewers, which is 40% higher than the combined ratings of Ten and Foxtel in 2016 and 30% up games featuring two Australian teams.
Perhaps the most impressive figure has been the growth of commercial backers willing to invest in the sport. Netball Australia's commercial programme has increase three-fold on last year, and that doesn't include the sponsors of individual clubs.
"It's extraordinary what we've managed to achieve. There's a whole suite of new partners, with the exception of Telstra, who have come on board with Netball Australia and netball in 2017," Fechner explains.
"They're not only investing in the sport, but they're investing in a much bigger way than they have done previously. That underpins our ability to deliver Suncorp Super Netball. It's important we saw an upside because delivering our own league (without sharing it with Netball NZ) there's considerable more expense."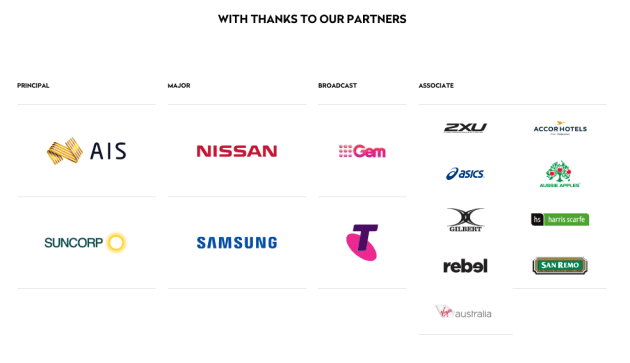 Netball Australia's commercial partners. Nine has attracted additional broadcast partners.
An tantalising prospect
This year's sponsors of Netball Australia and Nine's broadcast include Suncorp, AIS, Nissan, Samsung, Telstra, Australia Post, San Remo, Aussie Apples, Harvey Norman, Chemist Warehouse, Bunnings Warehouse, Priceline, Asics, Gilbert, Beiersdorf, 2XU, Harris Scarfe, Rebel, Virgin Australia, Leading Teams and Australasian Sports Floors.
Netball appeals to sponsors due to the large, loyal legion of fans it attracts to the gate and also the sheer scale of registered players at local club level.
In fact, netball smashes most local men's codes out of the park when it comes to player base. In 2016, there were 625,721 registered players, according to official AusPlay participation data released in December 2016. In this category, its playing numbers sit above cricket (562,669), basketball (532,311) and rugby league (247,883), and the sport isn't too far behind Australian football (635,627), golf (685,732). The frontrunner on this list is football with 1,086,986, although it has failed to attract the level of commercial backing its player numbers warrant.
"Netball has always represented unique value for commercial partners given our reach into women and our participation levels," Fechner explains. "We are one of the largest team sports in Australia with a footprint that is truly metro and regional.
"For national brands and international brands, this partnership with Nine and Telstra not only gives us this amazing footprint, but also a great broadcast platform from which we can really allow partners to leverage their relationship with netball."
Brands have embraced the sport like never before. A good example of this is Samsung's powerful 'Rethink Role Model's campaign, by Iris, that AdNews voted one as the second best Australian spot for 2016. 
There's also been some excellent work by Blood UTD for Netball Australia to promote the league in its All On The Line campaign.
Revenue-sharing – a 'unique' model
Nine's director of sport Tom Malone tells AdNews the close working relationship between Netball Australia, Nine and Telstra has helped the sport and the broadcaster drive much better commercial outcomes by ensuring each party had skin in the game to lift attendances, TV viewership and the resulting revenue.
Nine and Netball Australia have a revenue-sharing agreement when it comes to sponsorship and use the same sales team.
"Everyone has really been really happy with the first year of netball – Nine, Netball Australia, Telstra and the big partners Suncorp, Nissan, Samsung," Malone says.
"The standout success from a commercial point of view is that Nine and Netball Australia have been in the market as one sales team selling a combined sponsorship and broadcast package to advertisers. To be in market together is a really powerful proposition.
"It's been a win-win for everyone because it's endorsing the sport from a broadcaster point of view, and from the sport's point of view it's endorsing the broadcast. It's saying to the clients that it's really important you invest right through the properties and from the client's point of view, what we've found is they've gotten a lot better experience."
As the sport and broadcaster are working as one, this means both parties are pulling in the same direction and client liaison is much more seamless and efficient. Some of the deals with sponsors in year one have been short-term to allow for more upside and potential for growth in years two to five.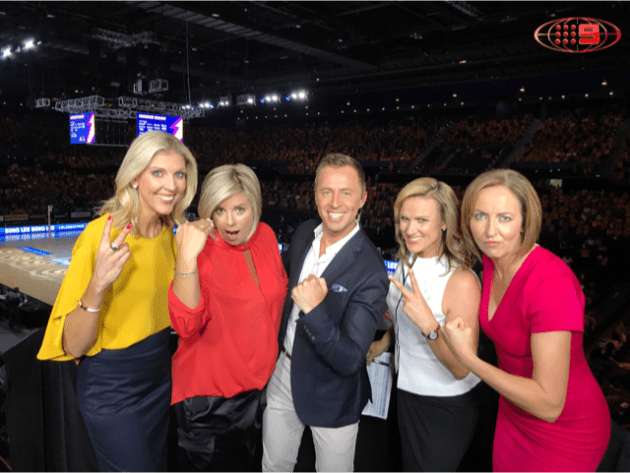 Nine's netball team. 
The revenue-sharing model has worked so well that Malone believes it may form a blueprint for how more established codes could operate with broadcasters in the future, although there are no immediate plans to change it.
"There's no doubt it's a good model," Malone says. "It was an easier path to introduce this model [in netball] because there was a necessity at the table from Nine, Netball Australia and Telstra. Some of the other sports are more established so it's potentially harder to introduce a newer model.
"But it's an interesting time to be having this discussion because of the current climate of where sports rights are at. There's no doubt there's change going on in the industry and live sport is one of the more resilient programming you can have on free-to-air television.
"At the same time there are new platforms opening up all the time and we need to be able to not just create good content on traditional FTA TV but also video content across all platforms to capture audiences and advertisers everywhere."
AdNews approached Suncorp to find out how the the principal sponsor viewed the partnership and the first season.
Suncorp chief customer experience officer Mark Reinke said the business was "particularly happy" with the performance of the series and the opportunity it provided to engage with young women and families.
"It has proved to be a very strong platform and the product itself is fast and entertaining. From a sporting perspective we think this is one of the most exciting products in Australia – it's tough, it's fast, it's entertaining," Reinke says.
"Attendances at the games have been very strong and TV audiences have been at least meeting or exceeding the expectations that Nine, netball and ourselves had. In terms of the first year of this expanded competition by any measure it's been a success."
Further reading: Why Suncorp backed netball and what the brand hopes to achieve
So, what went well in the inaugural netball season and what are areas that could be improved for next season?
Although the dust has only just settled on the first season, there are some clear wins and areas that will be looked at for next season.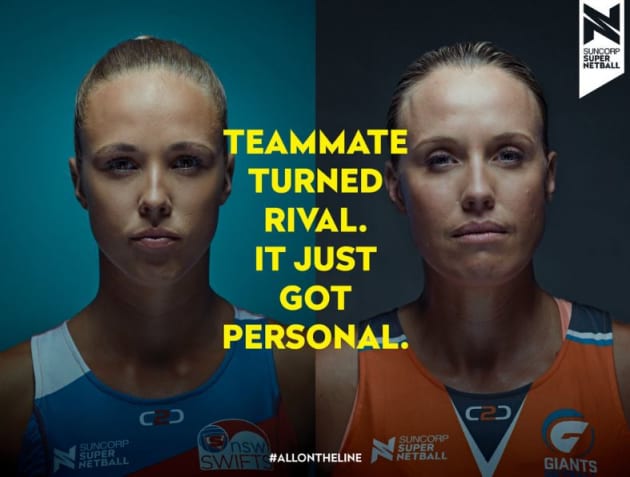 Local rivalries have been a major positive for the competition this season.
The positives
Introducing two-team markets proved to be a great success to help create local rivalries that previously never existed at the elite level. The derbies attracted bums on seats and proved ratings hits.
This year there were two teams in NSW (NSW Swifts and Giants Netball), Victoria (Melbourne Vixens and Collingwood Magpies) and Queensland (Queensland Firebirds and Sunshine Coast Lightning).
Two of these teams, the Giants and Magpies, are affiliated with AFL clubs Greater Western Sydney Giants and Collingwood Magpies, while NRL club Melbourne Storm is partnering the Lightning.
"From having teams that didn't exist 12 months ago, the rivalry was there from round one and that was reflected in all of the metrics and numbers. The Vixens nearly had a sell out against Collingwood in their first game," Fechner says.
Malone, who attended several games throughout the season, described the rivalry at courtside as "electric" and also believes derbies are one of the success of the season.
Another positive was allowing an unlimited number of international athletes into the competition, which peaked at 20 in any one round.
This helped raise the standard of the competition to the highest level of netball ever seen in a domestic competition, exceeding last season's ANZ Championships.
"We said we wanted to have the strongest domestic competition in the world and the introduction of these athletes helped us achieve that, without limiting the opportunity for Australian athletes," Fechner adds.
"That's what blew me way, watching young players who had been benched for so long in the ANZ championships come onto the court and do extraordinary things. The standard of the game has just improved and will only get better, people will be more surprised by it today than they previously were."
Areas for improvement
Netball officiados and partners have not yet properly assessed the competition for ways to improve it, but there are a couple of areas that they will no doubt look at.
The double headers at the 7pm and 9pm timeslot haven't always worked, particularly with the later games being tricky for fans and families to attend.
There are also several innovations that netball chiefs will discuss that could make the sport more exciting, such as introducing two-point or three-point shots beyond the arc or awarding more points per win.
"Are there modifications, like what we've seen with the Big Bash, that make the sport more of a spectacle and less predictable? We'll look at ways to make the product more appealing to a broader audience," Fechner says.
After such a strong first season on all fronts, the fact remains that the sport only needs minor tweaks, if any at all. Netball has taken an important step forward to becoming fully professional; it's athletes are the highest paid women in Australian sport with an average salary of $67,500, and no other code can attract the number of blue chip organisations willing to back the sport in a meaningful way.
"We've raised the benchmark, we have a great product in the Suncorp Super Netball but we also have a thriving participation footprint across Australia. We have a tight network between Netball Australia, the clubs and our broadcast partners and have a history of long-term partnerships," Fechner says.
"That speaks volumes in the way netball can deliver what it promises for our commercial partners."
Check out some of the highlights of the past season in our image gallery below.
Have something to say on this? Share your views in the comments section below. Or if you have a news story or tip-off, drop us a line at adnews@yaffa.com.au
Sign up to the AdNews newsletter, like us on Facebook or follow us on Twitter for breaking stories and campaigns throughout the day.