On a recent trip through Europe, AdNews journalist Lindsay Bennett called into some of the continent's most vibrant ad agencies in London, Berlin and Amsterdam to see how their culture influences their work. This is a free article from our 'AdNews takes Europe' feature in the October issue of AdNews. Subscribe to get the full magazine - it won't all be available online.
If you've ever been to Amsterdam, you'll know it isn't always sunny, which is why there is a giant, waterproof onesie in the window of 72andSunny's office. Dubbed the 'Raynsie', 72andSunny created the stylish full-body suit to protect people from unpredictable weather when they are biking around Amsterdam.
The bold colours of the Raynsie were inspired by the vibrancy of Dutch culture and the whole concept is said to be reflective of their 'can-do' spirit. It is also reflective of the type of agency 72andSunny strives to be – one of innovation and forward thinking.
"I'm bored of doing 100-second long video things," managing director Nic Owen said. "If the business was staying the same and doing the same things all the time, that'd be super boring. We look at how to tell stories in weird, expansive ways."
Owen joined 72andSunny in 2013. He started his career in his home town at Wieden + Kennedy London, before moving to the US to work at Mother and then Anomaly.
The Raynsie
The driver of 72andSunny Amsterdam's diversity of work is its diversity of people, and that's a message repeated by Australian boss Chris Kay. The agency boasts 29 different cultures within its 140-strong staff. It's the cultural melting pot that enables 72andSunny to produce global work for brands like Adidas, Axe (Lynx in Australia), eBay, Carlsberg, Smirnoff and Google.
"There are two scenes in Amsterdam; the international scene and the Dutch scene," Owen said.
"The Dutch scene is becoming more famous internationally now because we are becoming a more forward industry."
He said the agency is coming up against more Dutch agencies in international pitches, as well as Wieden + Kennedy, Anomaly, DDB, TBWA and 180, which all have offices in Amsterdam.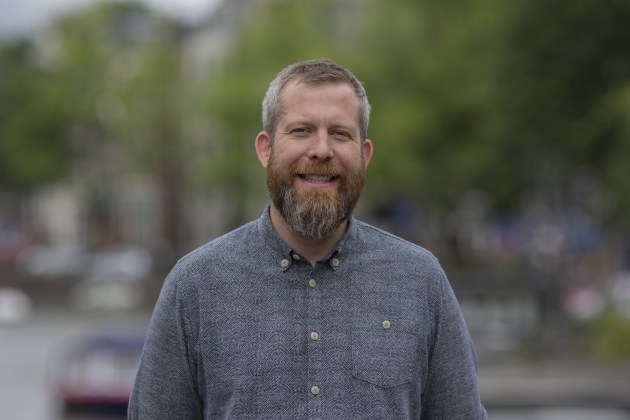 Nic Owen
Wieden + Kennedy may have founded the Amsterdam ad market 25 years ago, but 72andSunny has quickly risen up the ranks in its 13 years in the Netherlands. In 2016 it was ranked the No.2 agency in the Netherlands, behind JWT Amsterdam.
"I think Amsterdam, more than anywhere else, really gets how to do global work. Amsterdam is such an open place because of how it was formed; it made money off welcoming people from around the world. The city itself is now massively open – creatively and with its sexual liberation," Owen said.
The mix of people within the agency means 72andSunny can never rely on "lazy stereotypes" with clients.
"When clients come here they know they have the four corners of the world covered," Owen said.
"When we are making global work, we make sure the team reflect that – we might have a Brazilian, an Argentinian, a German, a Singaporean and an Australian all working together to create insights that extrapolate to a global level.
"You can't see the wood from the trees within your own culture sometimes, so the global people add a bit of international spice and the local people add their own knowledge. It's a model we flex across any city in Europe."
While Australia is often criticised for its parochial approach, Amsterdam has its arms wide open. Geography isn't an issue and it sees no reason why pan-European or even global work can't come out of the city.
When asked who 72andSunny's competitors where, instead of listing local agency names, Owen listed countries: London, Paris, Berlin, Munich and Milan.
"This is the least parochial industry in the world. Our clients don't care about the difference in regions – they recognise the value of efficiencies and the connections we have being based in central Europe. We can do every territory in Europe from this office, which other agencies might say they can, but I don't think anyone but an Amsterdam agency can," he said.
The agency's global eye has gained the agency notoriety. In 2012 the agency won a Press Grand Prix for its provocative "Unhate" campaign for Benetton. It featured a photo of Pope Benedict XVI kissing a senior Egyptian imam and former US president Barack Obama kissing Venezuelan president Hugo Chavez. Owen says this campaign, as well as its recent gender-challenging work for Axe (Lynx in Australia) best defines the agency.
As Brexit takes hold of Europe, 72andSunny is readying for the flux of big companies moving their headquarters to Amsterdam. A slew of big banks have already announced they will be making Amsterdam their post-Brexit EU hub, including the Royal Bank of Scotland and Japan's biggest bank MUFJ.
Journalist Lindsay Bennett in Amsterdam
What Australia can learn from European advertising 
Diversity, diversity, diversity
The diversity in European agencies puts Australian agencies to shame. Granted Europe is much more of a cultural melting pot than Australia, but they also seem to embrace the idea of a global community better than Down Under. On a creative brief, 72andSunny said it will often have a Brit, an Argentinian, an American, a Dutch, an African-American and an Australian. They believe this is the only way to create work that truly transcends physical barriers and permeates culture.
End the Sydney/Melbourne divide
If an Amsterdam agency can service a British client, why can't a Sydney office service a Melbourne client? Amsterdam's Nic Owen was shocked to learn Australian clients will stick to a same-state agency rather than fly an hour to visit their agency and vice versa. Agencies often cite a different culture between Sydney and Melbourne as the reason, but if they want to produce ideas that appeal globally, they need to think more broadly.
Ethical advertising is a space to watch
The rise of social has given consumers more access to information about the brands they are buying. Across Europe, it seems that consumers are taking note. Brands that produce their product ethically and sustainably are gaining popularity, not just in Berlin but globally. It's not a trend that's going anywhere and it's one Australian advertisers should be looking into and a space agencies could leverage in the future.
Have something to say on this? Share your views in the comments section below. Or if you have a news story or tip-off, drop us a line at adnews@yaffa.com.au
Sign up to the AdNews newsletter, like us on Facebook or follow us on Twitter for breaking stories and campaigns throughout the day.