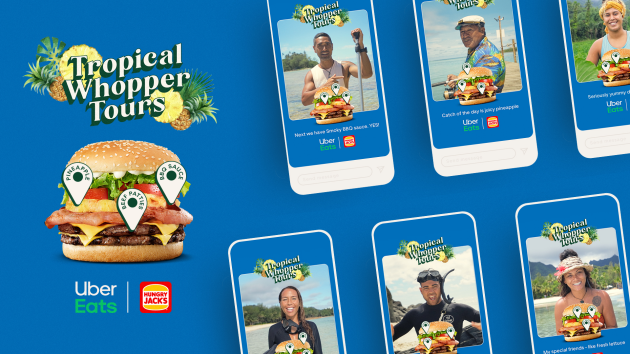 Tropical Whopper Tours will be hosted across social media.
The latest Uber Eats co-marketing campaign, created by Special Group Australia, features tour guides from the Cook Islands, who are missing their usual summer influx of visitors due to travel restrictions, instead giving viewers a guided tour of the limited-edition Tropical Whopper burger from Hungry Jacks and available exclusively on Uber Eats.
"Because local tour guides like Ina and Charlee are so naturally warm and welcoming, they made the idea of swapping tours of tropical destinations for tours of a tropical burger not only clever, but just bloody charming," Special Group Australia partner and chief creative officer Tom Martin says.
Hosted across social media, 'Tropical Whopper Tours' are fronted by tour guides like Ina from KiteSUP Paddle board tours and Charlotte Piho's turtle and underwater photography tours and take viewers on a journey around the key ingredients of the tropical burger - inviting you to order one on the app.
The Tropical Whopper is a traditional Whopper with a tropical spin - including juicy pineapple, double bacon and smoky BBQ sauce, with fresh lettuce, mayo, hand-cut tomato, cheese, and a choice of one, two or three flame-grilled 100% Aussie beef patties.
"Partnering with Hungry Jack's to launch their Tropical Whopper exclusively on our platform was always going to be exciting," Uber Eats head of marketing ANZ David Griffiths says.
"Special Group have created a brilliant summer campaign that has bags of humour and heart. We're proud to work with the Cook Island tour guides and hope when flights open back up this inspires Aussies to go and see them in person".
Credits
Creative Agency: Special Group Australia
Founding Partner: Lindsey Evans
Founding Partner: Cade Heyde
CCO & Partner: Julian Schreiber
CCO & Partner: Tom Martin
Creatives: Mark Starmach and Alastair Flack
Strategy Director: Anna Bollinger
Team Lead: Eileen Cosgrove-Moloney
Business Director: Annabel Dempsey
Head of Production: Nick Lilley
Producer: Emily Willis
Client: Uber Eats Australia
Head of Marketing ANZ: David Griffiths
Marketing AU: Rebecca Kemp
Marketing Manager: Sharny Mullally
Production Company: Hooligan
Director: Dylan Harrison
Media agency: MediaCom