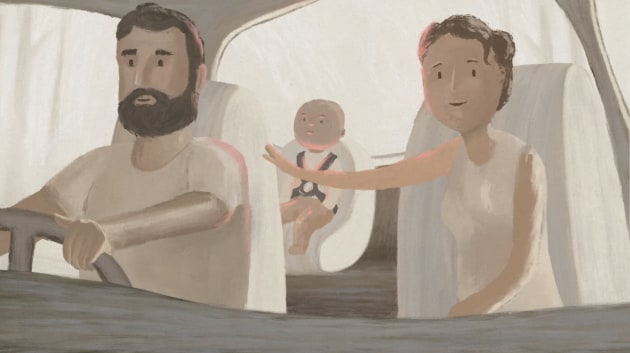 The film was directed by Kyra Bartley.
The idea for the film Heartbeat was sparked by the popular parental refrain, 'they grow up so fast."
FINCH director Kyra Bartley wanted to put that idea into the heartbreaking story of families living with Duchenne, where there's a struggle between celebrating as their boys develop, hit milestones and flourish as human beings - whilst at the same time knowing that every step forward is also a step closer to their body failing them.
"​We wrote a poem meant as both a love-letter from mother to son, as well as a desperate plea for time to stop its forward march, which was beautifully (and heartbreakingly) read by a real mother all too familiar with this struggle," Bartley says.
"To accompany this, the visuals needed to reflect the ephemeral nature of the story, so we devised a hand-painted animation approach that kept its hero at the centre as the world swirls around him, relentlessly driven forward by the rhythmic beat of his heart. Matteo's beautifully delicate score wraps all the elements together wonderfully."
Save Our Sons Duchenne Foundation founder Elie Eid says the FINCH team have been working with the organisation for a number of years.
"I would like to thank Rob Galluzzo, Kyra Bartley and the entire FINCH team for their continuous support and their creativity in conveying the harsh reality of Duchenne muscular dystrophy in the most sensitive manner," Eid says.
"Their professionalism, talent and expertise are second to none and we thank them wholeheartedly for their amazing work and support of Save Our Sons and the Duchenne and Becker community."
In order to achieve the painterly look of the film, an international team used a traditional cell animation approach.
Each of the over 1400 frames were painstakingly drawn by hand in Procreate on an iPad, then assembled back together in After Effects for finishing.
It's an unusual and challenging pipeline for an animation of this length - but it created an aesthetic that would otherwise have only been possible through an analog paint-on-paper approach, whilst still enabling the team working collaboratively across Spain, Vietnam, Russia and Australia.
The animation is complemented by Sonar Music's Matteo Zingales' beautiful and delicate score.
With a background in commercial animation and design, Bartley crossed over into the world of live-action directing. 
She lived in Cambodia for three years where she was instrumental in setting up the country's first professional animation studio and training their original recruits. It's this drive to explore creative opportunities in unexpected places, bringing obscure stories into the light, that informed her work on Heartbeat.

Credits
Client: Save Our Sons
Voice Over: Stephanie Crawford
Production: FINCH
Director & Writer: Kyra Bartley
Producer: Luke Mazzaferro
Executive Producer: Rob Galluzzo
Artwork: Paul McNulty, Katya Polezhaeva, Tyler Hinde
Animation: Kyra Bartley, Paul McNulty, Katya Polezhaeva, Natasha Savinova, Anya Milovanova
Music and Sound: Sonar Music Composer: Matteo Zingales
Sound: Timothy Bridge
Executive Producer: Sophie Haydon