Despite what the naysayers will have you believe, more people are watching more television than ever before – they're just not watching as much live linear.
So why is it that the market only seems to care about overnight ratings rather than considering the broader life cycle of content – and, more importantly, are we missing a trick here?
There's no doubt in my mind as consumer behaviour shifts and TV networks focus on more on delivering content through catch-up services and via digital platforms that now is the time to change how we value TV ratings and success.
But first, an admission.
I'll be the first to put up my hand and say that the news cycle is part of the problem and trade journalists like myself have contributed to this obsession with overnight.
As a journalist, our natural instinct is to place higher stock in what has happened most recently rather than looking at everything holistically. This desperation for the here and now is compounded by competition, a lack of time and resources, media FOMO and inconsistency in how TV networks promote their success.
An old mentor, former SBS football pundit Tommy Anderson, once told me, 'son, be first and be accurate – but whatever you do be accurate first'.
When I report on TV figures, I try to stick to this sage advice, navigating a labyrinth of OzTAM figures and network spin to produce an accurate report in the morning rush.
The problem is, I'm missing huge numbers and the bigger picture every single time.
From OzTAM, we only receive a limited amount of ratings data on the top 20 shows each evening, including the top 5 for major demos. We also receive a number reports from each of the networks promoting their versions of success.
OzTAM sends us catch up data and the networks occasionally add a few notes when it is advantageous to do so, but it is never given much attention.
This isn't good enough if you consider shifting consumer behaviour and it's also at odds with how we judge success on other video platforms like YouTube (viral hits are never defined by overnight views, for example).
Where this is a problem is for dramas and reality TV shows – live sport and news don't generate much on-demand traffic.
For example, on 26 July, The Bachelor attracted an average of 761,478 metro viewers, which is solid but unremarkable for Ten's tent pole show.
Fast forward a week and the picture changes substantially. With encore screenings, and catch up audiences, the total viewership grows to 1.26 million.
MCN chief sales and marketing officer Mark Frain recently illustrated a more extreme example in a comment piece for AdNews.
Only 19% of the Game of Thrones season 7 finale was watched live (see below), while non-live accounts for 36% of Neighbours viewing, 30% of the Bachelorette (Ep 1 - see below) and 40% of Offspring's total audience.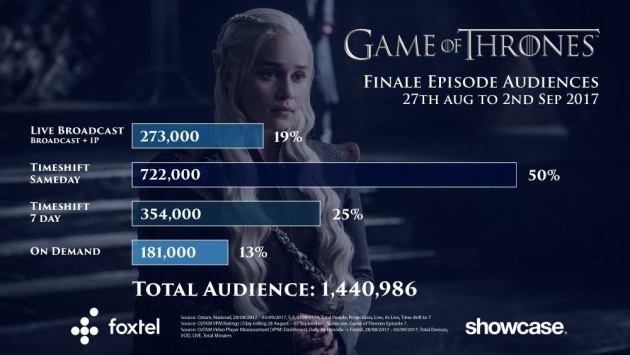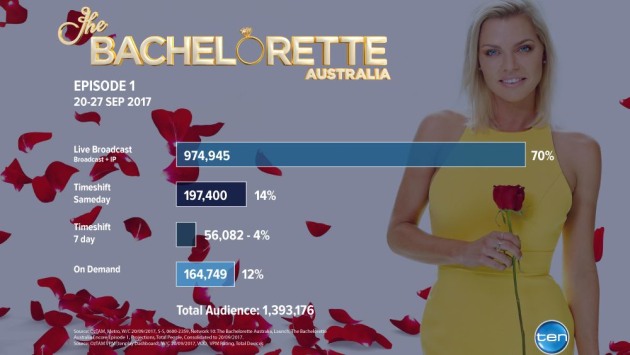 Why does this matter?
This is important to TV networks because it misrepresents the true audience of TV programs, ultimately underselling them.
Frain recently told me that the industry is largely measuring the success of a TV program on live only ratings.
"That is what people look at and most agencies will still evaluate the success, price and value on that show on what it did as a live audience," he said.
"But as you add in the encores and plus-seven day you suddenly get to a vastly different equation."
MCN, which is the sales partner of Foxtel and Ten, isn't representing the only TV networks that realise the industry needs to improve how it values lifecycle audiences.
Last week, Nine chief executive Hugh Marks told me the industry needs to get better at measuring and monetising content across all platforms and highlighted this as one of the key issues to watch over the coming year.
As TV networks increasingly restructure their businesses to better reflect the growing importance of digitally served content, it is incumbent upon the whole industry (media sellers, buyers, measurement firms and the press) to reassess how it measures success across the broader ecosystem rather than focusing purely on overnight broadcast figures.
An example of how this might look like is illustrated below, courtesy of MCN.
I'd like to get the debate started and change how AdNews reports success, not by ignoring overnight but by complementing it with long-tail viewing measures.
I welcome all parties to engage in the discussion and contribute their thoughts and viewpoints – you can contact me on: arvindhickman@yaffa.com.au.
Let's face it – many of us view television content differently and the growing on-demand economy will only continue to reshape television consumption.
If the TV industry wants to be part of this evolving media landscape and thrive, it and industry partners need to come together to change how success is measured.
An example of how TV reporting could evolve: