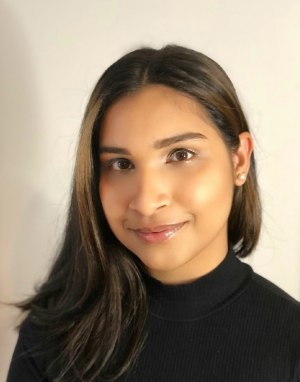 Our Young Gun profile takes a look at some of the young talent across the advertising, adtech, marketing and media sector in Australia. It aims to shed light on the varying roles, people and companies across the buzzing industry.
Today we speak to Atomic 212 SEO executive Christen Fernandes. 
Time in current role/time at the company:
Been over 14 months.
How long have you been in the industry?
A year, six months.
How did you get here? Was this always the plan?
I considered myself to be creative and have an explorative personality, which is why I always wanted to work in the marketing space. Well, that's all I knew at the time, so I decided to take things a step further and graduated with an MBA in International
Marketing. After graduating, I wish I had a stronger plan, it would have saved me a few sleepless nights. Having said that, I did take advantage of every opportunity that came my way and begun to understand the broad spectrum of marketing channels.
I was absolutely intrigued as I explored digital marketing. I still remember applying for a different job role at Atomic but getting an acceptance call for another job position that they thought better suited me. I don't think I can say that I consciously chose a
career in media, more than the media industry chose me! Long story short, I found myself working in Search Engine Optimisation and haven't looked back. My work has become something I never knew I'd love so much until it happened.
Who is your right-hand person?
Apart from my friends and family, I'm fortunate enough to be surrounded by a network of incredible people. Although on a day-to-day basis at work, I'm guided by direct manager Cass, and director Stephen – absolute guns in all things SEO.
What's the best thing about the industry you work in?
The best thing about the industry has to be the people! Starting with my team, my colleagues, friends at work, and the extended network of brilliant-minded people is what truly makes the industry so attractive to be a part of. The media industry creates a very motivating and fun culture that is shaped by passion-oriented individuals that support and inspire each other. 
And the biggest challenge?
The fact that today's media frontier may be something totally different from what it may be a few days later. It's an ever-changing landscape that is highly competitive with diverse opportunities to grow. I say this all the more after taking the MFA Digital Foundations exams that helped me connect the dots and understand a bit of what everyone does, and it's a never-ending process! Two days are never the same within SEO especially, which means my job requires having to specialise in different industries and puts a lot of stress on meeting goals. One day I'll be optimising data for an energy provider and the next day I'll be writing content to motivate people to buy flowers online. So, it's safe to say that every day is a challenge, and this alone keeps me on my toes.
Whose job have you set your sights on in the future?
At my current position, the focus is to champion each and every task as it comes through communication, experience, and openness to learn – I sense growth in that alone. Not trying to sound too cozy in my corner, but I'm always opened to potential
opportunities and possibilities the industry has to offer. If anything, my sights are on being a marketing lead for a multinational retailer in the future.
Where do you turn for inspiration?
When I feel overwhelmed, I basically take a mental break to refocus and get a fresh perspective. I do this through listening to music, pamper myself or sometimes even watch an inspirational TED Talk. And if I run out of ideas or want to get my creative juices flowing at work, I read success stories or listen to podcasts to draw inspiration from them.
My favourite advert is: 
This may sound very cliché, but for me, it's the brilliant Nike Ad 'Dream Crazier'. It's an inspirational tear-jerker that gets me every time. With the ongoing emphasis on women empowerment, this ad is the perfect alignment targeting women's emotions and rationale. In general, I enjoy how Nike thrives on social issue-based marketing.
Tell us one thing people at work don't know about you?
My extensive condiment obsession of having tomato ketchup with ALMOST everything I eat. I secretly always make sure there is a sauce bottle in our pantry.
In five years', time I'll be:
Decorating a section of my own house and hoping to be a woman of stature in media working through creative ideas, insights, and optimisations to help clients succeed.
Have something to say on this? Share your views in the comments section below. Or if you have a news story or tip-off, drop us a line at adnews@yaffa.com.au
Sign up to the AdNews newsletter, like us on Facebook or follow us on Twitter for breaking stories and campaigns throughout the day.